Five takeaways from the Lakers' 107-106 win over the Atlanta Hawks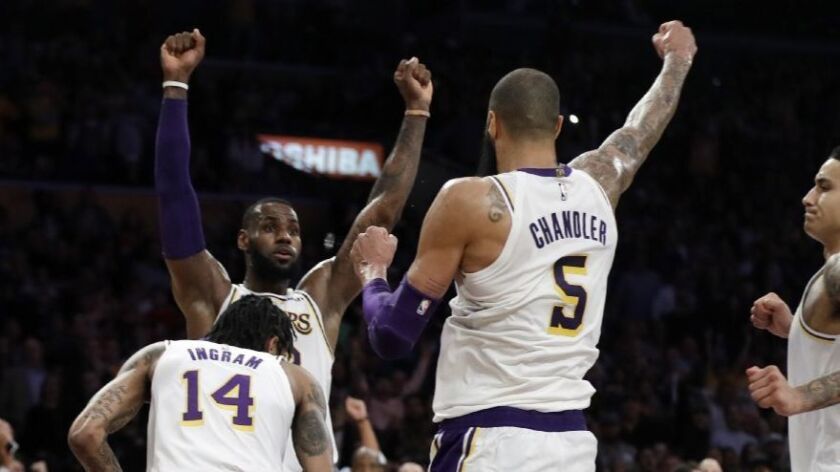 Five takeaways from the Lakers' 107-106 win over Atlanta:
1. In the eyes of Lakers coach Luke Walton, there was a simple explanation for why his team had 23 turnovers in its win over the Atlanta Hawks on Sunday night at Staples Center.
"We were careless with the ball," Walton said.
That allowed the Hawks to get too many free looks from three-point range in the process and it was another reason why the Lakers had to scramble so much on defense.
The Lakers turned the ball over 15 times in the first half alone.
"And Atlanta turns teams over. That's one of their strengths," Walton said. "But a lot of our turnovers in the first half is careless – lazy passes, trying for something where the risk-reward wasn't really there. I thought we did a much better job in the second half with that. We had 15 turnovers at the half."
Brandon Ingram had six of the turnovers, LeBron James four and Lonzo Ball three.
2. The game-saving block by Tyson Chandler on Atlanta point guard Trae Young will be remembered because it kept the Lakers from losing to a team they once led by 15 points.
But as a team, the Lakers had nine blocks against the Hawks.
Chandler and starting center JaVale McGee both had three blocks. Ingram, Ball and Lance Stephenson each had one.
3. Here's a Lakers broken record: They need to make their free throws.
They shot 62.5% from the free-throw line, going 15-for-24.
James had the two biggest misses, failing to convert them with 19.9 seconds left and the Lakers trailing by one point.
James was three-for-seven from the free-throw line, Kyle Kuzma one-for-one, McGee two-for-four, Ingram four-for-six, Ball two-for-two, Hart one-for-two and Stephenson two-for-two.
4. The Lakers shot a decent 36.8% from the three-point line.
Kentavious Caldwell-Pope helped that percentage by going three-for-six from three-point range.
5. The Lakers were horrible on defense in the fourth quarter, perhaps the biggest reason why they almost blew the game against the Hawks.
The Lakers' defense let the Hawks shoot 63.2% from the field in the fourth, 62.5% from three-point range. The Lakers' defense gave up 31 points in the fourth.
They won the game on a great last-second defensive play by Chandler, but the Lakers know they can't have breakdowns on defense in the final 12 minutes if they expect to win games.
Twitter: @BA_Turner
---
All things Lakers, all the time.
Get all the Lakers news you need in Tania Ganguli's weekly newsletter.
You may occasionally receive promotional content from the Los Angeles Times.