Five takeaways from the Lakers' 115-107 loss to the Miami Heat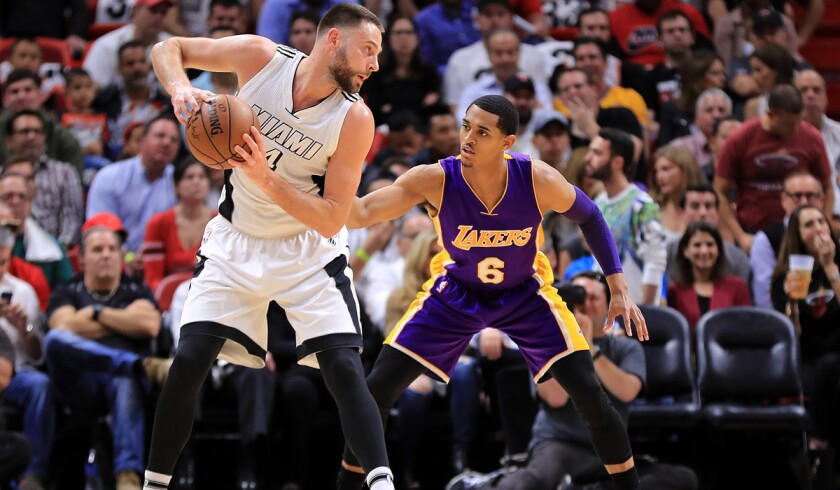 Reporting from Miami —
The Lakers' dreary December continued Thursday with an eight-point loss to the Miami Heat that left Lakers Coach Luke Walton a bit perplexed.
Twice this week they've built 19-point leads in games they ultimately lost.
Here are five takeaways from Thursday's edition.
1. There was some relief from the Lakers after hearing that Wednesday's MRI of Larry Nance Jr. found no tears. He's not out of the woods yet, though. There was too much swelling in Nance's knee for the MRI to accurately show anything. He'll be reevaluated Sunday. Nance will definitely be out Friday, and it seems unlikely he'll be able to play on Christmas Day.
2. Not having Julius Randle, Nance and Tarik Black meant the Lakers were short on size. Walton said there were times when the Lakers gave up size at all five positions on the court.
3. Heat center Hassan Whiteside and forward Justise Winslow each had 23 points and 13 rebounds. It was a career high for Winslow. Walton paused before answering a question about why, then focused more on Whiteside in his reply. "Whiteside went five for six from the free-throw line," the Lakers coach said. "We told our guys, any time he gets around the rim, he has us beat; he's a 50% free-throw shooter. Wrap him up. I don't think we wrapped him up one time. We touch-fouled him a couple times, where he could've got an and-one. Luckily for us, he didn't make them. … Wrapping up and touch-fouling is a little different. Because defensively we didn't have the edge that we need to have, they were able to get themselves in rhythms and get themselves going throughout the game."
4. Thomas Robinson got into what appeared to be a scuffle on the court after Whiteside stepped over him. Robinson's take on the matter was a little lighter. He said he and Whiteside were rookies together with the Kings. When he got up to talk to Whiteside, the rest of the people on the court — players and officials — thought they were upset with each other. Robinson said he was absolutely not upset with Whiteside and didn't even realize both he and Whiteside were assessed technical fouls.
5. Jordan Clarkson has had some really strong shooting nights lately, but Thursday wasn't one of them. Clarkson made two of 10 shots and none of his three-point attempts. Brandon Ingram, who started at small forward with Randle out of the lineup, made only two of seven shots and none of his two three-point attempts.
Twitter: @taniaganguli
---
All things Lakers, all the time.
Get all the Lakers news you need in Tania Ganguli's weekly newsletter.
You may occasionally receive promotional content from the Los Angeles Times.