Frank Vogel will coach Lakers; Jason Kidd to be an assistant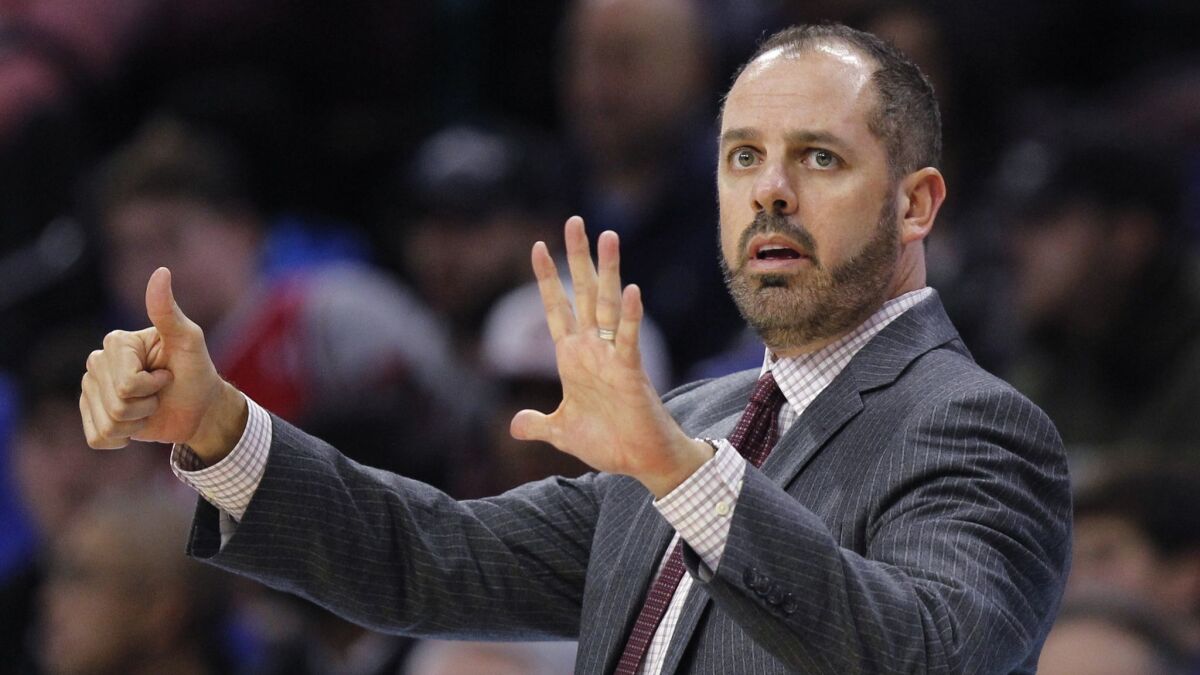 After a month and a half of turmoil, confusion and false starts, the Lakers finally have a new coach.
Frank Vogel agreed on Saturday to a three-year contract and Jason Kidd will be on his staff as an assistant, according to people familiar with the decision.
Vogel, who becomes the Lakers' sixth coach in nine years, previously coached Orlando and Indiana. He will be tasked with returning the Lakers to the playoffs after a six-year drought. Vogel went 250-181 in six seasons with the Pacers, with five playoff appearances. In two seasons with the Magic, Vogel went 54-110 and was fired in 2018.
The Lakers are hoping Kidd, who was a 10-time All Star point guard as a player, can help their third-year point guard Lonzo Ball. Kidd and Ball don't have much of a pre-existing relationship, but last season Lakers center Tyson Chandler, a former teammate of Kidd, asked the Hall of Famer to speak with Ball and the pair had a phone conversation.
Saturday's news ended a 29-day search amid an uncertain period for the franchise.
Vogel takes over almost one month after the Lakers parted ways with coach Luke Walton, which came three days after Magic Johnson stepped down as president of basketball operations.
Former Cleveland coach Tyronn Lue and Philadelphia assistant Monty Williams were initially thought to be the leading candidates to replace Walton. Lue, who won a championship with LeBron James in 2016, had long been considered the favorite for the job, and the Lakers offered him a three-year deal last week, but Lue declined and the Lakers opted not to increase their offer.
Sign up for our Lakers newsletter »
As late as Wednesday afternoon, he thought the Lakers would eventually make an offer he was more inclined to consider, but they did not. Williams already had taken the Phoenix Suns' coaching job the week before.
The Lakers' tumultuous path began April 9 when Johnson abruptly announced that he'd grown weary of the "backstabbing and whispering" that came with his job, that he didn't want to have to ask Lakers owner Jeanie Buss to fire Walton, and that he was tired of being accused of tampering when commenting on players around the league.
Johnson held an impromptu news conference about 90 minutes before the season finale. He hadn't told anyone that he planned to step down — including Buss and James, who agreed to join the Lakers after a late-night conversation with Johnson as free agency opened last summer. James canceled a scheduled meeting with reporters as he processed the news.
Buss retreated to the Lakers facility with confidantes and advisors rather than attend the game. Among those were longtime friend and colleague Linda Rambis, the Lakers' director of special projects, and general manager Rob Pelinka.
Johnson had been the Lakers' lead front office executive. In the coming days, without any official announcement, explanation or change of title, the Lakers empowered Pelinka to take that role. Kurt Rambis, who won four championships with the Lakers as a player, also saw his influence increase.
Walton's future wasn't clear at first, but on April 12, he and the Lakers agreed to part ways. He agreed to become the Sacramento Kings' coach the next day.
The Lakers acted quickly to schedule interviews with Williams and Lue. Pelinka met alone with each for their first interviews in the week of April 15, with plans to meet with Miami assistant Juwan Howard, a college teammate of Pelinka, the next week.
On April 22, Kurt Rambis joined Pelinka to meet with Kidd. At the time the interview was thought to be a favor, but Kidd impressed Pelinka and Rambis in the interview enough that the Lakers decided Kidd would be an assistant for their next head coach.
Later that week the Lakers expanded their group of interviewers, but the decision-makers largely stayed the same. In addition to Pelinka and Kurt Rambis, candidates met with Linda Rambis, Buss and her younger brothers, Joey and Jesse Buss, and president of business operations Tim Harris. Joey runs the South Bay Lakers, the team's developmental affiliate, and Jesse is the team's assistant general manager and director of scouting. Both are also part-owners.
Howard's first interview was with that group, as were Williams' and Lue's second interviews. Ultimately, though, Jeanie Buss, the Rambises and Pelinka remained the primary decision-makers for the search.
Not wanting to rush into any decision, the Lakers took their time. For more than a week after their second interviews, neither Lue nor Williams heard from the Lakers. In the meantime, Williams interviewed twice with the Suns.
On the Lakers' end, Jeanie Buss heard from two close friends — Johnson and championship-winning Lakers coach Phil Jackson — who both advised her to hire Lue. Johnson had dinner with Buss on May 2.
On May 3, Williams agreed to a five-year deal with the Suns without getting an offer from the Lakers. Later that day the Lakers began conversations with Lue's representatives.
As negotiations progressed, according to people familiar with the situation, both sides soured on each other. The Lakers asked Lue to hire Kidd as part of his staff and also suggested Vogel. While they mentioned several names to Lue, they never asked him to put Kurt Rambis on the staff, as was rumored. Lue was interested in bringing Vogel on board, but disagreements over the staff remained.
Lue also felt insulted that the Lakers were willing to offer only a three-year deal worth $18 million when Walton, a first-time head coach, had been given a five-year deal. On Tuesday, a person close to Lue said he withdrew from the process. A person in the Lakers' camp, who wasn't authorized to speak publicly, denied that Lue had ever withdrawn as a candidate.
Regardless, their discussions continued Wednesday before the Lakers turned their attention toward other candidates.
Vogel interviewed on Thursday, and by the time J.B. Bickerstaff interviewed Friday, the Lakers already were leaning toward hiring Vogel.
Staff writer Broderick Turner contributed to this report
Follow Tania Ganguli on Twitter @taniaganguli
---
All things Lakers, all the time.
Get all the Lakers news you need in Dan Woike's weekly newsletter.
You may occasionally receive promotional content from the Los Angeles Times.