Lakers' Brandon Ingram is stronger, louder and more comfortable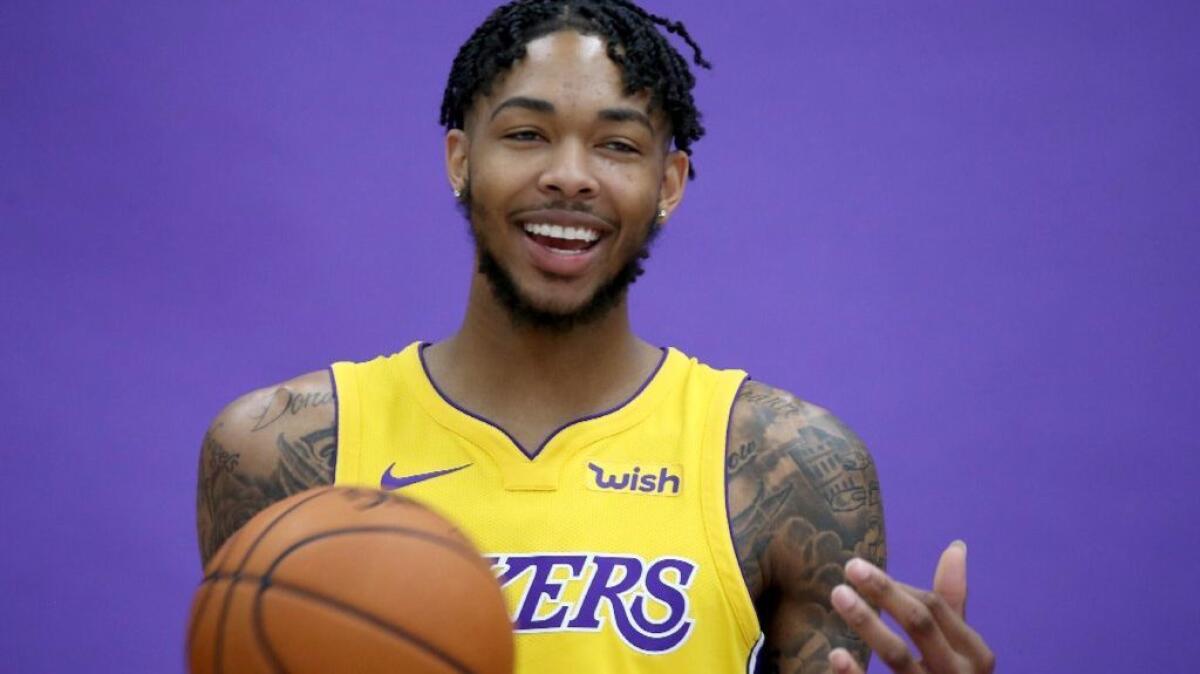 Sometimes Brandon Ingram would sneak into the gym this summer, even when his coaches wanted their players to rest. He knew he had work to do and Ingram dedicated himself to it all summer long.
What resulted was a player who changed dramatically from the shy, rail-thin 19-year-old whom the Lakers drafted second overall in 2016. He's stronger, louder and more comfortable.
"My confidence is sky-high," Ingram said, uttering a sentence he never could have delivered convincingly a year ago.
So much of the focus about the Lakers will be on point guard Lonzo Ball, whom the Lakers selected second overall out of UCLA in June. Internally, though, Ingram's development could prove just as big. He was a player the Lakers refused to part with during the offseason, despite interest from other teams. The Lakers want Ingram to be the kind of scorer who can take advantage of Ball's dynamic passing ability. They want him to grab this team's reins.
Early returns show he might actually do it.
"He's kind of taken the role of, 'I am the guy, this is my team,'" Lakers forward Larry Nance Jr. said.
Magic Johnson sees something familiar about Ingram's potential, especially envisioning him with Ball. The Lakers president of basketball operations never hesitates to compare Ball's style of play to the way he played as the Lakers' point guard three decades ago.
"I think [Ingram] and Lonzo will have a great chemistry like myself and James Worthy used to have, where I knew I could look at James and he knew I knew what was going to happen," Johnson said. "He knew what was going to happen. And then James got on that wing, boy there was nobody in basketball like James Worthy on that wing."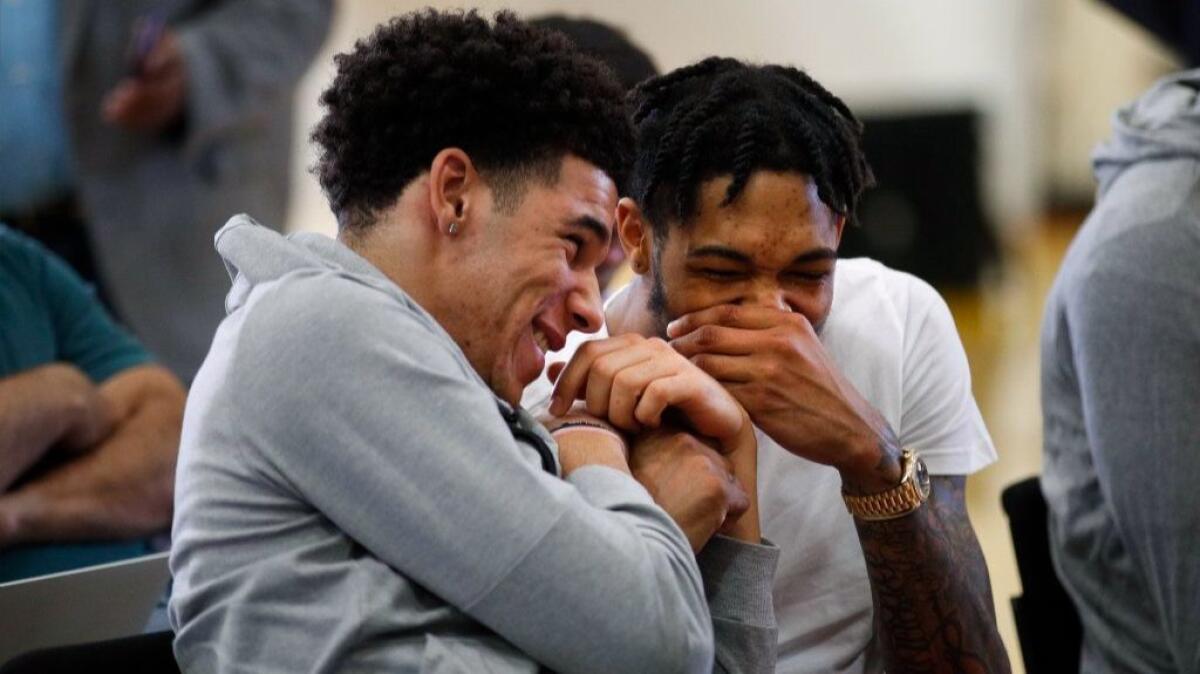 Getting there could take some time for the Lakers' two most recent second overall picks, but Ingram is taking strides toward trying to make that happen. The Lakers took Ingram's immersion more slowly than they are with Ball.
Ingram wasn't a starter until halfway through last season. The Lakers tried to cajole a competitive fire out of him. They tried to make his voice stronger on the court. They knew with time his frame would fill out and he would learn how to use his body to his advantage.
Before the All-Star break last season, Ingram averaged eight points a game in 27.7 minutes. He made 36 % of his field goals and 30% of his three-point attempts. He admitted to some fatigue as the All-Star game approached.
Then the break came and Johnson entered his life.
"The last two months of the season, what Magic told me, run into the contact, finishing above the rim," Ingram said. "So I am just taking that and trying to use my length to the best of my ability, use the strength that I have to the best of my ability."
After the All-Star break, Ingram's playing time increased slightly to 32.2 minutes a game, but he started scoring more, averaging 13.2 points a game. While his three-point percentage fell to 27%, Ingram's overall shooting improved to 47.5%.
It's upon that growth that the Lakers want to build now.
Ingram spent the summer working on his shooting. And Lakers coach Luke Walton believes Ingram will become a great defender at some point.
"The guy covers six feet with every slide he takes," Walton said. "He's low, he's balanced and he wants it. He'll get there eventually. … There's different variables that come into play. He still struggles a little bit with his balance and giving up the middle, but he'll get it."
Great expectations come with being a second overall pick. The Lakers aren't afraid to share them with Ingram, and he isn't afraid to hear them either.
"[Johnson] tells me every day that I am going to kill it this season and going to have a breakout year and just to be a leader," Ingram said. "Just try to come out here every day and bring a competitive spirit and try to lead these guys."
Etc.
Walton said Brook Lopez is not likely to play Saturday in the Lakers' preseason opener in Anaheim against the Minnesota Timberwolves. Lopez has been working through back spasms that he said are minor. … The Lakers had their first five-on-five scrimmage during Wednesday evening's practice. The session was closed to the media. "You expect it to be sloppy," Walton said after Wednesday morning's practice. "It's a bunch of guys trying to show what they've done and what they've gotten better at this summer. Mainly as a coaching staff we want to see if what we're teaching is carrying over." … Rookie guard Josh Hart has not been cleared for full-court work yet. Walton said Hart looked explosive during practice.
Follow Tania Ganguli on Twitter @taniaganguli
ALSO
Plaschke: USC basketball program gives black eye to school that's had its share of them—again
There's a lot of history between the Rams and Cowboys, and Sunday's matchup stirs memories
Angels eliminated from playoff contention in loss to White Sox
All things Lakers, all the time.
Get all the Lakers news you need in Dan Woike's weekly newsletter.
You may occasionally receive promotional content from the Los Angeles Times.