JaVale McGee back with Lakers, but pneumonia battle continues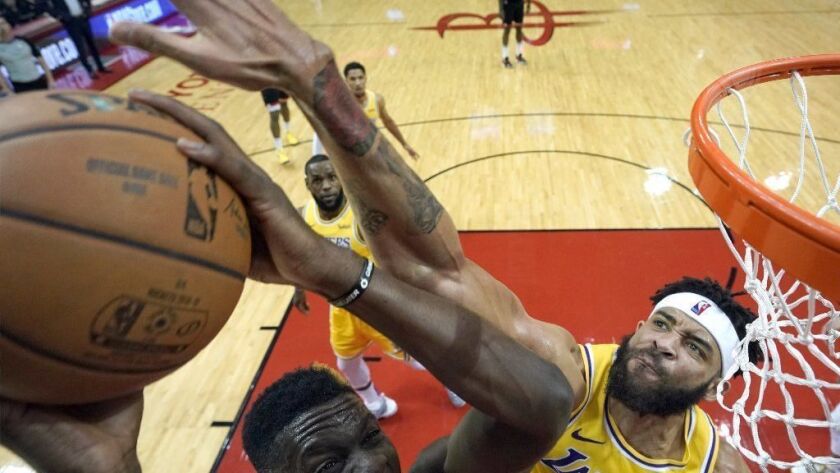 When the Lakers returned from their weeklong road trip, JaVale McGee went to the hospital.
He had pneumonia and knew his body needed the medical attention.
And the whole time he lay there, all he could think about was facing the Golden State Warriors, the team he played on the past two seasons, and getting his championship ring before the game. Whether McGee will play in Tuesday's game, though, remains to be seen.
"That's what I anticipated, but I don't know," McGee said.
McGee began to feel ill last weekend and played through his illness in the Lakers' win over the Charlotte Hornets on Dec. 15. He scored 18 points, making nine of 10 shots. But that was the last game his body allowed him to play. McGee missed road losses to the Washington Wizards and Brookyn Nets, and wasn't with the team when it beat the New Orleans Pelicans at home.
The Lakers cleared McGee to play Sunday against the Memphis Grizzlies, but because of his long absence, the Lakers held him out of the game, which the Lakers lost 107-99. He was with the team for shootaround and did some work pregame.
"Extremely winded," McGee said. "I mean I have pneumonia, so, which is your lungs, so it's hard to breathe. And I also have asthma."
Lakers coach Luke Walton grimaced for a moment when asked if McGee would play Tuesday. The Lakers aren't having a full practice between Sunday night's game and Tuesday's game in Oakland.
"I don't know if he's gonna play or not honestly," Walton said. "That's gonna be up to him and how he's feeling. I won't rule it out for sure."
Mourning a loss
Lakers forward Michael Beasley announced Sunday on Instagram that his mother Fatima Smith had passed away.
He posted a picture of Smith, along with the word "Mommy" and an emoji that looked like an angel.
Beasley had been with his mother the last 15 days in his hometown of Washington, D.C., while she battled her illness.
When the Lakers played at the Wizards on Dec. 16, Beasley brought his ill mother to the game because she wanted to see his team play. Beasley and his mom watched the game from a suite.
There was a point during that game in which Beasley joined his Lakers teammates on the bench, surprising and delighting many of them. On Sunday, he missed his eighth consecutive game with the Lakers.
Walton said the organization offered its condolences.
"I just wanted to send our love, our thoughts, our prayers to Michael Beasley and his family going through a tough time," Walton said.
"We're thinking of you and we miss you and we love you."
Precarious spot
At 19-14, the Lakers are still hanging on to the fourth spot in the Western Conference, 3 1/2 games back from the conference-leading Denver Nuggets and Golden State Warriors. It's a precarious position, though. The Lakers have the same record as the Portland Trail Blazers, who won Sunday, and the Clippers, who lost to the Warriors on Sunday.
Only a game and a half separate them from the current eighth and ninth seeds, Houston and San Antonio. With the win Sunday, Memphis is only two games worse than the Lakers.
Follow Tania Ganguli on Twitter @taniaganguli
---
All things Lakers, all the time.
Get all the Lakers news you need in Dan Woike's weekly newsletter.
You may occasionally receive promotional content from the Los Angeles Times.