Jordan Hill proving himself to be Lakers' go-to No. 2 player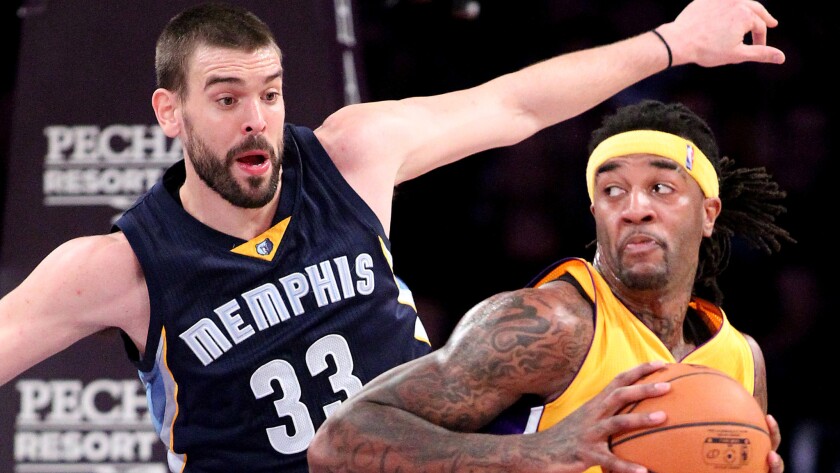 Carmelo Anthony or LeBron James made up Plan A. Pau Gasol was Plan B.
Jordan Hill? Is there such a thing as Plan J?
The Lakers re-signed Hill only after it became apparent that neither Anthony nor James would head west and Gasol would travel east.
Then the Lakers acquired Jeremy Lin and Carlos Boozer, either of whom was a good bet to be the Lakers' second-best player.
Plenty of Lakers followers, intoxicated by a top-10 draft pick, predicted rookie Julius Randle would be more productive than Hill.
They were wrong.
Hill has established himself as the Lakers' second-most important player after Kobe Bryant, recently ending a career-high run of six consecutive double-doubles in a season devoid of overall Lakers happiness.
"Jordan Hill is somebody that we're game-planning for," Denver Coach Brian Shaw said earlier this week, possibly the first time such a phrase was ever uttered.
He leads the NBA in offensive rebounds (4.3 per game) and averages 13.7 points and 9.8 total rebounds. He's added a mid-range jumper after working out during the off-season with former Lakers sharpshooter Jodie Meeks.
The two-year, $18-million contract Hill signed to stay with the Lakers no longer raises anybody's eyebrows. Well, almost nobody.
"I forgot what he signed for," Lakers Coach Byron Scott said recently.
He was reminded by a reporter.
"That's pretty good," Scott said, raising his eyebrows.
Hill, 27, more than doubled the $3.6 million he made last season. It was met with skepticism in many NBA corners. He averaged only 20.8 minutes. Didn't average double figures in scoring (9.7 points) or rebounds (7.4). Sometimes showed good bursts but would fade quickly.
Hill isn't the scoffing type. But he came as close to it as possible while discussing what changed this season.
"I got the minutes. This is what I've been waiting for," he said. "I knew once I got the minutes I was going to progress and show them what they bought."
Then he mentioned former Lakers Coach Mike D'Antoni, who helped Hill get career-highs almost across the board last season but wanted him to stay in one spot — the post.
"D'Antoni wanted me to stand down there, just try to clean up and do the dirty work. I was already struggling for minutes with him so I couldn't do nothing but listen to him," Hill said. "Now I've got Byron Scott, who trusts me, and I can play my all-around game."
It's a game that has added a mid-range attack — he hit three in a row to help keep the Lakers in a recent game against Houston — and primarily features offensive rebounds. Lots of them.
Only Tyson Chandler and Zach Randolph come close almost 20% into the season, each averaging 3.9 a game.
"I'm just relentless on the glass. I feel like nobody can get me off it," Hill said. "I feel like I can score at will. I've just got to keep it going."
His previous career-high was two consecutive double-doubles, a streak he tripled until getting 11 points and only seven rebounds Wednesday against Memphis.
Scott wants more, believe it or not. Then again, he wouldn't be a coach if he was completely satisfied.
"He's scoring for us, still rebounding for us. He's playing a lot more minutes than he probably anticipated," Scott said. "He showed me in training camp he could knock down that little 17-foot shot on a consistent basis. I think we also have to mix up getting him back in the post as well.
"He's been very valuable for us, and he's played extremely well, and I think he can play better."
Twitter: @Mike_Bresnahan
---
All things Lakers, all the time.
Get all the Lakers news you need in Dan Woike's weekly newsletter.
You may occasionally receive promotional content from the Los Angeles Times.