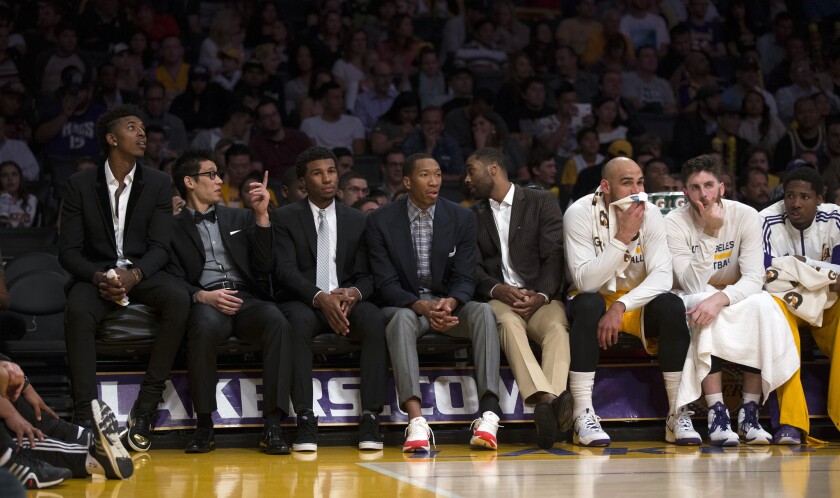 The Lakers tried to chase history a few short years ago, acquiring Dwight Howard and Steve Nash to pair with Kobe Bryant and Pau Gasol, all in the name of winning a 17th NBA championship and catching the hated Boston Celtics.
They made history of a different kind Wednesday with a lineup you'd barely recognize, the franchise bottoming out with the worst season in its 67-year existence.
The fine print was a 122-99 loss to the Sacramento Kings, the banner headline a pitiful .256 winning percentage that ended uncomfortably below the .264 success rate of the 1957-58 Minneapolis Lakers.
"It's tough, man," veteran Jordan Hill said outside a rapidly emptying locker room Wednesday. "It's tough going that route. It's been going that way for a couple years now."
Indeed, the Lakers finished 27-55 last year, cause for a party compared to what happened this season.
In the NBA business since 1948, the Lakers (21-61) have won plenty of championships, one as recently as 2010, but almost nothing was encouraging this season. Few people were spared.
As everything started tilting the wrong way, Magic Johnson said the Lakers should "lose every game" to secure a high draft pick, and a majority of the fan base vehemently agreed, turning against the franchise that had created parades aplenty downtown.
Bryant unleashed a rant during a December scrimmage, calling teammates "soft like Charmin" and yelling at innocent bystander General Manager Mitch Kupchak to get better players to practice against.
Lakers Coach Byron Scott drew the silent treatment from Carlos Boozer for benching the veteran forward, Jeremy Lin was bounced in and out of the lineup and Nick Young was in and out of his own mind, as usual.
The medical news was just as unsettling. Bryant had a third consecutive season cut short because of injury (torn rotator cuff). Nash didn't even get through exhibition play because of a bad back and then irritated fans by whacking golf balls at a driving range and posting video of it on Instagram. Rookie Julius Randle logged only 14 minutes in the opener before sustaining a season-ending broken leg.
Not everything was dreary. Bryant passed Michael Jordan for third on the NBA's all-time scoring list on a chilly Minneapolis night, and rookie point guard Jordan Clarkson was a revelation after becoming a starter at the season's midpoint.
After a calamitous six months, there remains one possible Lakers savior — a plastic hopper with several numbered ping-pong balls.
The Lakers will have the fourth slot going into the May 19 draft lottery but it becomes a game of chance. There's a 37.8% shot of moving into the top three picks, 11.9% specifically for No. 1. There's also a 17.2% chance of falling to sixth or seventh in the lottery and forfeiting their top-five protected pick because of the Nash trade.
Regardless of that outcome, and the Lakers would undeniably be devastated to cough up their spot in such a talented draft, only a handful of present-day players will return. Four have guaranteed contracts: Bryant ($25 million), Young ($5.2 million), Randle ($3.1 million) and Ryan Kelly ($1.7 million).
Clarkson and Tarik Black will be back with non-guaranteed contracts for $845,059. Jabari Brown, who scored 32 points Wednesday, and Robert Sacre also have minimal non-guaranteed contracts and need to round out their game to ensure spots next season.
Of the unrestricted free agents, it would be a surprise if Boozer and Lin returned after never seeming to fit into Scott's system. Wayne Ellington and Wesley Johnson earned themselves another NBA contract, but it was unclear whether it would be with the Lakers. Ronnie Price became a favorite of Scott and could easily come back as the team's third point guard.
Ed Davis will decline a $1.1-million player option, become an unrestricted free agent and probably price himself out of the Lakers' range for his services.
Hill has a $9-million team option that was a no-brainer when he played exceedingly well earlier this season. Then he fell too hard for his outside shot, taking his stats down with him.
With so many injuries, the Lakers went with the following starters Wednesday at Staples Center: Brown, Black, Kelly, Hill and Vander Blue.
They trailed at halftime, 67-53, with history seemingly only 24 minutes away.
It happened, of course, Ben McLemore getting 24 points for the Kings (29-53) as high-scoring starters DeMarcus Cousins and Rudy Gay sat out.
It was an ugly game for the Lakers, a fitting finish to season-long imperfection. Some fans cheered when it was announced there were two minutes left to play.
Even Scott seemed relieved on the final day.
"I think [Thursday] when I wake up, the sense will be more of, 'OK, let's get ready for next year,'" he said. "I'm more excited about that probably than anything."
Twitter: @Mike_Bresnahan
---