It's not pretty, but Lakers suddenly on winning streak after beating Kings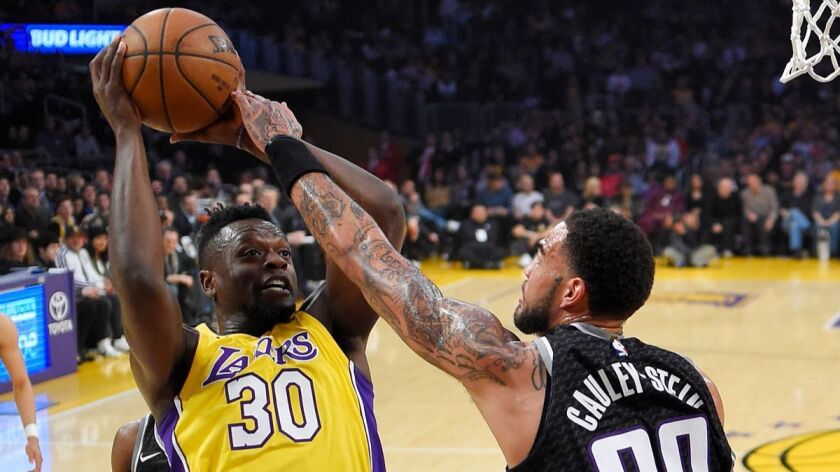 Asked about the play, Lonzo Ball smiled sheepishly, like a kid who got caught trying to steal an extra cookie.
In the second quarter Tuesday night against Sacramento, on one of the Lakers' many fastbreaks, Ball tossed the ball up for an alley-oop to Julius Randle. But he didn't lob for Randle to simply catch, he threw it off the backboard and it caromed a little too hard. Randle somehow reached back and tipped it in.
"It's just how I play," Ball said. "Kind of wild. Kind of free. I'm glad he made it. I saw Luke [Walton] going to the bench if he didn't make it. I don't know how he caught it but it went in."
Ball finished with only one turnover and had 11 of the Lakers' 30 assists. Just as easily, though, that play could have turned into a missed opportunity for the Lakers.
It was ugly outside Staples Center and ugly inside too. On a rainy evening, the Lakers beat the Kings 99-86 while committing 25 turnovers, making only 62% of their free throws and giving up multiple runs to a shorthanded team. But the Lakers, losers of nine in a row as of last week, are riding a winning streak after beating 10-30 Atlanta and Sacramento, who they have caught in the standings at 13-27.
"We gave an effort tonight that was awesome but we have got to get better at the mental part of the game," Walton said. "We've been struggling, we will take a win when we can get it, but it doesn't feel the same way [as] when you play the game the right way throughout."
Randle led the Lakers with 22 points and 14 rebounds. Brook Lopez added 18 points, including five three-pointers. Bogdan Bogdanovic led the Kings with 19 points while point guard De'Aaron Fox, taken three spots behind Ball in last year's draft, scored 15 points on six-of-16 shooting.
Ball scored just five points on two-of-10 shooting but became the third player this season to have at least 10 assists, 10 rebounds and five steals — the other two are James Harden and LeBron James.
"He creates our pace for us, he makes winning plays for us," Walton said of Ball. "He gets other people easy shots. He impacted the game on both ends of the floor and was a big part of why we won tonight. Eleven assists and only one turnover."
The Lakers seemed to blow open the game early, using a 21-2 run in the first quarter to take a 26-8 lead. But as Walton began subbing out his starters, the Lakers' lead began to dwindle. With 4:30 left in the quarter, he removed Lopez and Randle, with the rest of the starters following soon after. The Kings reduced that 18-point lead to four by the end of the quarter, and it slipped away for the next quarter and a half.
The Lakers trailed 64-56 in the third after ageless wonder Vince Carter hit a three.
But the Lakers had another run in them. Lopez got hot and made back-to-back threes to start a 26-5 run that gave the Lakers control. He hit a third three-pointer moments later, then shook his hand as if it was too hot.
Their 10-point lead after three quarters seemed tenuous, and the Lakers didn't make things easy for themselves in the fourth. L.A. committed 11 turnovers in the quarter, but they resulted in only four Kings points.
The final turnover came as the game closed. Leading by 13 with one-tenth of a second remaining, Kyle Kuzma dribbled until the shot clock expired. As he did so, the crowd in the not-quite-full arena stood and cheered.
Lakers wins aren't easy to come by; they'll take that one, too.
Follow Tania Ganguli on Twitter @taniaganguli
---
All things Lakers, all the time.
Get all the Lakers news you need in Tania Ganguli's weekly newsletter.
You may occasionally receive promotional content from the Los Angeles Times.