Kings' Bogdan Bogdanovic makes three-pointer at buzzer as Lakers lose without LeBron James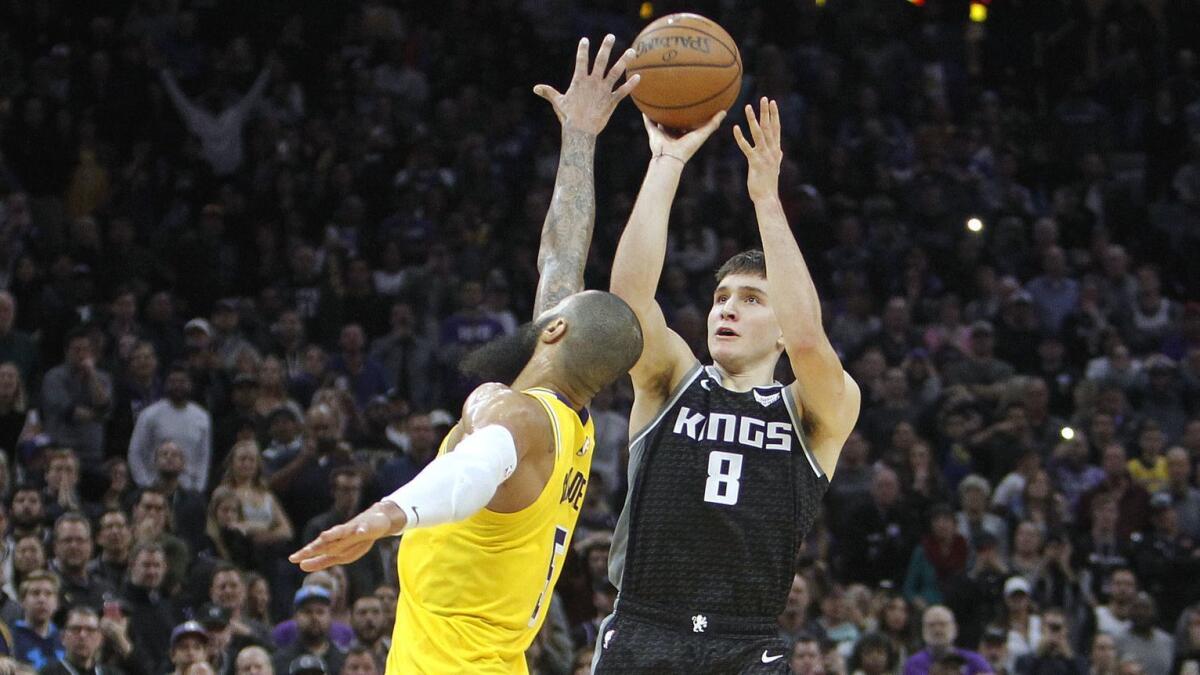 Reporting from SACRAMENTO —
Bogdan Bogdanovic released the ball and sent the game's fate with it. The clock showed zeros, and Tyson Chandler was jumping at the Sacramento guard.
When the ball went through the net, the Kings won 117-116. The Golden 1 Center erupted and chants of "Beat L.A." rang through its halls for several minutes Thursday.
The Lakers' first game without LeBron James tested them. With their closer back in Los Angeles, their young players showed mettle, fight and authority. But they also gave up a 15-point lead in the fourth quarter and lost on Bogdanovic's buzzer-beating three-pointer.
Their misery has company. It was the third straight home game in which the Kings have come back to win from at least 15-point deficits in the second half.
"If LeBron James is playing in that game, it probably finishes a little differently," Lakers coach Luke Walton said. "But that's what we have to get, that's what our guys were doing last year. But when you get the best closer in the game on your team then you rely on him to do that. But all that said, we made enough to plays to win, we just didn't take care of little things."
Lonzo Ball nearly notched his second triple double of the season, falling one rebound short after the official scorer reassigned a rebound given to him. Ball finished with 20 points, 12 assists and nine rebounds.
Kyle Kuzma led all scorers with 33 points in 40 minutes of playing time. Brandon Ingram scored 22, making eight of 19 field goals.
"You know it's a tough way to lose," Kuzma said. "The narrative could be that we won. Lose over one shot. But I think, for the most part, we did a pretty good job, speaking of the young guys. For 31/2 quarters, just really playing the game well. Playing composed, through that section of the game. It was little more free."
Without James, some of the luster left the matchup. Local businesses wondered how that might affect their foot traffic. Many lower-bowl seats remained empty despite an announced sellout.
The Lakers needed their young players to carry a heavy load. For most of Thursday night's game, they did, after the Kings took a 12-point lead in the first quarter.
"They stepped up, especially with the way Sacramento came out and punched us early, this is a high-powered offense that can get you going in front of their crowd here," Walton said. "And I thought our guys, mainly Zo early on, responded to that challenge and they were out there playing like veterans."
Early during the first quarter, Kings point guard De'Aaron Fox soared through the air for a one-handed dunk, then backpedaled from the force of his own score, fell onto his back and did a backward somersault to turn upright again.
Moments later Ball answered with a three-pointer. He scored 11 points with five assists in the first quarter. Through the course of the game he made four three-pointers.
He looked aggressive and confident and even celebrated miming air guitar along with Lance Stephenson after Stephenson hit a three-pointer off an assist from Ball.
"Just trying to be aggressive," Ball said. "Missing Bron, missing [Rajon] Rondo, I knew I had to step up personally and the rest of the guys knew as well."
Kuzma was always the off-ball scorer, ready to capitalize on any opportunity his playmaking teammates found for him.
And Ingram gave the Lakers an early push, scoring 21 points through three quarters.
The Lakers' lead was commanding for much of the fourth, but as the game neared its close, Sacramento refused to let go. Ball had to leave the game with 1:42 remaining, leg cramps getting the best of him.
With the Lakers leading by three with 59.6 second left, Kuzma fouled Sacramento's Justin Jackson while he was shooting a three-pointer. When he made all three free throws to tie the score at 112-all, it the first time all second half that the Lakers weren't leading.
Kuzma atoned moments later, hitting a three-pointer on the next possession.
With 4.6 seconds left and the Lakers up one, Ingram went to the free-throw line, but he he missed one of two free throws, leaving the door open.
Out of a timeout, Kings coach Dave Joerger drew up a nightmare for the Lakers.
"I said, 'Bogie, you're gonna get it right here, knock this in,'" Joerger said. "I didn't expect that we'd see a 7-footer and have to take two dribbles and lean in a little bit. But it was a heck of a shot."
Follow Tania Ganguli on Twitter @taniaganguli
All things Lakers, all the time.
Get all the Lakers news you need in Dan Woike's weekly newsletter.
You may occasionally receive promotional content from the Los Angeles Times.