Lakers falter at the start and finish during a 119-112 loss to the Knicks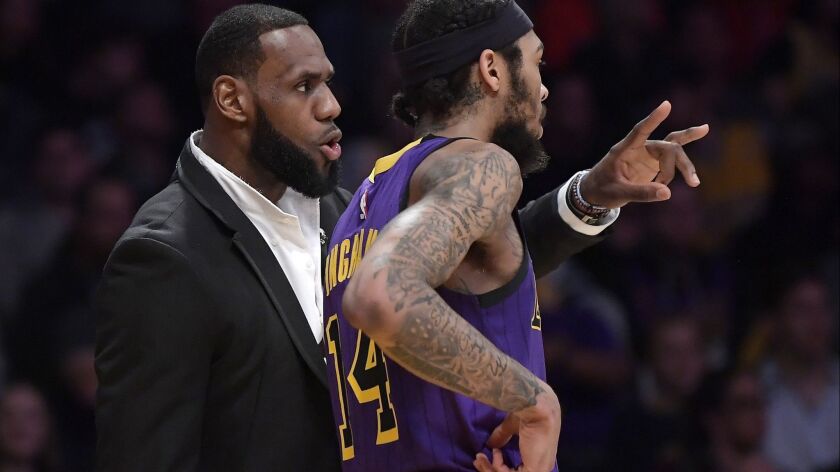 LeBron James was seated on the end of the bench. He couldn't help the Lakers on Friday night against the lowly New York Knicks. Rajon Rondo was one seat over, his hand in a brace after surgery on his ring finger. He couldn't help either.
Kyle Kuzma wasn't even in Staples Center, the training staff convinced a night at home would be better for his recovery from a back injury than one on the bench. He too wouldn't be of any use.
No, to beat the Knicks, who entered the night as one of three NBA teams with fewer than 10 wins, the Lakers would need other heroes, other playmakers, other scorers just to survive another short-handed night.
But no one can replace James' all-around impact, Rondo's calming presence, Kuzma's fearlessness to take and make big shots. It has to come a little from everyone, and in a 119-112 loss to New York, everyone the Lakers had wasn't good enough.
"That's an unfortunate loss," Lakers coach Luke Walton said.
The Lakers came back from 17 down to build a six-point lead heading into the fourth quarter, then lost for the fourth time in five games since losing James on Christmas night, a shoddy defensive start and some late-game gaffes too much to overcome.
Prior to the game, Walton said his short-handed team had to win by defending first, a must with so much firepower in street clothes.
The Lakers responded by allowing 39 points in the first quarter.
And while they worked themselves back into the game thanks to spurts from role players like Kentavious Caldwell-Pope, Lonzo Ball, Lance Stephenson and JaVale McGee, the Lakers crumbled on their home court down the stretch, even drawing some boos from the Lakers fans that didn't bolt down the stretch.
The Lakers came out of a late timeout down five, needing a basket, and Ball failed to throw an inbounds pass, resulting in a five-second violation. He cut that deficit to two with his fifth three-point shot of the game, but a Knicks basket and another Ball turnover sealed the win for the Knicks.
With James down, forward Brandon Ingram spoke up and said he was ready to step up — a chance to turn around an uneven season in which he's looked uncomfortable paired with the Lakers' All-NBA acquisition.
"It's an opportunity," he said before last week's loss in Sacramento. "It's an opportunity for me to go out there and play my game a little bit more."
He's tried to carry more of a load Friday, shooting 21 times, tying a season high in attempts that he set earlier in the week in a loss to Oklahoma City. And that loss to the Kings? Ingram shot 19 times.
But for the second straight game he was inefficient, making only eight of 21 attempts. And down the stretch Friday, he made only one basket while the Knicks outscored the Lakers 33-20.
"It was us," Walton said of the fourth quarter. "We fouled. I think they shot 20 free throws in the fourth quarter. …We have to start making some of these open shots. But that's still not the main reason we lost tonight. We stopped making those extra passes."
While no one individually picked up the scoring load with James and Kuzma out — four different Lakers scored at least 17 points, led by Ingram's 21 — Ingram and Ball failed to fill the playmaking void left by James and Rondo's absence.
Ball had just two assists, the ninth time this season he's dished out two or fewer. The Lakers have lost six of those nine games.
With James out for at least the next week, the loss to the Knicks proved how dire things are without James and won shooting just 37.4%. Things won't get easier Sunday in Minnesota on Sunday or Monday in Dallas.
"We have to do it as a unit," Walton said.
Individually, there's just no way they can get it done.
Twitter: @DanWoikeSports
---
All things Lakers, all the time.
Get all the Lakers news you need in Dan Woike's weekly newsletter.
You may occasionally receive promotional content from the Los Angeles Times.