Kobe Chronicles: Lopez twins grew up watching Bryant in family living room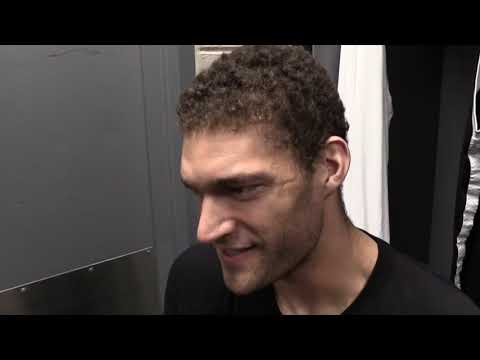 Brook and Robin Lopez describe growing up as Kobe Bryant and Lakers fans in Fresno.
As Kobe Bryant plays out his 20th and final season with the Lakers, The Times has reached out to players, coaches and broadcasters for recollections about his career.
Brook and Robin Lopez, eight-year pros, play for the Brooklyn Nets and New York Knicks, respectively.
The Lopez twins might play for different NBA teams, but they share the same spot in the visitor's locker room at Staples Center and many of the same memories of Bryant, whom they grew up watching on TV in their family's living room in Fresno.
"I'm a California boy, born and bred," Brook Lopez said. "So I was a huge Laker fan, a huge Shaq and Kobe fan and I remember watching all the great moments in the regular season and playoffs sitting in front of our tiny TV at our house.
"Watching the Philly finals, the three-peat, all sorts of stuff. It's just had a huge effect on me growing up.
"He's a big role model of mine and, you know, it's been such an honor to play against him and compete against him all these years."
Robin Lopez called it "surreal" to play against Bryant.
"There are times when you're on the floor and you kind of have to pinch yourself a little bit, make sure you're not dreaming, as corny as it sounds," Robin Lopez said.
Robin Lopez played four seasons with the Suns and faced Bryant and the Lakers in the Western Conference finals in 2010.
"Back in my second year, it was Game 6 and we had put up a really good fight up until that point," Robin Lopez said. "He just went into another mode, where it was like sniping threes from the hashmark between half court and it was like he was putting that team on his back and he was on another level.
"That was ridiculous to watch."
Bryant scored 37 points, the Lakers won the series and went on to defeat the Celtics in the Finals.
All things Lakers, all the time.
Get all the Lakers news you need in Dan Woike's weekly newsletter.
You may occasionally receive promotional content from the Los Angeles Times.