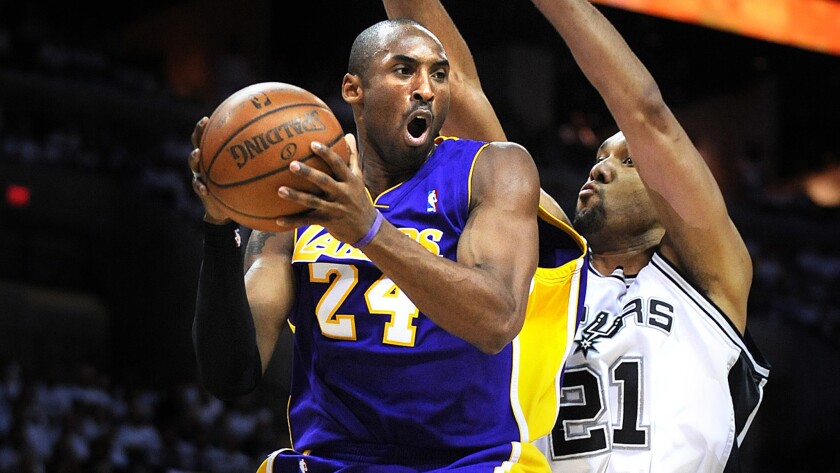 As Kobe Bryant plays out his 20th and final season with the Lakers, The Times has reached out to players, coaches and broadcasters for recollections about his career.
Spurs center Tim Duncan isn't sad he played Kobe Bryant for the last time Saturday.
In fact, Duncan, in his 19th NBA season, said after the game that he felt "no emotions" at all.
"I'm here to play a game and win a game. I'm not worried about that stuff," Duncan said when asked what it was like to face Bryant a final time. "He's a great competitor over the years, but this wasn't about him. It was about us trying to get back on track."
Duncan might have been the only person in Staples Center who felt that way.
Even Spurs Coach Gregg Popovich and Duncan's teammates, including veteran guard Tony Parker, spoke about the emotion in their final meeting with Bryant.
Duncan scored 12 points and grabbed 13 rebounds in San Antonio's 119-113 victory. Bryant finished with 25 points and played through a dislocated finger in the fourth quarter.
Get the latest in sports with our free newsletter >>
While Duncan was finished talking about the Kobe-farewell tour, the five-time NBA champion did say that it was always a great game when facing Bryant, also a five-time champ.
"You always know that you got to bring your 'A' game against him because he is going to bring the best out of you," he said.
But when asked once again whether he felt sad that he would never again share the court with Bryant, Duncan responded, "No," and raised an eyebrow when reporters still appeared befuddled.
"Why is that a surprise?" Duncan continued. "No. We played for many years. It's been great. We're moving on."
Follow Lindsey Thiry on Twitter: @lindseythiry
ALSO
Lakers practice isn't part of Kobe Bryant's schedule these days
Five takeaways from the Lakers' 119-113 loss to the San Antonio Spurs
Kobe Bryant produces drama and an injury in his final game against the Spurs, a 119-113 Lakers loss
---