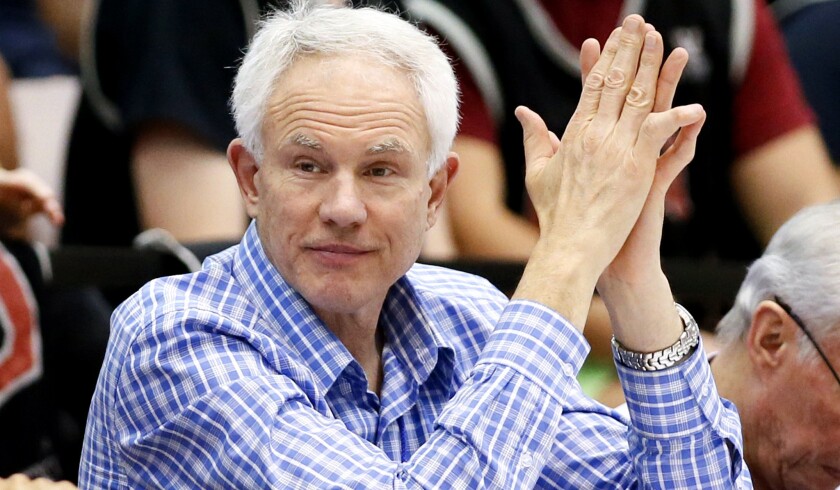 Eons have seemingly come and gone since Mitch Kupchak's declaration last September that "our expectations are to win a championship."
It's hard to imagine a Lakers season that felt longer than this one. So many losses, so many questions, so many people glad it's over.
But it was time for the Lakers' general manager to meet with the media after another fruitless campaign. Kupchak called it a "terrible" season Thursday, acknowledging the obvious less than 24 hours after the Lakers' 122-99 loss in the much-welcomed finale against Sacramento.
"Losing 60 games is really nothing to be proud about," Kupchak said, rounding down just a bit after the Lakers finished 21-61.
It was the worst season in the franchise's 67-year history, nudging aside the 1957-58 Minneapolis Lakers. Where to begin the rebuilding process? Kupchak tried to sound optimistic.
"We can get better quickly. We can be in the hunt quickly," he said. "A lot depends on May 19."
It's a date thrown around a lot. It would be devastating for the Lakers to lose their top-five protected draft pick that night in the lottery because of the Steve Nash trade. They finished with the NBA's fourth-worst record, creating a 17.2% chance of falling below the all-important fifth spot, which would go to Philadelphia.
"We'd like to have something in our pocket for the way the year went," Kupchak said. "This would be a good draft to participate in."
The Lakers would embrace certain percentages, specifically the 37.8% chance they have of moving into one of the top three draft spots on lottery night. Regardless, they get Houston's first-round pick (27th overall) for the Jeremy Lin trade and their own second-round pick (34th overall).
And they will have money to spend on free agency in July. Not a ton but enough for at least one maximum-level player.
"We have no idea how it's going to play out," Kupchak said. "We'll be active participants."
The projected headliners will be Rajon Rondo and Goran Dragic, and maybe Kevin Love if things don't go well in Cleveland or LaMarcus Aldridge if Portland's playoff run is short. Marc Gasol is also eligible for free agency but he is not expected to leave Memphis for Los Angeles, seeing how his brother, Pau, left the Lakers for Chicago last summer.
In fact, Kupchak mentioned the elder Gasol when asked if he had any regrets.
"I do wish that we would have been able to keep Pau Gasol," Kupchak said. "He's still playing at a very, very high level. But on the flip side of that, he did need a change of scenery and I think it was best for him to move on."
Oddly enough, Kobe Bryant, usually the focal point at end-of-season interviews, was barely mentioned Thursday.
He was a part-time player by the time he sustained a season-ending torn rotator cuff in January. He also shot an unimpressive 37.3%.
What can the Lakers expect from Bryant next season? He'll be 37 years old and making $25 million in the last year of his contract.
"I don't know," Kupchak said. "I do know that he's going to work as hard as anybody can work in the off-season to get his shoulder right, keep his body in shape. But the makeup of the team right now is just not clear enough to draw Kobe in and say, 'This is what we're going to expect. Can you do it?' "
There were other notes of interest from Thursday's exit meetings between Kupchak and Lakers players. Coach Byron Scott also sat in on them.
Reserve forward Carlos Boozer said he would want to come back to the Lakers "if we had a team that could compete" for a championship. In other words, he'll likely be on a different team.
Scott said he might represent the Lakers at the lottery — "They asked me to go," he said — but then expressed concern if the Lakers happened to lose the pick that night.
Nick Young recently told reporters they could find him in Maui if they needed him. Rookie Jordan Clarkson took a different angle Thursday: "I'll be here all summer. It's home for me."
The Texas native was the Lakers' lone bright spot this season, possibly carving out a place on the NBA's all-rookie team while making a lot of teams regret passing him up in last year's draft.
Clarkson said he watched the NBA draft eight to 10 times this season after a bad game, a "motivating thing," he called it Thursday, well aware he was the 46th overall pick.
He averaged 15.8 points and five assists in 38 games as a starting point guard and wouldn't dismiss playing on the Lakers' summer-league team in July. "I'd be going out there and getting some work in with Julius [Randle] and whatever guys come in," Clarkson said. "It's a cool opportunity."
During his sit-down Thursday with Kupchak and Scott, Clarkson was told to work on leadership and adding more muscle this off-season.
He was also asked to learn to play off the ball more often in case he slides over to shooting guard. Kupchak declined to say whether Clarkson would be the point guard of the Lakers' future, refraining comment until after the June 25 draft.
The team could be in position to select a point guard (D'Angelo Russell or Emmanuel Mudiay) or might try to pursue one a week later via free agency.
In a related note, Boozer told reporters Clarkson could be a "baby Westbrook," following the mold of Oklahoma City's Russell Westbrook.
"That's a great compliment," Clarkson said. "But I kind of want to be my own player."
As the Lakers left the training facility one last time, the book finally closed on the franchise's worst six-month run ever.
Perhaps Scott said it best.
"There's going to be parts of this season that's always going to leave a bad taste in your mouth," he said.
Twitter: @Mike_Bresnahan
---