Lakers GM Mitch Kupchak really likes Coach Byron Scott's tough-love style with young players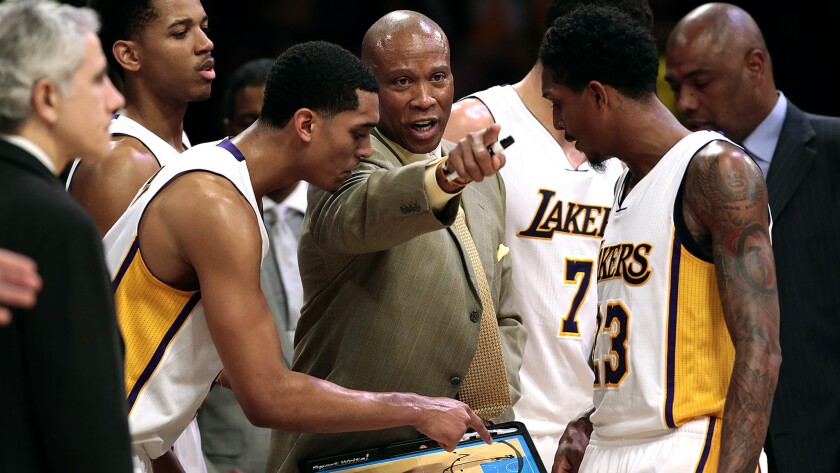 Coach Byron Scott has unapologetically shown tough love toward the Lakers' younger players, continually cementing his old-school approach as the losses pile up at a historic rate.
He's told Julius Randle to grow up and stop pouting when he gets taken out of a game. He's been hard on rookie D'Angelo Russell, taking away his starting job last month (along with Randle's) and recently calling his playing style "young and dumb."
He was joking about the latter, but the serious-minded Scott has a fairly important backer — his boss.
"If you asked our young players, I think there would be a mutual respect, as you might expect maybe between a parent and a child," Lakers General Manager Mitch Kupchak told The Times on Sunday before the Lakers lost a slow-speed chase to the Utah Jazz, 86-74.
"In other words, I'm going to love you, I'm going to bring you along, but every now and then, I've got to teach you the right way to do things."
Randle wasn't happy after being removed from the Lakers' 97-77 victory over Phoenix last week. He didn't understand Scott's postgame comments that singled out his poor defense.
As the story gained traction, Randle said simply, "Me and him never had issues," and did some singling out of his own, saying reporters made up the alleged frostiness between the two.
Kupchak said Scott had maintained a respectful relationship with the five young Lakers — Randle, Russell, Jordan Clarkson, Larry Nance Jr. and Anthony Brown — and approved of Scott's taking them all to an Italian restaurant for dinner in Boston two weeks ago.
Scott discussed their roles, as well as what he expected from them in the future. Clarkson said he had a "great" relationship with his coach and added, "It was good to be able to sit down and catch what he sees in us."
The Lakers (8-31) are a sunken team. When their season ends in April, they may well have set the team record for most losses.
Even though Scott demoted Randle and Russell, he was doing the right thing by making sure the five young players weren't buried at the end of the bench, Kupchak said — not that there were many options on this mishmash of a roster.
"Every coach chooses to bring along young players differently," Kupchak said. "Some coaches will not play rookies at all. Some will give them more leeway than others. They're young players and they're playing big minutes."
Kupchak created headlines last week by saying the Lakers couldn't move on as a team until Kobe Bryant left, comments he made to a group of season-ticket holders. He wanted to clarify them Sunday.
"I guess there was some backlash to the comment that we can't move on until Kobe retires," Kupchak said. "There's no doubt this season is in great part a tribute to him and what he's meant for this organization. It's what he deserves, it's what we want to give him, it's what the fans want and it's a justifiable tribute to his career.
"Having said all that, to think that we're not developing our young players? I mean, who's starting? Larry Nance. Anthony Brown. And Jordan Clarkson. Who's playing 20 to 30 minutes a game? Julius Randle. D'Angelo Russell.
"There is a way to do both. But I think somebody somehow took this comment that we can't move on, which means we can't develop young players as long as Kobe's here, which is ridiculous.
"In fact, Kobe gives the younger guys a chance to fly under the radar a little bit. They can make mistakes. Maybe they don't get the attention they normally get under a normal season. On top of that, they get to learn by being around Kobe."
Twitter: @Mike_Bresnahan
---
All things Lakers, all the time.
Get all the Lakers news you need in Tania Ganguli's weekly newsletter.
You may occasionally receive promotional content from the Los Angeles Times.