LeBron James questions Magic Johnson's 'weird' decision to resign from the Lakers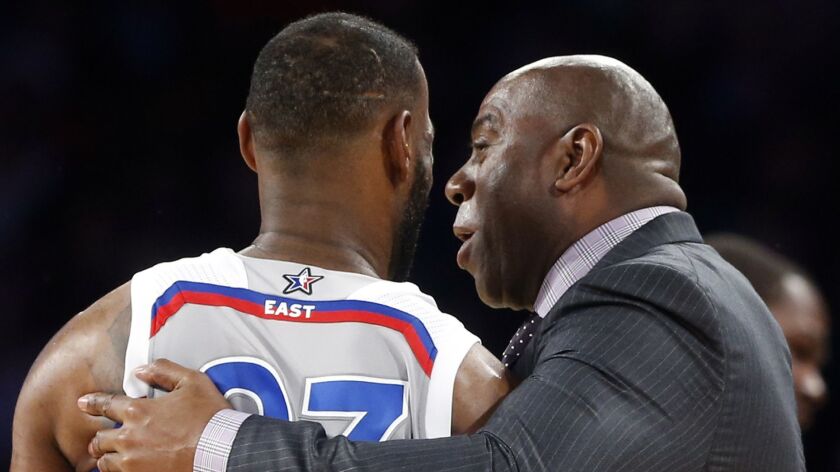 Two days after Magic Johnson stepped down as the Lakers' president of basketball operations, LeBron James spoke about the way Johnson chose to resign like it was a betrayal.
"I came here to be a part of the Lakers organization, having a conversation with Magic and really kind of breaking it down and saying how we was gonna make this Showtime again, and I wanted to be part of that process," James said during an episode of his HBO show "The Shop," which aired Saturday but was taped April 11 in the aftermath of Johnson's decision.
"He explained to me Year One is going to be tough. …. But I was OK with the process. At Year 16 you ain't really supposed to be worrying about no damn process, especially for me because I'm in championship mode all the time," James added.
"So it was just weird for him to just be like 'I'm out of here' and not even have no like, 'Hey Bron, kiss my ass. I'm out of here.' I would've been OK with that. 'Hey Bron, it's Magic. Kiss my ass. I'm gone.' Not even that."
James' agent Rich Paul did not respond to messages asking if the two had since spoken.
James and Paul met with Johnson and Lakers general manager Rob Pelinka on the Saturday before that franchise-altering news conference for what was essentially James' exit interview. They talked about the team's and James' goals for the offseason, according to a person with knowledge of the meeting. There was no indication that Johnson was on his way out.
Then, about 90 minutes before the finale to one of the most disappointing seasons in Lakers history, Johnson held an impromptu news conference. He told a throng of reporters he was stepping down because the job wasn't making him happy, because he didn't want to have to ask owner Jeanie Buss to fire Luke Walton as coach, and because he was tired of being accused of tampering with other teams' players so frequently.
He also said he hadn't told anyone in the organization yet, which included Buss and James.
James didn't play the final six games of the season. Out of playoff contention for the sixth straight year, the Lakers decided to preserve his 34-year-old body. James was between stretching sessions in a back room near the locker room when his longtime assistant and business partner Randy Mims told him Johnson had stepped down.
"What do you mean, like out of his car?" James said he responded. "He's like, 'Magic just stepped down.' I'm like, 'Man get … out of my face.' "
At Mims' urging, James walked into the main locker room area and checked his phone. Lonzo Ball asked if he'd seen the news. The rest of their teammates abandoned pregame preparations and began to filter into the locker room, shocked. Some were just arriving to Staples Center.
Sign up for our Lakers newsletter »
"No one had no idea," James said. "We was like, 'Damn. Right now?' It was literally 70 minutes on the clock. I'm not playing but my team is still playing. And you kind of decided to do that right here. Right now."
James scrunched his face up with a look of disbelief as he recalled the scene.
"I feel like there's a time and place for things, and I believe you knew you were going to make that decision, so why would you do that here?" James said. "Why would you do that now?"
Follow Tania Ganguli on Twitter @taniaganguli
---
All things Lakers, all the time.
Get all the Lakers news you need in Dan Woike's weekly newsletter.
You may occasionally receive promotional content from the Los Angeles Times.