Lakers guard Lonzo Ball is frustrated but understands why his season is over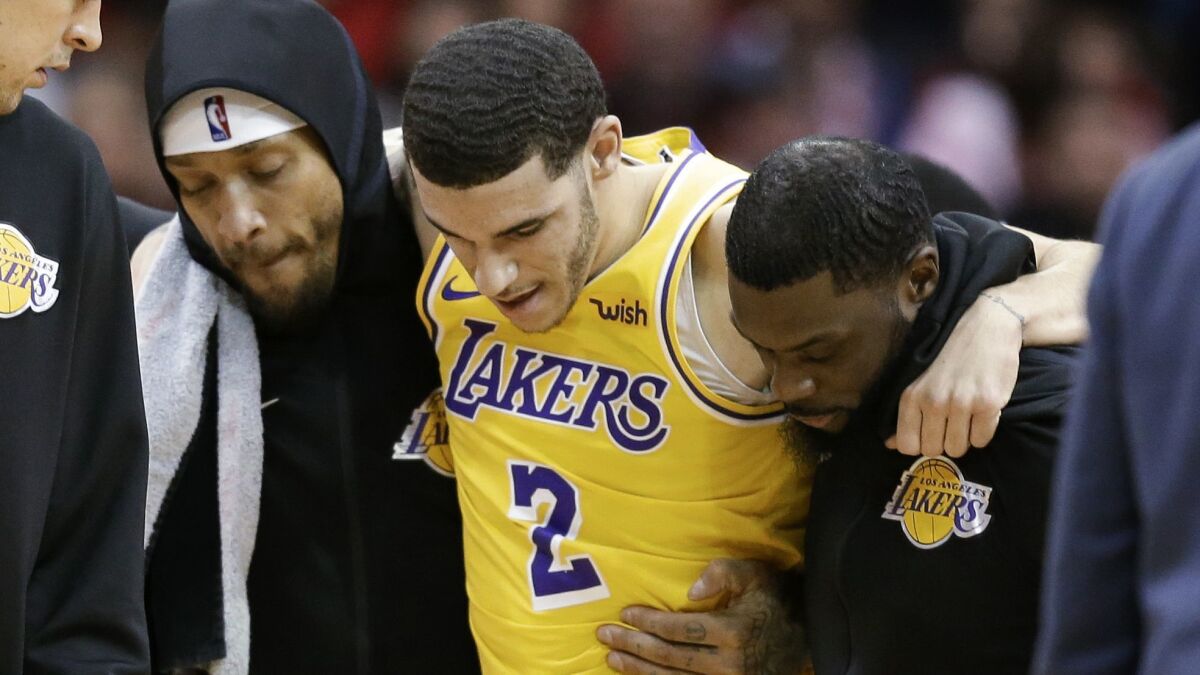 Lonzo Ball didn't resist the Lakers' decision Saturday to end his season. He figured it was coming, given how long his ankle is taking to heal.
"It's just the situation I'm in right now," Ball said before Tuesday's game, speaking for the first time since being sidelined for the season. "So I have no problem with it."
Ball said he'd be traveling with the team and would also "be around here, do whatever I can off the court to help."
The initial injury that sidelined Ball during the third quarter of the Jan. 19 game against the Houston Rockets looked and felt so gruesome at first that he and others worried he had broken the ankle.
He hadn't. That bit of good news was confirmed before the game ended. But it was plenty bad.
How bad, Ball wouldn't know for weeks. An MRI exam the day after the injury revealed Ball had a Grade 3 ankle sprain, which includes a torn ligament. At the time, the Lakers said the injury would be a four-to-six-week injury. But what has extended his absence even more is a bone bruise in the ankle.
"They said the MRI, the first one, I got it so soon that [the bone bruise] didn't show up," Ball said. "Second one, it was there."
Two weeks after the injury, Ball began running on an underwater treadmill. It was at that point that he realized something wasn't right.
"I sprained my ankle on the outside, but I kept feeling the pain on the inside," Ball said. "Right when I started running."
The injury happened at a particularly frustrating time for Ball, who had been playing well in the games leading up to it.
"I thought it was up and down," Ball said of his second season. "Trying to find my stride, if you will, the last five games before I got hurt."
This is the second year Ball has had his season cut short by injury. He sat out 30 games during his rookie season because of knee and shoulder injuries. A summer surgery cut into his offseason. The hope is that this year Ball will finally have a full offseason to work on his game.
"I haven't had it since I've been in the league," Ball said, "so I think it'll help me a lot."
LAKERS UP NEXT
AT TORONTO
When: Thursday, 5 p.m. PDT
On Air: TV: Spectrum SportsNet, TNT. Radio: 710, 1330
Update: The Lakers listed Lance Stephenson (toe sprain), Tyson Chandler (neck stiffness) and Josh Hart (knee tendinitis) as questionable. Kyle Kuzma is healthy enough that he is off the injury report. Toronto has the second-best record in the Eastern Conference and has won six of its last 10 games.
Follow Tania Ganguli on Twitter @taniaganguli
All things Lakers, all the time.
Get all the Lakers news you need in Dan Woike's weekly newsletter.
You may occasionally receive promotional content from the Los Angeles Times.