Lonzo Ball could miss All-Star weekend's Rising Stars challenge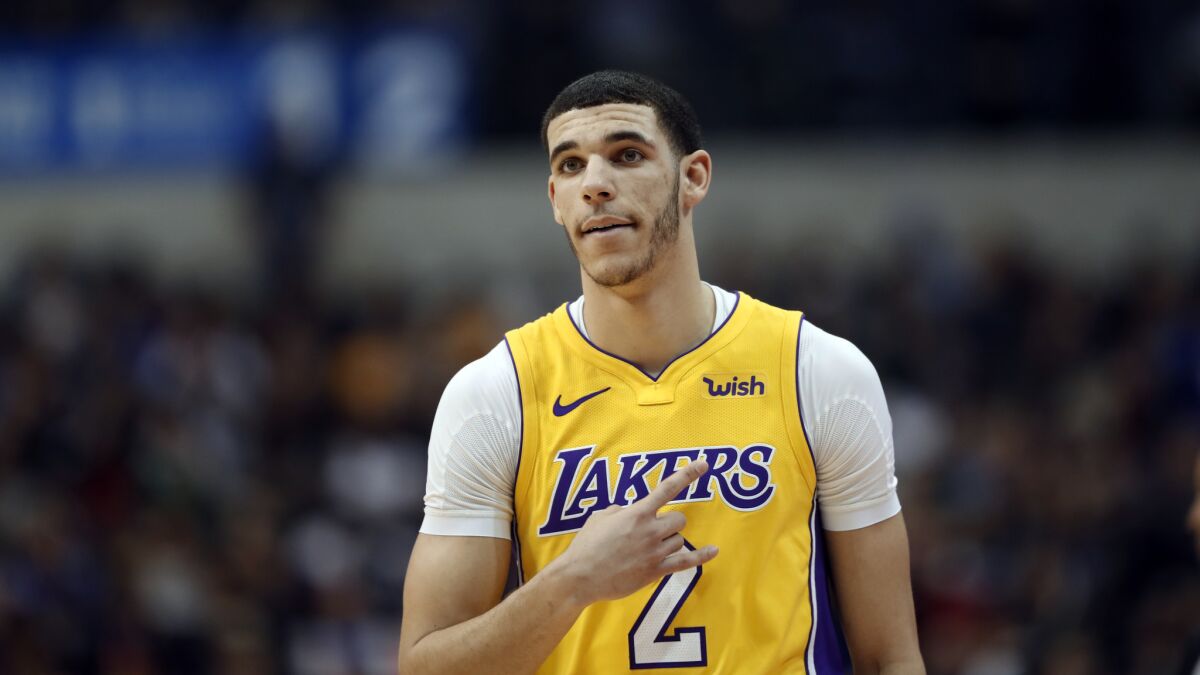 On Wednesday afternoon, Lonzo Ball went through another individual workout session with Lakers assistant Miles Simon. Unable to jump or run full speed, Ball tried to push himself in other ways.
"I didn't think it was going to be this serious, to be honest. ... There was never a timeline for it. It was kind of just a thing that came up. I thought it was going to be dealt with quicker but obviously my body didn't react to it that well. I should be back hopefully soon," Ball said before the workout.
Ball spoke Wednesday to reporters for the first time since Jan. 15 and said he did not know whether he would be able to return before the All-Star break. Ball is scheduled to play in the Rising Stars game Feb. 16, but will do so only if he's healthy.
On Jan. 13, Ball sprained his left knee during a game against the Dallas Mavericks. He didn't feel any real pain until he woke up the next morning. And even in the days after the injury, Ball thought he would be back sooner.
Until Wednesday, Ball had not tested the injury laterally, which was part of the plan for his afternoon workout.
"One dribble, two dribble pullups," Ball said. "Maybe some slides for defense. Just see what I can do. Test it as far as I can and see where the pain comes."
That has been the way Ball has progressed through his rehab so far. He will miss at least 12 games with the injury, having already been ruled out for Thursday's game against the Oklahoma City Thunder. Between a shoulder sprain earlier in the season and this injury, Ball will have missed all four of the games the Lakers will have played against the Thunder this year.
A week after suffering the injury, Ball began jogging on a treadmill. Once he was able to do more on-court work, the Lakers would test Ball until he felt pain. If a certain exercise caused pain, they would lessen his load.
In Toronto on Jan. 27, the Lakers said for the first time that Ball's injury was a sprained knee. The Lakers spent three days in Toronto and during that time Ball did an exercise that caused him some pain.
"I wouldn't call it a setback," Ball said. "It was just kind of to a point where I knew if I did that it was going to hurt. Definitely past that point now so it's a good thing."
Although he hasn't been playing, Ball has not been away from the team. He traveled with the Lakers during an 11-day trip that went to Chicago, Toronto, Orlando, New York and Oklahoma City. Both Ball and Lakers coach Luke Walton said they thought initially that Ball would be able to play at some point during that trip.
A knee injury, though, is not one they'll push.
While there is concern for Ball's long-term future, he says he just wants to play.
"It's pretty tough," Ball said. "This is the most games I've ever missed in my whole life but it's always good to see my teammates win. Especially in front of our home crowd which was definitely good last night. Just doing what I can to be a good teammate and support them."
Foles' message
During their film session on Wednesday, Walton showed a clip of Philadelphia Eagles quarterback Nick Foles' postgame interview after he led the Eagles to a Super Bowl win.
His message was that failure helped him reach the point where he is now.
"Don't be afraid to fail," Foles said early in the lengthy quote. He added later: "I think when you look at a struggle in your life, just know that's just an opportunity for your character to grow."
Walton has often spoken about how players and teams grow by learning from failure.
"It means something to me for sure," Lakers rookie Kyle Kuzma said. "I fought a lot of adversity in my life, and even right now, so failure is in our society frowned upon in a sense, if you fail, people kind of laugh at you. Just how it goes. But failure builds character, it's a very important steppingstone to being a winner."
TONIGHT
VS. OKLAHOMA CITY
When: 7:30 p.m. Thursday.
On Air: TV: TNT; Radio: 710, 1330.
Update: The Thunder are coming off an impressive win over the Golden State Warriors, whom they beat by 20 points. Paul George scored 38 points for the Thunder.
Twitter: @taniaganguli
---
All things Lakers, all the time.
Get all the Lakers news you need in Dan Woike's weekly newsletter.
You may occasionally receive promotional content from the Los Angeles Times.