Lakers' defense and winning streak vanish at Orlando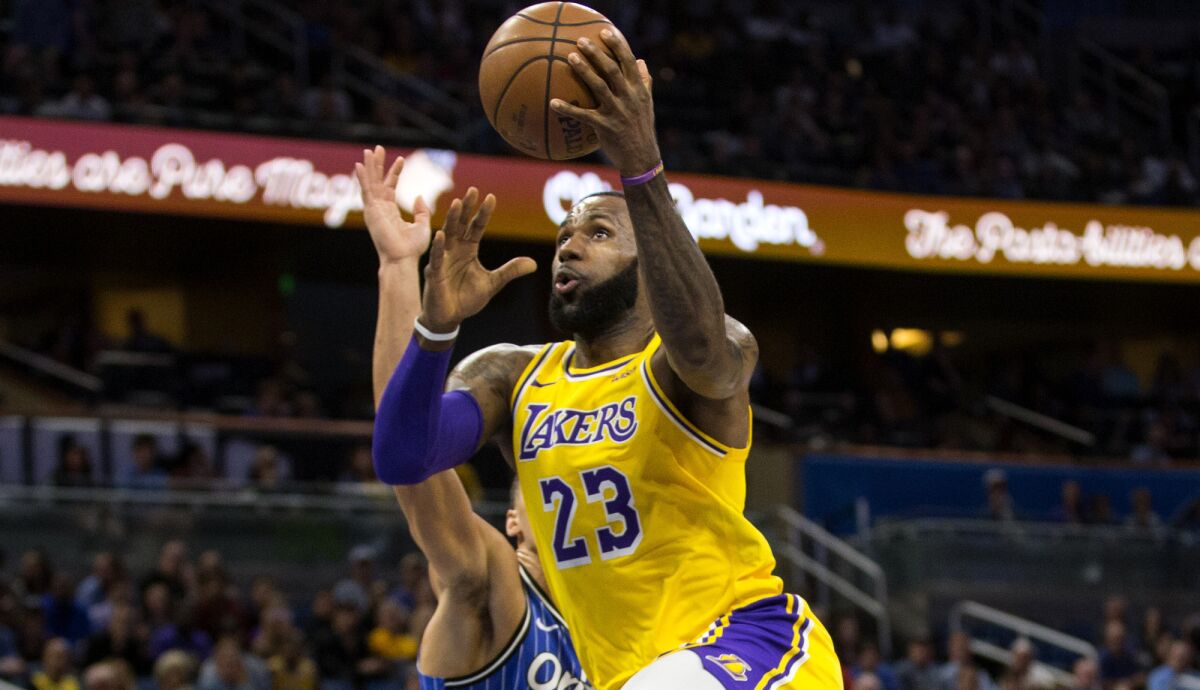 Reporting from Orlando, Fla. —
The defense the Lakers had been so proud of in the last four games was punctured by the Orlando Magic on Saturday night, putting the Lakers in a hole they never recovered from in a 130-117 loss before 19,249 fans at Amway Center.
During their four-game winning streak, the Lakers had allowed 104.7 points per game. They gave up 100 in three quarters Saturday.
The Lakers led 31-25 after one quarter, but the Magic shot 57.7% while scoring 37 points in the second, including 54.5% from three-point range, and built a nine-point lead that grew to 21 in the third quarter.
"I thought we came out ready to play tonight. I really liked our first quarter, our intensity, our focus," Lakers coach Luke Walton said. "And then for some reason, our defense, it felt like it just failed us.
"We have been getting a lot better defensively and we played a good first quarter defensively. Maybe a different rotation [was to blame or] we just weren't comfortable with the new guys. I don't know what the reason was. We never recovered from that. We didn't really give ourselves a chance. You play on the road in this league, you got to be able to get stops if you want to win. We didn't do that."
The Lakers never got a handle on Magic center Nikola Vucevic, who overwhelmed them with 36 points and 13 rebounds. Point guard D.J. Augustin had 22 points and seven assists, another reason why the Lakers have lost 10 of their last 11 games here.
"After the first quarter, we were pretty bad defensively," said LeBron James, who had 22 points. "We had a lot of breakdowns, uncharacteristic of us as of late. But give Orlando credit. They put us in positions where they just kind of took advantage of [us] not being in the right spots defensively."
To their credit, the Lakers didn't go away quietly.
Walton put in a group in the fourth quarter consisting of rookie Svi Mykhailiuk, Michael Beasley, Lance Stephenson, Brandon Ingram and Kentavious Caldwell-Pope.
When Beasley (seven points), who played for the first time in 10 games, scored on a tip-in, the Lakers had pulled to within 10. But Vucevic struck again, scoring while being fouled for a three-point play.
When Mykhailiuk (eight points) hit a three-pointer with four minutes 11 seconds left, the Lakers again got to within 10. But Vucevic answered every time for the Magic, scoring five straight points to keep Orlando in control.
"You always got a chance until the clock runs out," James said. "I give credit to that group that was out there. They continued to fight. Once you dig yourself a hole like that, one play or one bad turnover here … They got a couple of and-ones. That's heartbreaking."
The Lakers played their first game without point guard Rajon Rondo, who will be out four to five weeks recovering from a broken right hand. But to be clear, this loss was on porous defense.
The Lakers saw the Magic score 38 in the third and 30 in the fourth, and shoot 53.8% from the field for the game.
"As our defense got worse, our point-of-attack defense really suffered," Walton said. "And they were living in our paint. They scored, I think, 24 in the third quarter in our paint, which when you are coming out of halftime with a deficit, let's make sure we re-establish this [defense]."
Twitter: @BA_Turner
All things Lakers, all the time.
Get all the Lakers news you need in Dan Woike's weekly newsletter.
You may occasionally receive promotional content from the Los Angeles Times.