Magic Johnson on his relationship with Lakers coach Luke Walton: 'We're all good'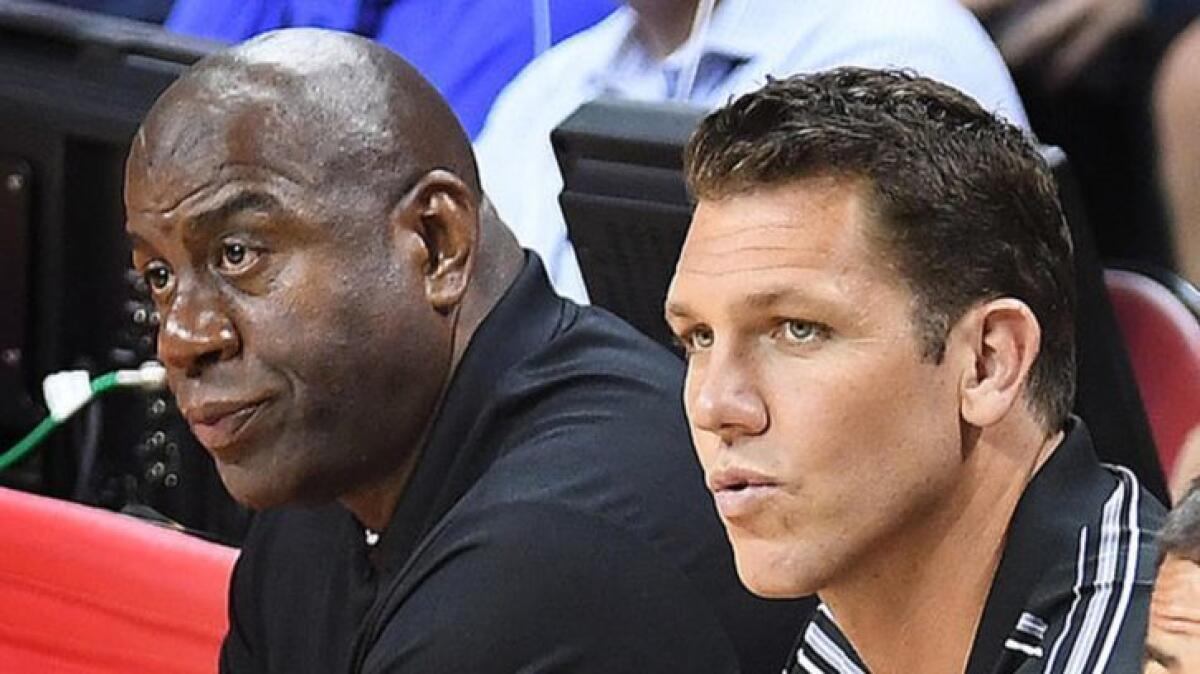 If there was any doubt about coach Luke Walton's job security, Lakers president of basketball operations Magic Johnson put an end to it Sunday night.
Speaking with The Times before the Lakers played the Toronto Raptors, Johnson said his conversation with Walton last Tuesday was one they needed to have and that they have all moved on from it. He emphasized that it had no bearing on Walton's job security.
"I said it, Luke took it and we're all good," Johnson told The Times. "It's no big deal."
Johnson insisted that Walton is not on a clock. He was asked if there's any chance Walton would not finish the season as the Lakers' head coach.
"He's going to finish the season," Johnson said. "Unless something drastic happens, which it won't."
The Lakers are 4-6 and have gone 2-1 since Johnson and Walton had a tense interaction Tuesday. They beat the Dallas Mavericks and broke a 16-game losing streak to the Portland Trail Blazers. Their win Saturday night in Portland was the Lakers' first there since March of 2014. On Sunday they got blown out by the Toronto Raptors at home.
After a 2-5 start, though, Johnson's ire reached a boiling point. The Lakers had gone 0-2 on a road trip, losing to the San Antonio Spurs and the dysfunctional Minnesota Timberwolves, a team making headlines for its standoff with disgruntled star Jimmy Butler. The Timberwolves beat the Lakers 124-120 on Oct. 29. The next day Johnson called Walton into his office.
During their meeting, Johnson shouted and cursed at Walton. At one point he chided Walton for interrupting him. He wanted to see an offensive system that had yet to be implemented, and made other suggestions.
Since the summer, Johnson insisted he would be patient with the Lakers' early season struggles. He and general manager Rob Pelinka have talked about having a multiyear plan for rebuilding the Lakers into a championship contending team. The first step of that was signing LeBron James in free agency.
Consequently, his outburst last week surprised some within the building.
It also led to speculation about Walton's job security from both people within the building and outside it.
But in Johnson's mind that was never a question. He simply felt he was doing his job in holding Walton accountable. His only regret is that the conversation became public when ESPN reported the interaction Friday morning.
After the story broke, Walton addressed it with his players, emphasizing that they have known all season that there would be distractions for the team. The Lakers then beat the Trail Blazers 114-110.
"It's great to win, period," LeBron James said, when asked if it felt good to win for Walton. "Listen, coaching staff put us in a position to win and it's up to us to go up and execute. Luke can care less about what's going on outside; we could as well."
Walton echoed James' thoughts after the game, saying that the win in Portland only had special meaning because it had been so long since the Lakers had won in Portland.
"That's where my focus is and where it will always be," Walton said. "It's, what can I do to make this team the best that we can be and are we getting better? And I thought tonight was a sign that we, as a team, are doing things the right way."
Since then, Walton has received messages of support from around the league. Walton said those messages feel good whether they come from other coaches around the league or his father.
When asked what his father, Bill Walton, said, Walton replied: "He loves me and supports me no matter what."
Follow Tania Ganguli on Twitter @taniaganguli
All things Lakers, all the time.
Get all the Lakers news you need in Dan Woike's weekly newsletter.
You may occasionally receive promotional content from the Los Angeles Times.