Five takeaways from the Lakers' 122-73 loss to the Mavericks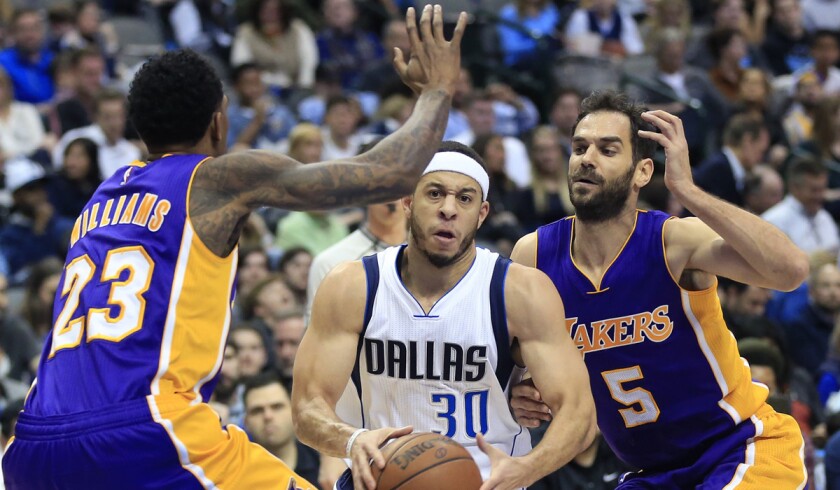 The Lakers suffered the most lopsided loss in franchise history to one of the NBA's worst teams. Here are five things we learned from their 122-73 loss to the Dallas Mavericks in the American Airlines Center on Sunday:
1. Three months into the first year A.K. (after Kobe) the Lakers are still searching for a player—or a group of players—to step up and fill the leadership void left by Bryant's retirement last spring.
Coach Luke Walton can't be the lone voice challenging them, screaming at them. He can't be the only one kicking them in the shorts when they need it, like they did in the second quarter Sunday, when the Lakers were outscored, 38-11, and put up almost no resistance to the Mavericks.
"We don't have a guy who's naturally that person for us, so it needs to come from multiple people," Walton said. "Guys were trying tonight, saying right things, but the plays we did get defensive stops on, we'd give up offensive rebound, they'd kick it out and get a three.
"Saying the right things is a good starting place, but to get it done is more about the action of doing, not what people are saying. And tonight, we didn't really have anyone step up and do what needed to be done."
One of the challenges in finding leadership: The core players—D'Angelo Russell, Julius Randle, Brandon Ingram, Jordan Clarkson and Larry Nance Jr.—are rookies, second-year or third-year players.
"We're all the same age, so it's hard to say one guy is the leader," Nance said. "It's by committee. Our committee just didn't show up tonight."
2. Numbers don't lie. Among the ones that stung the most on Sunday: The Lakers lost by 40 points or more for the fifth time in the past three years and second time this season. They had suffered only four such losses before 2013-14.
They were 28 of 73 shots from the field (38.4%) and three of 21 from three-point range (14.3%). They were outrebounded, 49-32, though that isn't all that surprising considering how many shots they missed. They had 18 turnovers, which Dallas turned into 23 points. They had only 11 assists, a reflection of poor ball-movement and the lack of a transition game.
And their 73-point output came on the 11-year anniversary that Bryant scored 81 points on his own—the second-highest single-game scoring total in NBA history—in a 122-104 win over Toronto Raptors on Jan. 22, 2006.
3. If Walton aired out his players after Sunday's game, he was not about to disclose it publicly. "What I say to them behind those doors," the coach said, "is between us." Walton also refuses to allow his young and erratic team's struggles push him toward the panic button.
Asked if he was concerned about "the culture" of his team, Walton said, "No, not at all. We're headed in the right direction. We're gonna get to where we need to go, and I'm excited about it. This was just a bad game, one that causes pain. You use it to motivate you and move on."
4. Dirk Nowitzki, the Mavericks' 38-year-old forward, is still going strong in his 19th NBA season. Nowitzki scored 13 points on five of 11 shots, including one three-pointer in 20 minutes.
Timofey Mozgov and Randle guarded Nowitzki for most of the game, but it's not as if Walton was in any position to criticize the two big men. He didn't have much success guarding Nowitzki during his playing days, as well.
Asked what the hardest part about guarding Nowitzki was, "Walton said, "Everything … seriously. You try to make certain players take tough shots, and the shots you tried go get guys to take, Dirk wanted those shots. So he puts you in a real tough spot. He's obviously one of the all-time greats in our league and an absolute joy to watch. Not a joy to try to stop. It was a near-impossible job to try to guard him one on one."
5. It will be painful—but necessary—for the Lakers to watch a tape of Sunday's game.
"You definitely don't want to throw it out and forget it," Nance said. You can always learn something from every game that you play, but this is one we'd like to wash out hands of and move on to the next."
Said Nick Young, who had an air ball among his six missed shots: "You have to let it go. It's a tough loss, but we can't dwell on it. We have to keep going. We can't let this one turn into the whole year. We have to keep fighting."
Twitter: @MikeDiGiovanna
---
All things Lakers, all the time.
Get all the Lakers news you need in Dan Woike's weekly newsletter.
You may occasionally receive promotional content from the Los Angeles Times.