Five takeaways from the Lakers' defeat of the Mavericks
Five takeaways from the Lakers' too-close-for-comfort, 114-113 victory over Dallas on Wednesday night at Staples Center
1) It seems with this Lakers team there is always a phase for them to go through. The latest was the Lakers learning how to close out a team when they have a big lead.
The Lakers led by 19 points in the third quarter, but couldn't put the game away. They led by 14 points with 4 minutes 16 seconds left, by 11 with 3:06 left, by eight with 2:44 left and by six with 56.5 seconds left.
Still, it came down to the end when both Kyle Kuzma and LeBron James made only one of two free throws in the final seconds of the game.
James' second free throw had given the Lakers a 114-113 lead with 2.1 seconds left.
It wasn't until J.J. Barea missed a 39-footer as time expired did the Lakers escape with a game that looked to be in their hands.
2) Slowing down dribble penetration is a goal the Lakers didn't reach against the Mavericks.
The Lakers' defense allowed the Mavericks to get 60 points in the paint, much of that coming on drives into the lane. That was a big reason why the Mavericks shot 50% from the field.
Also, the Lakers' inability to stop the Mavericks from getting inside allowed Dallas to get clean looks from three-point range. The Mavericks shot 44.8% from long range.
3) The Lakers are not underestimating the contributions they are getting from center JaVale McGee.
Besides the 16 points he had on eight-for-15 shooting, McGee had season highs in rebounds (15) and minutes played (35:02) and tied his season high in blocked shots (5).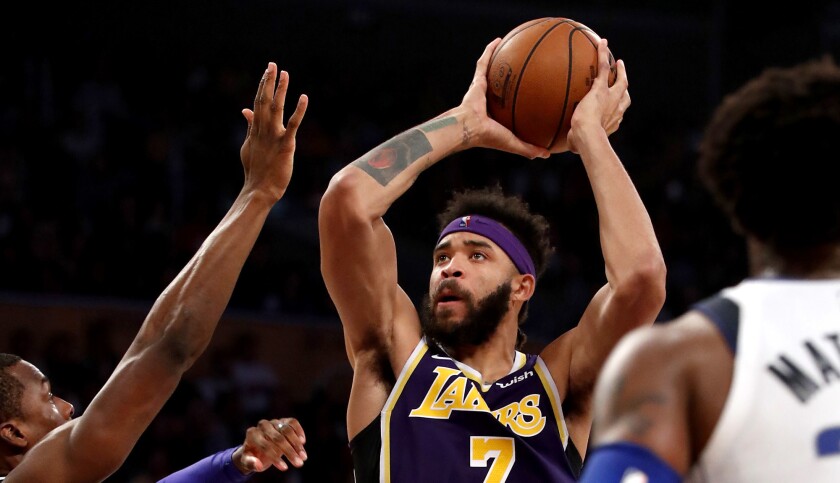 McGee also had two steals and one assist and was a plus-18 in the plus/minus department.
4) Lonzo Ball kept himself engaged in the game during his 33:18 on the court.
He had 12 points, seven assists, four rebounds and zero turnovers. He was four-for-six shooting from the field, making all three of his three-pointers.
5) The Lakers still have to work on their free-throw shooting, especially in the clutch moments of the game.
Though they shot a decent 75% from the line (18 for 24), they shot only 60% (six for 10) in the fourth quarter.
Kuzma had a chance to give the Lakers a three-point lead, but he made just one of two free throws with 17.8 seconds left. James had a chance to give the Lakers a two-point lead, but he made just one of two free throws with 2.1 seconds left.
Twitter: @BA_Turner
---
All things Lakers, all the time.
Get all the Lakers news you need in Dan Woike's weekly newsletter.
You may occasionally receive promotional content from the Los Angeles Times.