For Lakers GM Mitch Kupchak, 'championship' is still on the agenda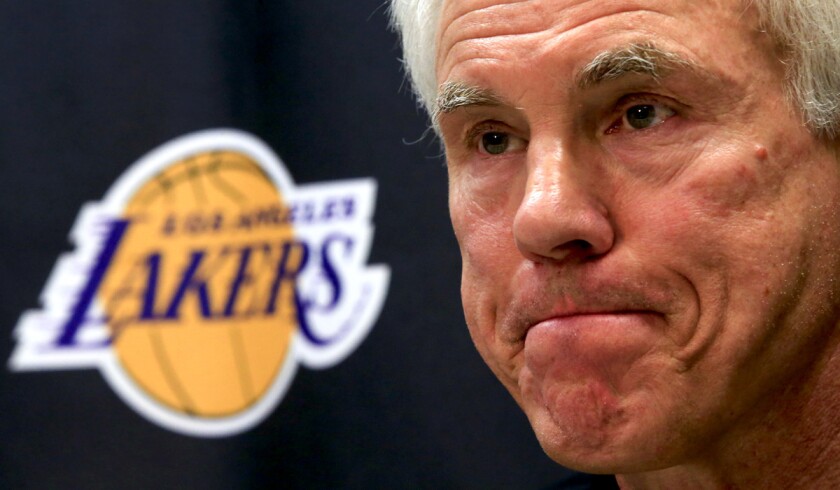 Strong words from Mitch Kupchak, but he had to say them.
"Our expectations are to win a championship. I know that sounds . . ." the Lakers general manager said Friday, trailing off before picking back up. "Expectations outside of this room might not be the same."
He's right about that.
The Lakers begin training camp Tuesday after their worst season since moving to Los Angeles. The painful recap for their fans: Kobe Bryant played only six games, Steve Nash all of 15, there were a mere 27 victories and 13 teams finished with a better record than they did in the Western Conference.
When it was over, Mike D'Antoni resigned as coach, Pau Gasol left for Chicago, meetings with Carmelo Anthony and LeBron James' agent were unsuccessful and the Lakers found themselves in pure rebuilding mode.
Not that they'll say it. Or even can say it with ticket sales and merchandising always so important to the franchise.
So Kupchak tried his best Friday to talk positively about a team that won't be on anybody's championship radar.
He even mentioned the successful follow-up to the lurching 2006-07 season, when the Lakers went 42-40, got bounced in the first round by Phoenix in five meek games and, Kupchak said humorously, there were plenty of off-season stories about "one of our players that didn't want to be here."
(For the uninitiated: Bryant demanded to be traded. The Lakers smartly resisted.)
Then Gasol fell from the Memphis sky and the Lakers were in business halfway through the 2007-08 season.
It seems like so long ago, but somehow Bryant is back for a 19th NBA season. Despite his advancing age (36 last month) and suddenly thick dossier of recent injuries, it was "comforting" to know Bryant was returning to action, Kupchak said.
"I think he's going to have an excellent year. He's been working every day. I get reports. I've seen him personally. I know he's working and speaking with [Coach] Byron [Scott] on a daily or semi-daily basis," Kupchak said.
But how will he look on the court? Can he come closer to the 27.3 points he averaged in 2012-13 before his Achilles' injury than the 13.8 points he averaged last season before sustaining a fractured knee?
"He's going to play differently than he played 10 years ago, maybe not so different than what he played two or three years ago. I think he'll be very effective," Kupchak said. "I'm not going to predict what his statistics will be but . . . if we needed 30 from him or 35 one night, I think he can get it."
Bryant isn't limping, he has lost 10 to 12 pounds from last season and his conditioning is fine, Kupchak added.
"Now his explosiveness, understandably, is not going to be what it was 10 years ago but I'm not worried about that," Kupchak said.
If nothing else, the Lakers' roster will look little like last season's debacle. They added Carlos Boozer and Jeremy Lin, actually had a first-round draft choice for the first time since 2007 (Kentucky power forward Julius Randle) and were pleasantly surprised to find Missouri point guard Jordan Clarkson available in the second round.
Jordan Hill and Nick Young will be back, as will the 40-year-old Nash for one more season. Robert Sacre will provide depth at center and Xavier Henry will try to recapture some of the energy he showed before injuries sidelined him last season.
Kupchak said there would be "management" of minutes and possibly games played for Bryant and Nash, though he deferred to Scott on allocation of such.
Nash has taken part in informal scrimmages in the morning and at night at the team's facility in recent weeks.
"I think we're much further along with Steve this year than we were last year," Kupchak said, though he acknowledged being apprehensive because of Nash's injury history.
Things would have looked so different had the Lakers landed Anthony or, a real longshot, James. But they didn't.
"Our expectations with either player just based on what we perceived the environment to be . . . we never felt it was realistic that we could get one or [both]," Kupchak said. "But if you don't try you don't know.
"We'll get somebody. At some point we will."
Twitter: @Mike_Bresnahan
---
All things Lakers, all the time.
Get all the Lakers news you need in Tania Ganguli's weekly newsletter.
You may occasionally receive promotional content from the Los Angeles Times.