Lakers officially eliminated from playoff contention after 111-106 loss to Nets
LeBron James will not be participating in the NBA playoffs for the first time since 2005.
The Lakers will not be participating in the playoffs for the sixth consecutive season.
James and the Lakers officially were eliminated from the playoff race Friday night following a 111-106 defeat by the Brooklyn Nets at Staples Center.
James' near triple-double of 25 points, 14 rebounds and nine assists couldn't stop the Lakers from being a lottery team yet again, and from sending him home early for the first time since he was a 20-year-old with the Cleveland Cavaliers.
"I just keep pushing. I just keep preparing myself mentally, no matter if I'm in the lineup or not," James said. "Obviously it's been a tough season for all of us. It's not what we signed up for. But throughout the year, things happened, suspensions, injuries, things of that nature and us just not being able to play sustainable basketball for 48 minutes. But you don't even try to wrap your head around it. You keep pushing. You see how you can get better tonight and move on to tomorrow and go from there.
"Like I said, the playoffs are never promised. You got to go out and work. For me personally, just continue to put the work in and see what you can do to continue to help."
James had appeared in the postseason his last 13 consecutive seasons, and even more impressive, in the last eight NBA Finals, four with the Cavaliers and four with the Miami Heat.
But his first season in L.A. has not lived up to expectations, and with 10 regular-season games left, the math is against the Lakers, who are 10½ games behind the eighth-seeded San Antonio Spurs in the Western Conference.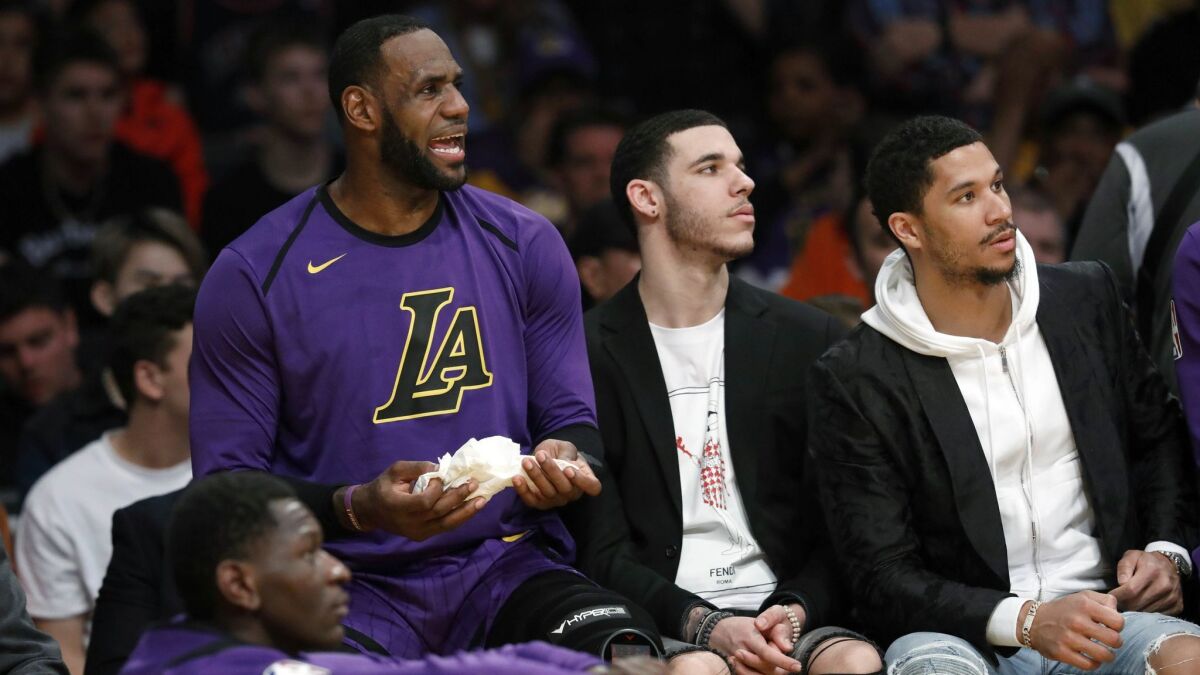 The Lakers' last playoff appearance was in 2013, six long seasons ago — before a franchise-worst stretch of futility that was supposed to stop once the Lakers signed James last summer to a four-year, $153.3-million contract.
Not even a career performance by JaVale McGee, with 33 points, 20 rebounds and six blocked shots, could keep the Lakers for losing their fifth straight and their 10th in 11 games.
D'Angelo Russell, the former No. 2 overall pick of the Lakers who was traded to the Nets two seasons ago, had 21 points and 12 assists against his old team. Joe Harris, the NBA three-point contest winner, made six of eight threes and scored 26 points.
Now the question becomes how many more games will James play. He missed the Lakers' previous game at Milwaukee because of a sore groin. He came back and played 37 minutes against the Nets and actually looked spry and active, though he made just eight of 25 shots, including one for seven from three-point range.
"Obviously with us being officially eliminated, I'll probably have a conversation with the coaching staff, trainer and go from there. But I love to hoop and I'll have five months to not be able to play the game. So, hopefully I can be in as many games as possible."
Etc.
The Lakers said guard Josh Hart will consult with the team's medical staff and his own doctors about a sore right knee that kept him out of Friday night's game. When asked if the Hart injury was long term, Lakers coach Luke Walton said it was "for today." Walton said Hart had not seen any doctors yet. "I get my morning updates," Walton said. "Sore knee. Out." … Forward Mike Muscala did not play because of a sore right ankle.
Sign up for our Lakers newsletter »
Twitter @BA_Turner
---
All things Lakers, all the time.
Get all the Lakers news you need in Dan Woike's weekly newsletter.
You may occasionally receive promotional content from the Los Angeles Times.