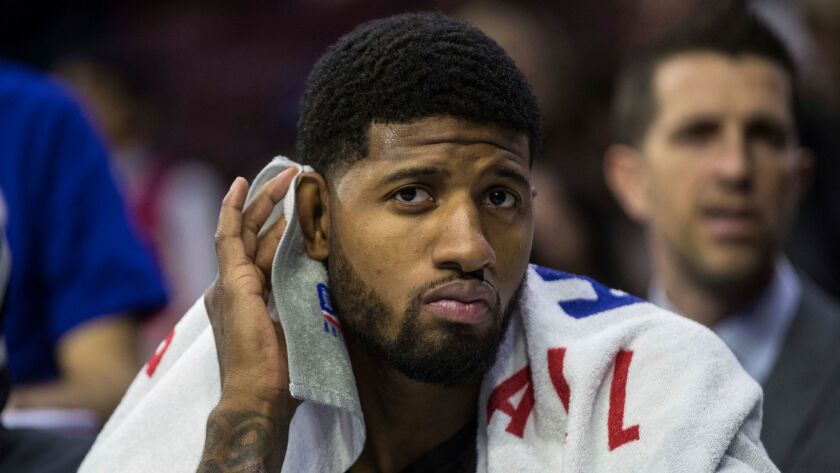 Hi, this is Tania Ganguli, Lakers beat writer for the Los Angeles Times, here with your weekly newsletter.
It's getting to be a point in the season that gets really, really difficult for young NBA players. They've eclipsed the number of games they would have played in college and done it in half the time. Their bodies start to break down, their energy lags and many of them don't get it back until after the All-Star break.
It is, of course, a difficult part of the season for all players, but the older ones have more experience taking care of their bodies, which in turn helps them avoid some of the wear their younger counterparts can't avoid.
Add the fact that the Lakers aren't skilled enough right now to win games in which they don't give their full effort, and you have the eight-game losing streak currently plaguing them.
We'll dive into the details of the losing streak shortly. But first:
Paul George loves the love he gets in L.A.
We don't know what Oklahoma City's Paul George will do once free agency arrives this summer, but what we do know is that this game in Los Angeles on Wednesday was a lot of fun for him.
First, his team won by 37 points (133-96) and everyone likes winning. Second, he was greeted like a member of the home team. That hasn't happened for George in any opposing arena this season — certainly not Indiana, the place he spent the first seven years of his career after being drafted there. He got booed and called a traitor there.
Sean Jackson, a season ticket holder who sits courtside, wore a customized jersey with George's number (13) and last name on the back. He bought the jersey last year, but couldn't make it to the Lakers' game against the Pacers. And, yes, he's aware George can't wear 13 because Wilt Chamberlain's 13 is retired by the Lakers.
During pre-game intros, George got cheered by Lakers fans.
"It was awesome," George said. "For one, just being home, being in front of friends, family, and then just the respect, the love, the recruitment. It was awesome. It was awesome to get that love."
About that recruitment.
The tampering situation bubbled up again because George revealed that Brian Shaw was actually part of what the Pacers were concerned with. George said he and Shaw did not engage in any tampering, they just spoke to each other about fishing.
Remember the Lakers were fined $500,000 in August for tampering with George. The league's official news release said there was evidence of improper communication between Aaron Mintz, George's agent, and Lakers general manager Rob Pelinka, but did not mention Shaw.
The Lakers declined to comment about Shaw's involvement.
Regardless, Shaw's place on the Lakers staff will absolutely be part of what appeals to him about the Lakers. The two became close when Shaw coached George, and that kind of bond can matter to players.
Since last we talked
-- I asked Russell Westbrook if he feels like he's giving a sales pitch to George this season to keep George in Oklahoma City. He said no, then added: "Sales pitch is gonna be when we win a championship. Beat that pitch."
-- After the first four losses of this eight-game losing streak, the Lakers canceled practice to have a heart-to-heart. Losses were mounting, some players were upset about playing time, some were frustrated by trade rumors and they were all playing with the specter of a free agency period that could see many of them gone soon.
-- Injuries have hit the Lakers hard in the past week and a half. Lonzo Ball missed six games with a shoulder sprain. Brook Lopez missed two weeks with an ankle sprain. Brandon Ingram has missed time and, although Kyle Kuzma has not, he's dealt with a quad injury. They're starting to get healthy now.
-- Julius Randle got a chance to start in Houston because of a combination of injuries and a building losing streak. Lakers coach Luke Walton figured no harm would come of trying a lineup starting Ingram at center, then Randle played great in Houston. He was a big part of why the Lakers took the Rockets to double overtime. He had a solid game in Minneapolis, when the Lakers in general played poorly, notching another double double. When Lopez returned to the lineup, Randle remained the starter. Given how Wednesday's game went, it will be interesting to see what Walton does next.
--Until Wednesday, the Lakers had not yet had one of those massive blowout losses that became so common last year. Then they lost to the Thunder by 37 points. There were five games last season when the Lakers lost by 37 or more points, though, so this year's team still has a ways to go before they reach that status.
Up next
The Lakers are amid their longest homestand of the season — they'll play five games at home and don't have another road game until Jan. 11. I'd expect the losing streak to end before our next newsletter. The Lakers play the Hornets on Friday, then the bottom-dwelling Atlanta Hawks on Sunday. The Hawks have the worst record in the NBA.
Schedule
All times Pacific
Friday vs. Charlotte, 7:30 p.m.
Sunday vs. Atlanta, 6:30 p.m.
Tuesday vs. Sacramento, 7:30 p.m., NBA-TV
Until next time
Stay tuned for future newsletters. Subscribe here, and I'll come right to your inbox. Something else you'd like to see here? Email me. Or follow me on Twitter @taniaganguli
---