Lakers run out of breath in 115-100 loss to the Nuggets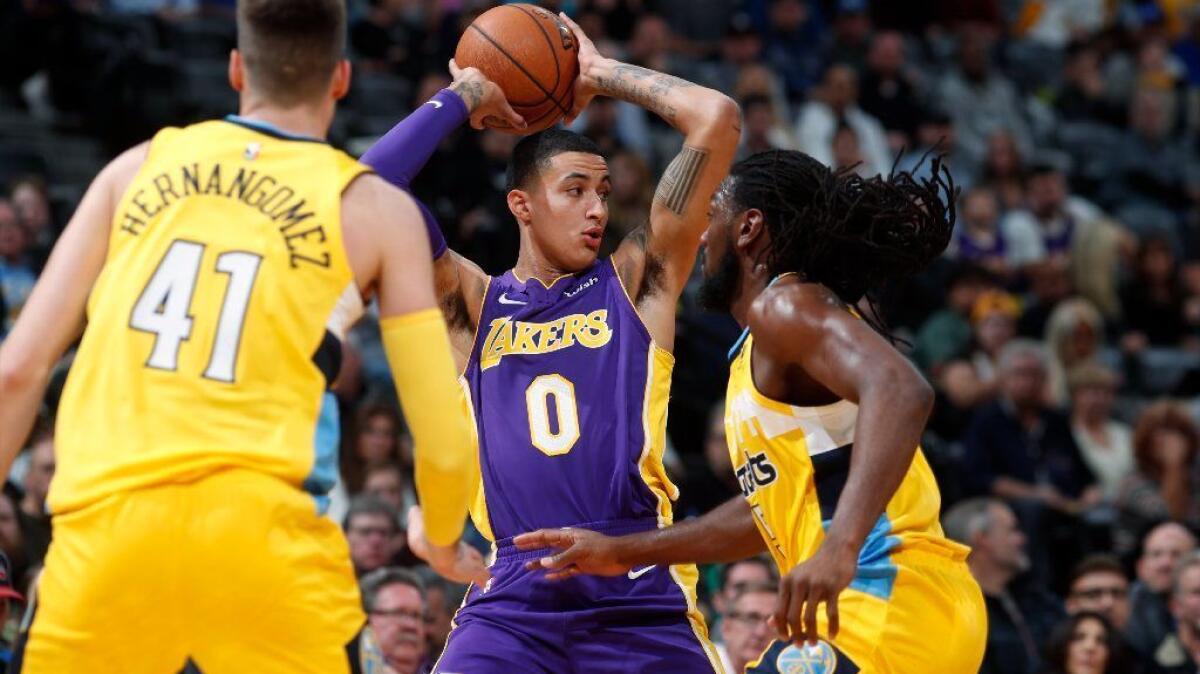 For a time the Lakers looked ready to win in a difficult building, to finish a game with as much intensity as they started.
But the Denver Nuggets rarely lose at home and they became suddenly unstoppable for three minutes 57 seconds on Saturday night.
Missing three starting frontcourt players because of injuries, Denver closed the game with a 15-0 run, creating a span of nearly four minutes in which the Lakers couldn't score and couldn't stop them. The Lakers committed seven turnovers in the fourth quarter. They lost to the Nuggets 115-100. Denver improved to 13-9, with a 10-2 mark at home. The Lakers dropped to 8-14, and 2-8 on the road.
"I thought we were ready to take the next step," Lakers Coach Luke Walton said. "To win on the road. To play at more — use that same type of competitive spirit we played in the Golden State game with. But do it without the crowd behind us, which is a lot more challenging. I thought they did that until the complete meltdown of the fourth quarter that we had."
Brandon Ingram led the Lakers with 20 points, making it the fifth game this season he has scored at least 20 points. It was also the first time in his career Ingram has scored 20 or more points in back-to-back games. Julius Randle and Brook Lopez each contributed 15 points. Kyle Kuzma scored 13, nine of them in the fourth quarter and Jordan Clarkson scored 12. Lonzo Ball finished with nine points, nine rebounds, five assists and was assessed a technical foul in the fourth quarter. He and Ingram each had five turnovers.
Nuggets point guard Jamal Murray led all scorers with 28 points.
"I think turnovers hurt us a lot," Ball said. "Made a lot of careless turnovers again, I think we had 21, that is way too much. And missed free throws again. For me, that is the two main things that are keeping us down right now."
Back when Walton played with Kobe Bryant, the Lakers legend used to smoke cigars before playing in Denver as a way to prepare himself for the assault on his lungs that would come from playing a basketball game in Denver's thin air.
Walton didn't recommend his own players do that, but he knew their start wouldn't be easy in a city that sits 5,280 feet above sea level. He expected the Lakers' bodies to adjust as the game wore on and for his team to be able to overcome a slow start.
Having played in this altitude himself, Walton set to work early in the day preparing his team for it, putting them through extra running during shootaround.
He was wary too of a team that had just suffered a major injury — another lesson from his playing days.
In Walton's experience, teams that lose major players often show up energized in their next game, with players who don't get much playing time eager to show their worth. The theory might have applied better were the Nuggets down only one big man, rather than three.
Denver lost center Nikola Jokic to an ankle injury Thursday, after losing forward Paul Millsap to a wrist injury he suffered the last time the Lakers played the Nuggets. Wilson Chandler, another starting big man, was out with a lower back injury.
The Nuggets took a 12-point lead in the first quarter, but once the Lakers recovered their bearings, they took advantage of their comparative front-court health. In the first half, the Lakers scored 38 points in the paint while the Nuggets had only 18. Lakers center Lopez, who had failed to reach double figures in the previous four games, scored 10 points by halftime.
That edge in the paint all but disappeared after halftime, but the Lakers kept the Nuggets at bay. They led by two heading into the fourth quarter and then extended that lead to seven on the strength of their second unit.
Late in the fourth quarter, Gary Harris stole the ball from Clarkson out of a timeout and fed Will Barton for a 100-98 Nuggets lead. The Lakers tied it with a basket by Ingram with 3:57 left, but that was the last time they scored in the game.
"If you worry about the defensive end, the offensive end will take care of itself," Ingram said. "Stay in front of our guys, help other guys, let other guys know that we have their back and they trust in us to get the defensive stop and the offensive end will take care of itself."
Follow Tania Ganguli on Twitter @taniaganguli
All things Lakers, all the time.
Get all the Lakers news you need in Dan Woike's weekly newsletter.
You may occasionally receive promotional content from the Los Angeles Times.