Five takeaways from the Lakers' 121-114 win over the Denver Nuggets
Generations of Lakers superstars owned the night, but a lot else happened Thursday when the Lakers took on the Denver Nuggets.
There had been a sense of necessity when the Lakers played the Suns a night earlier. Amid a tough early stretch, Phoenix would offer the only respite in the Lakers' schedule.
Denver came into Los Angeles 4-0 with one of those wins coming over the Golden State Warriors.
The Lakers' second win of the season was much more hard-fought than their first.
Here are five takeaways from the Lakers' 121-114 win over the Nuggets.
1. Lonzo Ball made a case for himself in Rajon Rondo's absence. Rondo played well before his suspension, and will likely do so again when he's able to return Saturday. But Ball came into Rondo's three-game suspension knowing he had an opportunity before him. "Most definitely," Ball said. "Now that they took the minutes restriction off, because they had no choice, helped me a lot to get back into the swing of things." He had a nice game on Thursday, making important contributions at crucial times. And a big part of what he offered was defense. "They never give him enough credit for what he does defensively," LeBron James said. "Tonight he had five steals. Every time he's in the lineup he's getting, two, three, four steals, deflections — all those things — and helping us get out on the break."
2. There's no rest for JaVale McGee. You have to go all the way back to February of 2013 to find a game in which McGee played at least 30 minutes. On Thursday night he played 31:43 and took 16 shots, making 10 of them. McGee also had two assists and seven rebounds. Against a big team like the Nuggets, he became even more critical.
3. Josh Hart is starting to get comfortable with the starting lineup. He mentioned Wednesday night in Phoenix that it's different to play with a different group and hinted at an adjustment period. Sure, Hart's shooting left something to be desired on Thursday. But he also had the best plus/minus rating of any Lakers player at plus-15. Hart scored 12 points with five rebounds and when he finally was able to get to the free throw line, Hart made five of six attempts.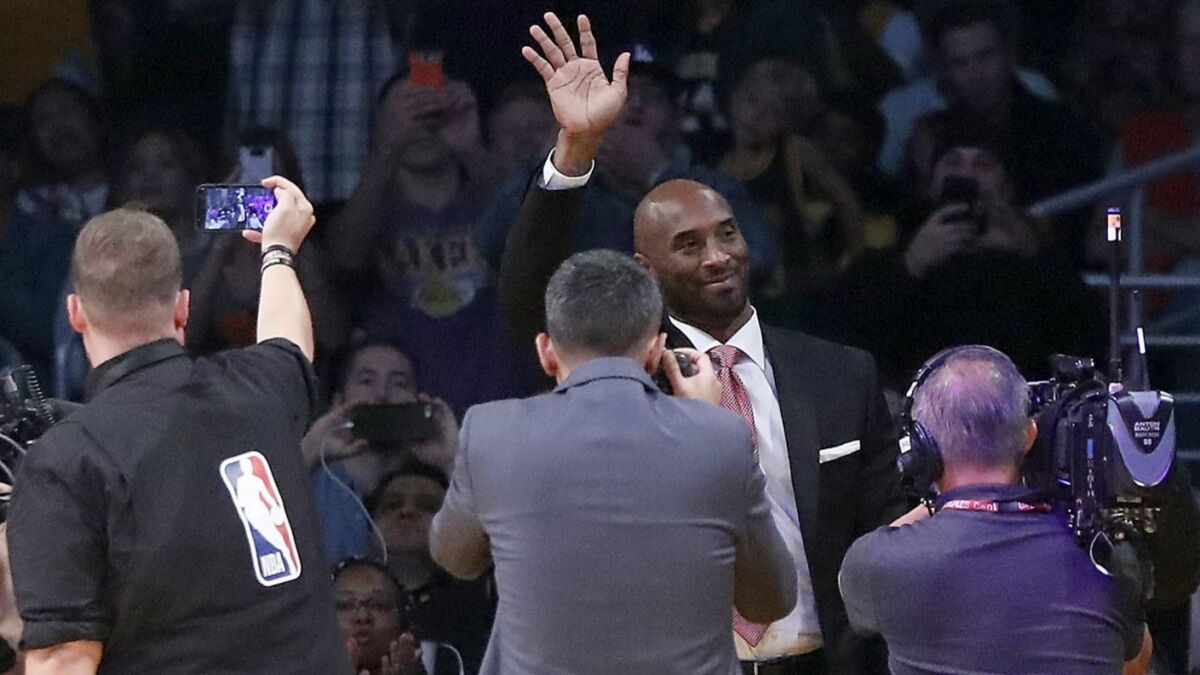 4. Kobe Bryant was really impressed with Lance Stephenson. In a short two-minute chat with me and a reporter from the Athletic, Bryant mentioned Stephenson twice, unprompted. "I think Lance came in and really changed the pace of the game," Bryant said. "And Bron's always going to be consistent; he's always going to put up great numbers and play well every single night. You can expect that from him every single night. But I think with this team you've got to have guys coming in off the bench that are pace changers, you saw Lance do it, you'll see Lonzo do that — change the pace of the game."
5. Luke Walton made a bold proclamation on Thursday night. "I'm not going to get fined anymore," he said, to laughter from the room, repeating, "This season, I will not get fined anymore." Considering Walton routinely tops the list of coaches with the most technical fouls, this could be an entertaining promise to track.
Follow Tania Ganguli on Twitter @taniaganguli
---
All things Lakers, all the time.
Get all the Lakers news you need in Dan Woike's weekly newsletter.
You may occasionally receive promotional content from the Los Angeles Times.