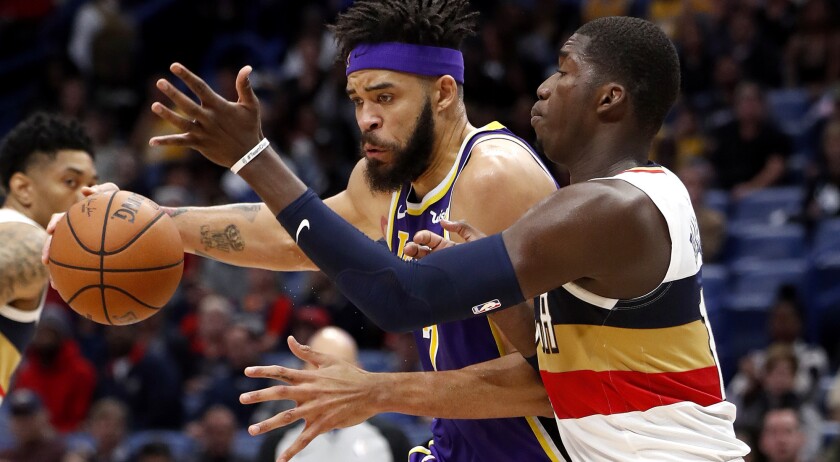 Reporting from New Orleans —
When LeBron James entered the arena to join his teammates on the bench, a crowd spotted with Lakers fans wearing his jersey cheered. They turned their cell phones toward him to preserve the memory of seeing him in person.
To see him play, they'll have to wait.
The Lakers continued their hot streak Sunday with a 130-102 victory over the New Orleans Pelicans, matching their largest margin of victory this season and their win total from last season. They led by as many as 30 in their first game since announcing James would not play again this season, and the Lakers also played without Kyle Kuzma, who has tendinitis in his left foot.
"We cut some dead weight before the game started tonight so we had better playmakers out there and the guys did a nice job of executing and really playing for each other," coach Luke Walton quipped without cracking a smile. "Which was nice. Because this time of the season, a lot of guys are trying to get stats. But if someone was open, we were making the extra pass and guys were cheering for each other and having a good time."
The Lakers point guards led the way with Rajon Rondo scoring 24 points and Alex Caruso netting a career-high 23. Center JaVale McGee contributed 23 points and 16 rebounds as the Lakers won for the fourth time in five games.
The Pelicans, who sat Anthony Davis, were led by former Laker Julius Randle, who scored 17 points and had five rebounds.
The Lakers (35-42) already had ended the season for Lonzo Ball (left ankle sprain), Brandon Ingram (blood clot) and Josh Hart (right knee tendinitis).
Sign up for our Lakers newsletter »
For James, the decision came Saturday afternoon as the Lakers were preparing for their trip to New Orleans.
"He wants to play," Walton said before the game. "My understanding from the medical staff, they finally said, 'Look, it's just not worth it anymore. Let's make sure you have a healthy summer.' So that's the decision that was made, and we'll move forward without him on the floor for the final six."
James will be with the team for the last road game of the season Tuesday in Oklahoma City. The Lakers then will play their final four games at Staples Center, one of them a Clippers home game.
"It's good for the guys," Walton said of James being with the team. "You know part of going into this season was, 'Look, we're putting you with a lot of young players. There's a lot of new guys, as far as the free agents coming in and whatnot.' So the more time that, ideally, they'd spend together on the floor would be beneficial, but anytime they can get together off the floor, I think, helps for down the road as well."
The Lakers started Lance Stephenson and Moe Wagner at forward, McGee at center, and Kentavious Caldwell-Pope and Rondo in the backcourt. Caruso played 29 minutes, Johnathan Williams played 15 minutes and rookie second-round pick Isaac Bonga played 11 minutes.
Even rookie forward Jemerrio Jones, the team's newest addition, got five minutes of playing time and scored his first NBA bucket.
"If I get [a chance] now I'm going to do what I do best," said Jones, an undrafted free agent from New Mexico State who was called up from the South Bay Lakers. "Play hard, you never know who's watching. Just do you."
The game remained close in the first half, with the score tied after one quarter and the Pelicans leading by one after two. But the Lakers outscored the Pelicans 44-22 in the third quarter, with Caruso contributing 12.
"Luke's been preaching that, talking about being professionals and showing up every day and doing our job and part of that's playing hard and playing to win regardless of what our situation is with the season," Caruso said. "I think we just have a good group of character within this group of guys. It showed tonight."
Follow Tania Ganguli on Twitter @taniaganguli
---