Five takeaways from the Lakers' 112-104 victory over the New Orleans Pelicans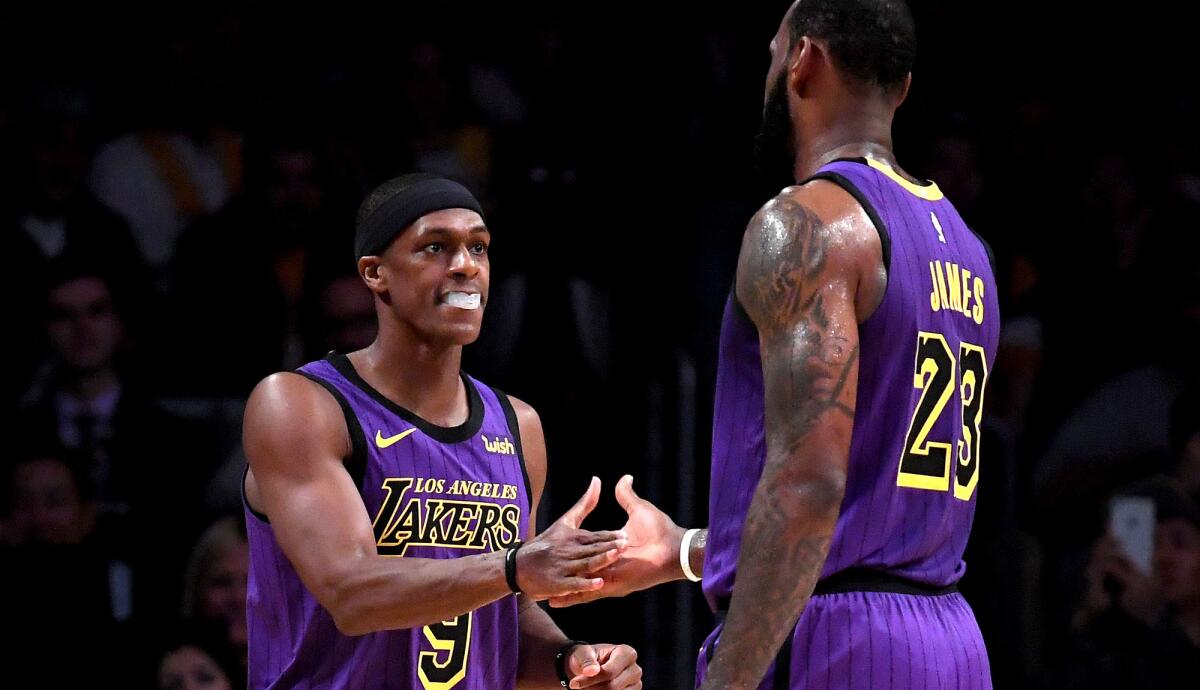 Five takeaways from the Lakers' 112-104 win over the New Orleans Pelicans on Friday night at Staples Center.
1) Rajon Rondo had not played in a game since Nov. 14, a span of five weeks, while recovering from a broken right hand he sustained against the Portland Trail Blazers.
After missing 17 games, Rondo finally got to play Friday night. He did not wear a brace on his hand while playing 21 minutes and 51 seconds and the layoff didn't seem to matter because Rondo did his typical thing, and that was filling up the stat sheet.
He had eight points, nine assists and four rebounds.
He started the game making three of four shots from the field, but missed his final six shots.
2) The Lakers also welcomed back Brandon Ingram, who had been out for two weeks because of a sprained left ankle.
Ingram was solid in his first action since Dec. 5. He scored 18 points on six-for-14 shooting while grabbing nine rebounds and handing out two assists.
Ingram played 32:43, and he rarely looked tired or winded during the game.
3) Though he played fewer minutes than he had recently because Rondo was back, starting guard Lonzo Ball was on point during his 26:09 on the court.
Ball was five-for-10 shooting from the field overall, including two of six from long range.
He had five rebounds and two assists and was a plus-18 in the plus-minus category.
4) The up-and-down struggles from the free-throw line continued for the Lakers.
They were up in the first half, making 84.6% (11 of 13) of their free throws. They were down in the second half, making 58.3% (seven for 12) of their free throws.
That's 72% for the game, well below the league average of 76.3%.
LeBron James was six-for-nine shooting from the free-throw line, Kyle Kuzma was four of five, Ingram six of eight and Rondo two of three.
5) The Lakers took care of the basketball, and that in turn helped them have more possessions.
They gave the ball away just 13 times in the game, only three times in the decisive fourth quarter.
Twitter: @BA_Turner
All things Lakers, all the time.
Get all the Lakers news you need in Dan Woike's weekly newsletter.
You may occasionally receive promotional content from the Los Angeles Times.