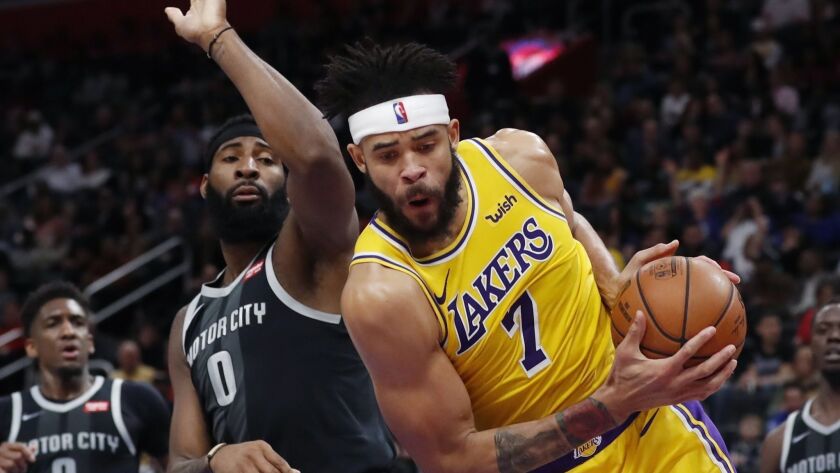 Reporting from Detroit —
Defensive stops can lead to success on offense, and for a time this season the Lakers were a solid transitional team. But as their ranks have been depleted and they've struggled more and more offensively, that has changed.
One such moment came Friday night in Detroit.
Reggie Bullock stole the ball from Bruce Brown in the third quarter but missed a three-pointer. Then Kyle Kuzma missed one after a rebound. The Lakers got the ball back yet again and Bullock missed another three. Three misses on open three-pointers on the same possession.
What has plagued them most of the season did so again. With LeBron James sitting out, the Lakers lost to the Pistons, 111-97, making only six of 25 three-pointers while the Pistons made 43.6% of their 39 three-point attempts.
"No player's out there trying to miss; players are out there trying to make," Bullock, who has made 15% of his threes over the past eight games, said Thursday night. "We just have to continue to keep shooting with confidence and believe that every shot is going in. It's frustrating on my end too knowing that I'm a true, true knock-down shooter. Certain passes or different type of things, I can't put that on teammates. I just have to be able to step in and knock the shot down."
The Lakers' leading scorer was JaVale McGee, a native of Flint, Mich., who had 20 points. Kuzma, also from Flint, scored 12 points with 10 assists.
Pistons star Blake Griffin was held to 15 points on three-for-12 shooting, but Langston Galloway (23 points), Reggie Jackson (20) and Wayne Ellington (12) each hit four three-pointers, and Andre Drummond had 19 points and 23 rebounds.
"Our game plan was not to let Blake beat us, bring doubles," Lakers coach Luke Walton said. "We didn't do a good enough job of aggressively doubling him. So he was able to pick out shooters. When we did, we got the stops we needed. And you got to give their guards credit. Some of the threes they hit, we were flying at them — hand in their face, contesting — and they were still knocking them down."
The Lakers are 1-7 in March, including a five-game losing streak. And as the end of the season approaches, their roster is more and more limited. The Lakers decided to sit James in the second of back-to-back games and held out Josh Hart, who has been dealing with significant right knee pain due to a tendon injury, but has resisted sitting because the Lakers are so short-handed.
The Lakers went into the last offseason in desperate need of shooting. They ranked 29th in three-point shooting and came out of free agency insisting they had enough. But this season's results have proven otherwise. The Lakers rank 29th in three-point shooting again, but their accuracy has dropped by a full percentage point.
Bullock was supposed to help with that, just as Caldwell-Pope was supposed to help the year before. The Lakers traded for Bullock just before the trade deadline. He had been making 38.8% of his threes, after making 44.5% the previous season.
With the Lakers, though, he's made only 31%.
On Thursday in Toronto the Lakers made only seven of 31 threes, with Bullock and Kentavious Caldwell-Pope — two players chosen by the Lakers for their shooting ability — going three for 15.
On Friday in Detroit against Bullock and Caldwell-Pope's former team, the Lakers struggled again. Caldwell-Pope was effective, making three of six three-point attempts and scoring 17 points. But Bullock missed all five of his three-point attempts.
It's been a season-long problem. The Lakers like the looks they're getting but aren't making them. The Lakers are last in wide-open threes, defined as threes shot with defenders at least six feet away from them. They rank 25th in open threes, defined as threes with defenders between four and six feet away.
They have players like Rajon Rondo and James whose skills include finding open men — they just haven't been able to capitalize on that.
"I'm never going to get discouraged when my teammates miss shots," Rondo said. "It may be frustrating, depending on the pace of the game because we've had so many threes where it could be dagger timeouts. We haven't capitalized on those yet, but nevertheless I'm going to continue to find my open guy and maybe give them the ball better, right on the seams. But like I said at the end of the day, shooters shoot and shooters make shots.
"No. Shooters shoot. Shot makers make shots."
Sign up for our Lakers newsletter »
Follow Tania Ganguli on Twitter @taniaganguli
---