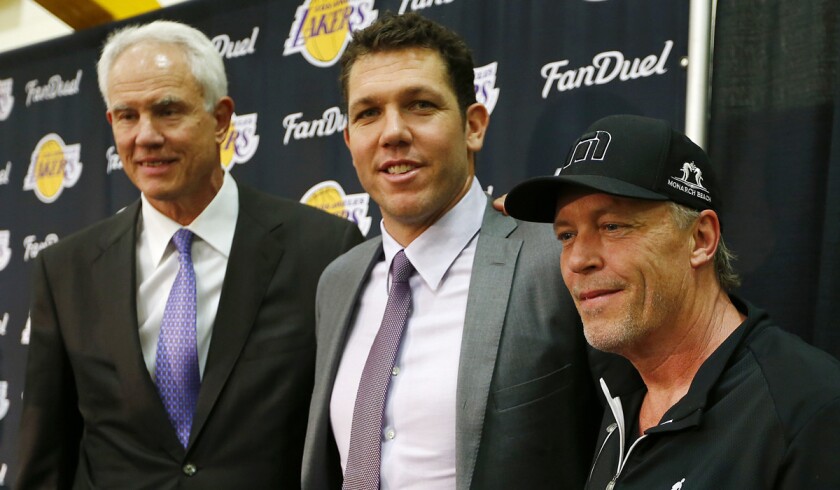 The Lakers are beginning the NBA's free agency period Friday in a legendary slump. Over the last three seasons, they are hitless in seven serious pursuits of serious players, from Carmelo Anthony to Dwight Howard to LaMarcus Aldridge.
The Lakers are beginning the NBA's free agency period down two strikes. Kevin Durant, this year's top prize and the sort of franchise changer who once longed to make his bones with the league's most glamorous team, won't even meet with them.
Think about that.
He's meeting with the rival Clippers, the hated Boston Celtics, and maybe even the horrid New York Knicks, but won't even let Jim Buss in the door.
Finally, most compellingly, the Lakers are beginning free agency in the bottom of the ninth. Two years ago, Buss told the rest of his family that if he didn't get things fixed within "three or four years," he would quit. Next season realistically represents his last three outs. This summer is his last swing.
"If this doesn't work in three or four years, if we're not back on the top … then I will step down because that means I have failed," he said in a boardroom promise revealed to The Times' Mike Bresnahan in the spring of 2014.
More than the immediate future of the basketball team, the long-term future of its front office could be decided during the next weeks, and it doesn't look good. From all indications, a franchise that thought it had bottomed out with its two worst seasons might have to begin the post-Kobe Bryant era with one more indignity.
Less than an hour into the free-agent period, and the the Lakers were already having trouble finding someone who believes they can become the Lakers again.
They have about $55 million to spend on top free agents, and the first thing they do is spend a big chunk of it on ... Timofey Mozgov? The guy famous for being dunked on by Blake Griffin? Talk about getting Mozgoved.
What they really need is the kind of cornerstone player that's either not accessible or available, which will leave Lakers fans either ecstatic or enraged.
The happy ones will celebrate the potential that one more lousy season would put the team in the hands of Jeanie Buss — and potentially her fiance, Phil Jackson.
The frustrated ones will wonder how they, and the value of their expensive season tickets, can endure at least one more nightmare.
Then again, the prospect of new front office leadership could be so enticing that another July meltdown will make every single Lakers fan happy. They just won't admit it, you know?
Last week during the NBA draft, General Manager Mitch Kupchak was optimistic that this year would be different, that the Lakers could actually survive the summer.
"We didn't have as much to sell last year and the year before, and we only had enough money for one player last year too," he said during a news conference. "So this year I think we have more to sell … our asset allotment is better, and I think our circumstances are better."
Yeah, but for everything that has gotten better for potential free agents, something has become worse.
Better is the opportunity to play for Luke Walton, a smart and respected coach with that attractive Golden State aura. Worse is the likelihood that you'd be playing with a group of youngsters who have no idea how to win and no clue how to deal with D'Angelo Russell, their immature teammate with a devious smartphone.
Better is that the overwhelming presence of Kobe Bryant is gone. Worse is that the competitive, five-rings-and-wanted-more presence of Kobe Bryant is gone.
Better is that the town's NBA landscape is ready to embrace a new star and a new beginning. Worse is that the best place would seem to be down the hall with the Clippers.
By the way, all this laughing disbelief over the Clippers' ability to land a meeting with Durant needs to stop. Weren't any of these folks watching at the end of the last season, before the injuries to Chris Paul and Griffin?
The Clippers earned that meeting with Durant, and Durant would be foolish to discount them if he wants to be known as the guy to lead a team out of the wilderness to an inaugural championship.
Of course, one wonders what Griffin is thinking while watching his team trying to replace him with something better. But if the Durant pursuit fails, that's something Doc Rivers can sort out in the fall.
At least the Clippers have a shot to take a title step, and a shot to acquire a player who could take them there. The Lakers have neither right now, not for a couple of years, which is more than the Lakers basketball boss has given himself and his administration.
Jim Buss needs to hit a walk-off homer here, but first he must find someone to groove him a pitch.
Twitter: @BillPlaschke
MORE FROM BILL PLASCHKE:
Bill Plaschke: I regret marginalizing Pat Summitt's greatness
Skinny on Brandon Ingram is he could be this town's next big thing
Luke Walton is ready to return the fun to the Lakers and that has people smiling
---