Bill Plaschke: I regret marginalizing Pat Summitt's greatness
It was a battle of unbeatens, the Sparks hosting the Minnesota Lynx, one of the biggest regular-season games in WNBA history, the story of the season.
Sadly, for me, it wasn't even the story of the day.
Last week I planned to visit Staples Center to write about what could have been a very nice moment for Los Angeles' women's professional basketball team. But the day before the game, a seemingly bigger basketball story arose, and those plans drastically changed.
On the same afternoon as the Sparks game, the Lakers decided to hold a news conference introducing new Coach Luke Walton, so I attended that instead.
I made this choice even though I needed no introduction to Walton while knowing nothing about the Sparks. I wrote about a Lakers formality that had been decided nearly two months earlier when I could have been witnessing a compelling drama whose outcome, it turns out, wasn't decided until the final two seconds.
I was sucked in by the metrics, the buzz, the reputation, and made a decision to follow everything but the most basic tenet of good and important journalism. I ignored the better story for the more popular story. I missed a chance to inform and enlighten and, instead, chose simply to replay and reflect.
The tired bottom line was, I went for the sparks over the Sparks because, with women playing in a league with scant local interest and minuscule TV ratings, I based their importance on their perception.
The death of Pat Summitt on Tuesday is a stark reminder of the folly of this reasoning.
Summitt, the celebrated Tennessee women's basketball coach, made an impact that went far beyond the grasp of Nielsen or Twitter while fighting a daily gender equity battle that was universal.
If you have a daughter who is an athlete, or a daughter who used athletics as a springboard to fulfillment elsewhere, you should remember and honor Pat Summitt.
I have two daughters who directly fall into those categories, yet I professionally ignored Pat Summitt.
Summitt, who died Tuesday at age 64 after suffering with early-onset Alzheimer's disease, was a basketball coach whose greatness was only matched by John Wooden. Yet while I spent much time with Wooden, I never even met her.
Despite holding a prominent sports columnist position for this prominent newspaper for 20 years, I never covered one of Pat Summitt's games.
Not one of her 1,098 wins, a record for men and women. Not one of her eight national championships, third only to Geno Auriemma and Wooden. Not one of her record 18 Final Four appearances.
During Summitt's 38 years at Tennessee, not one player who completed her eligibility failed to graduate — this is just stunning — yet I never wrote a word about that. I once opined that she should be a candidate for the men's coaching job at UCLA, but emailers laughed, and I never dared raise the idea again.
Excuses for ignoring such an influential sports figure were easy to find. Neither the USC or UCLA women's teams have been in the Final Four in the last 30 years. The women's Final Four has always been dwarfed by the men's Final Four. In a glamour NBA town like Los Angeles, there just hasn't been much interest in the lower-flying women's game.
But to marginalize greatness because you don't think many people are watching is embarrassing, even shameful. Summitt's life showed that, when it comes to women's sports, if you follow the ratings, you miss the point.
Summitt was empowering women to be themselves, educating women to follow their dreams, and inspiring women to outstretch their society-restricted reach. She was sports at its best. She didn't just win games, she advanced humanity.
She became the Tennessee head coach in 1974, just two years after the passage of gender-leveling Title IX, and soon became the face of the struggle for equality. She made $250 a month. She sold doughnuts to buy the team's uniforms. She did the laundry and drove the van and coached her first game in front of 54 fans. Yet by the time Summitt retired in 2012, she had created such a powerful culture that she turned down the Tennessee men's coaching job because she didn't consider it to be a promotion.
Many of the ensuing glowing tributes and testimonies for Summitt were offered by media members who, like me, had never taken the time to actually watch her coach. Her death is a message that, even in a country with the world's greatest female athletes, the fight to recognize the strength and soul of their endeavor is ongoing, and a fight that must be won.
The most popular American women's sports team is the national women's soccer team — it won the World Cup last summer in a tournament with giant TV ratings and front-page buzz. Yet, quite unbelievably, the team is still battling the U.S. Soccer Federation for pay and playing conditions equal to the underachieving men's team.
Flowers lay alongside a memorial basketball fans have left at the Pat Summitt statue Tuesday, June 28, 2016, in Knoxville, Tenn.
(Wade Payne / AP)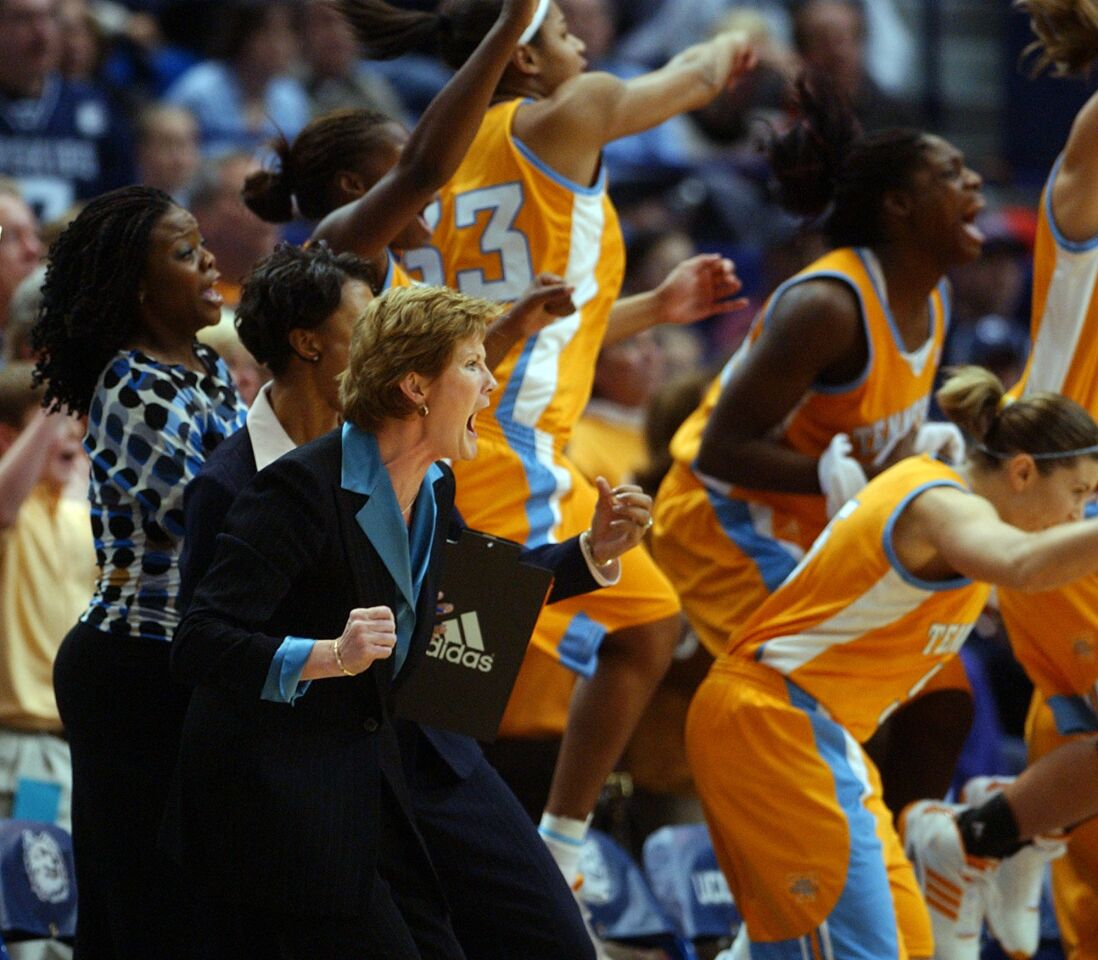 Tennessee's coach Pat Summitt, left, reacts with her team as they pull ahead in the final minutes against Connecticut to win 68–67, in Hartford, Conn., on Jan., 8, 2005.
(STEVE MILLER / AP)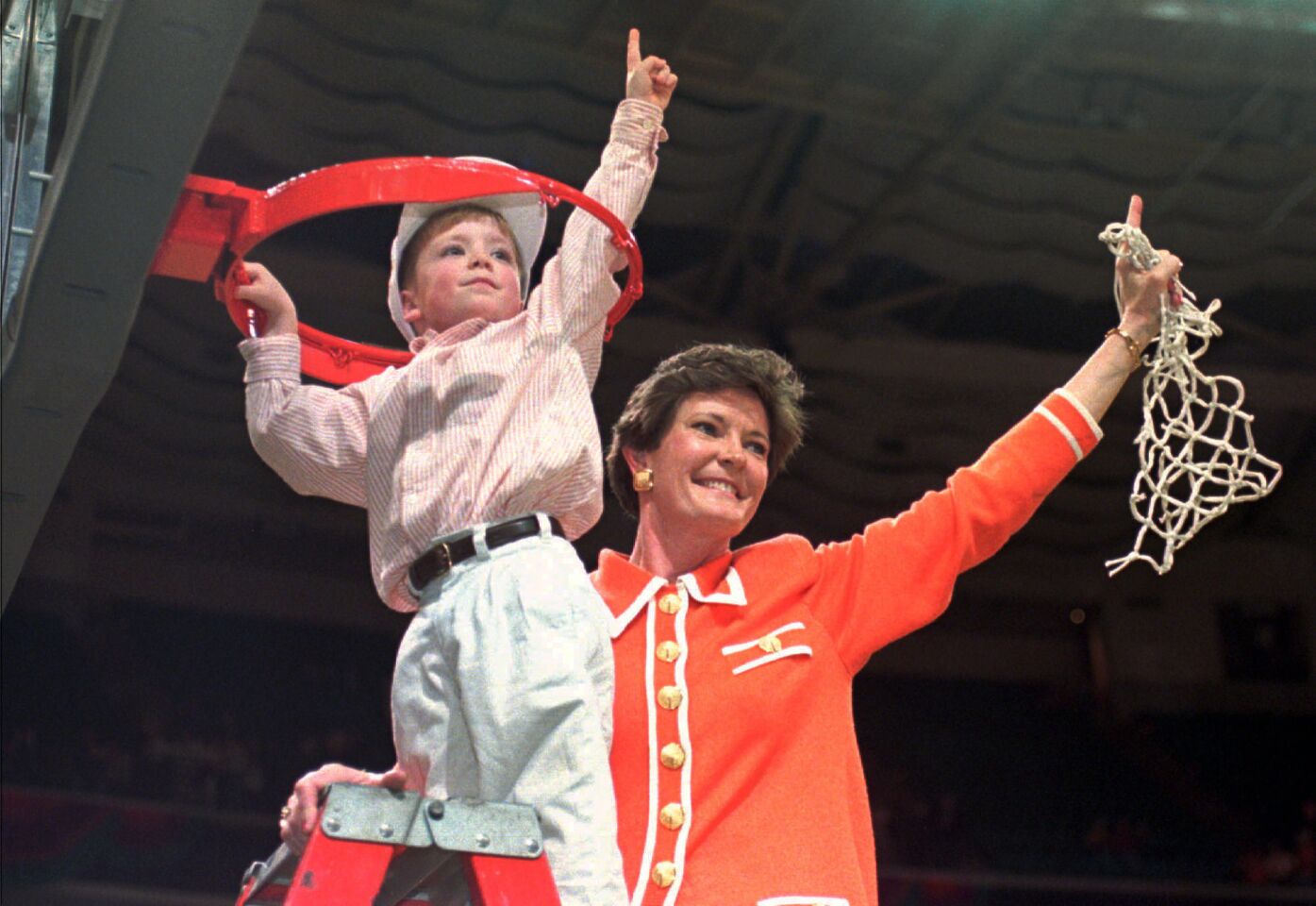 In this March 31, 1996, file photo, Tennessee coach Pat Summitt and son Tyler take down the net after Tennessee defeated Georgia, 83-65, in the title game at the NCAA women's basketball Final Four at Charlotte Coliseum in Charlotte, N.C.
(Pat Sullivan / AP)
President Obama awards Pat Summitt the Presidential Medal of Freedom in the East Room of the White House in Washington on May 29, 2012.
(Carolyn Kaster / AP)
U.S. women's basketball coach Pat Summitt is carried off by members of the team following their 85-55 win over South Korea in the gold medal game in the Olympics in Los Angeles on Aug. 8, 1984.
(Pete Leabo / AP)
Tennessee coach Pat Summitt has confetti dumped on her by players Alicia Manning (15) and Alex Fuller (2) on Feb. 5, 2009, after the Lady Vols defeated Georgia, earning Summitt her 1,000th career coaching victory.
(Wade Payne / Associated Press)
The best American women's sports team is the Connecticut basketball program, as the Huskies won their fourth consecutive NCAA title this spring with a 38-0 record. Yet instead of inspiring admiration like the record-setting Golden State Warriors, their coach, Auriemma, spent his time defending himself against charges that his team was too good and their games were too boring.
Then there's the WNBA, which pays its players so relatively little that many must play overseas during the off-season to cash in on their ability. The maximum WNBA salary is barely $100,000 while players can make 10 times that much in Russia and Europe.
Pat Summitt will be honored this week for advancing women's athletics — and female empowerment — far beyond the imagination of a sports landscape where the NCAA astonishingly didn't hold its first women's tournament until 43 years after debut of the men's tourney. But moving forward, the struggle will be forgotten if the illumination does not continue.
That Sparks game? The Lynx won on a clutch three-point shot by Renee Montgomery, yet the Sparks are still 14-1, and one of their leaders is former Tennessee star Candace Parker. That's the first time I've written a word about any of their games in a column this year. It cannot be the last.
Twitter: @billplaschke
---
Get our high school sports newsletter
Prep Rally is devoted to the SoCal high school sports experience, bringing you scores, stories and a behind-the-scenes look at what makes prep sports so popular.
You may occasionally receive promotional content from the Los Angeles Times.