Column: Lakers still on the hunt for their identity in this unusual season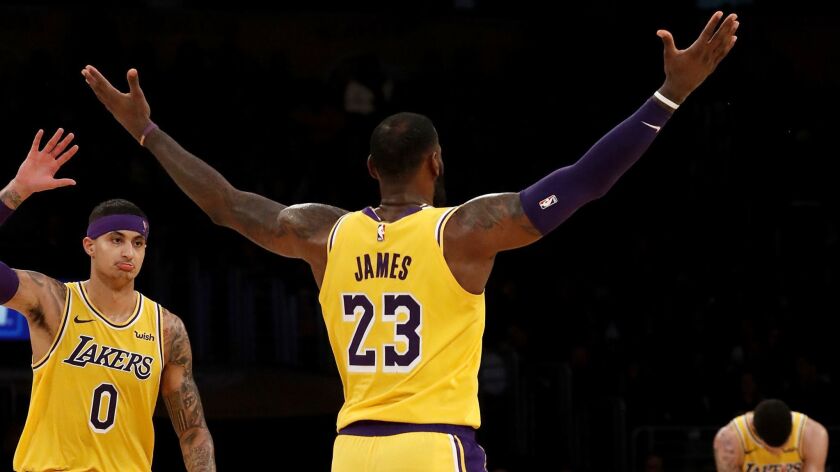 LeBron James whips the ball around the body of a frozen defender, it lands in the hands of Brandon Ingram, he lays it in, and the Staples Center is engulfed in a roar. James bricks two free throws, somebody shouts, "C'mon!" and there are actually some boos.
Lonzo Ball races downcourt and blocks a shot, and there are thousands of appreciative, "Ahhhs."
Ball gets lost at the other end of the court, throws it way, and there are thousands of disgusted, "Ohhhhs."
The Lakers use inspired defense to take a 24-point lead against the depleted Indiana Pacers early in the second quarter Thursday night and folks are standing and screaming.
The Lakers slowly blow that lead with careless defense and sloppy shooting until it completely disappears midway through the third quarter, and the place is one giant grumble.
They eventually come back to beat the Pacers 104-96, but the shiny falling streamers are mixed with basic but lingering questions.
Who are the Lakers? What are the Lakers?
About one-fourth into this most unusual of seasons, nobody seems to know, and it's turned the entire Lakers experience into a very strange place indeed.
The Lakers are not yet a team, they're a tourist attraction.
They are a blast to visit, but it's hard yet to feel a connection. They are a fun event, but that fun seems fleeting.
Are they good? Do they stink? They're 12-9 with huge highs and lows and, whatever they end up being, will it last?
One of the cornerstone franchises in sports has become a pop-up shop, a dazzling collection of curios that might show up as something else entirely next year.
They are dominated by James, at every corner of the court, he is larger than life, especially while wearing gold. Watching him on a daily basis only raises your appreciation of him as arguably the greatest player ever. He does something that good, every night.
But do we know him yet? Does it really feel like he's a Laker yet? Or does it still seem like he's some Broadway star doing a six-month run at the Pantages?
It is not a coincidence that the biggest story surrounding James' first months with the Lakers involved his return to Cleveland. He is beloved there. He is still basically a stranger here. He honestly looks like a statue, just not our statue.
Because James didn't begin his career here like Kobe Bryant, or come here at the beginning of his stardom like Shaquille O'Neal, it says here James will have to get this team to the playoffs and win a few big games in crunch time for him to truly be seen as a Laker.
All around James, this cast of misfits and kids is still evolving in his shadow, still defining itself in relation to him, and it's hard to know what to think.
Kyle Kuzma and Josh Hart work well with James, they always seem to be there when James needs them.
But Ingram and Ball, not so much. Ingram sometimes gets lost in James' shadow. And while the Lakers need him to complement James, his development continues to be one step forward, one hobbled step back.
Among the new veterans, JaVale McGee has been a revelation, Rajon Rondo and Tyson Chandler have been solid, Lance Stephenson has been harmless, and Michael Beasley has been irrelevant.
The older guys could all be gone next season, so it's hard to get attached. But they have to all stick around this season, so you better get used to them.
In fact, you better get used to all of this, the roller coaster of weirdness, there will probably be no big changes during the season, but this is the plan. It's a tad unsettling, but this has always been the plan.
The Lakers will tread water around James for a season, then make their big moves next summer. It sounded better last summer than it looks right now, but they feel this is the only way. The fact that the Golden State Warriors are still good for one more title run before their implosion supports that strategy.
In other words, those who are clamoring for them to fix their enormous shooting problems by pulling a quick trigger on a trade for somebody like Washington's Bradley Beal, you're going to have to chill.
Acquiring a decent player would rob the Lakers of the assets that could be used if a great player like Anthony Davis is available for trade next summer.
Also, acquiring a decent player could have a damaging effect on the precious salary-cap space that the Lakers have cleared in hopes of signing a potential free agent like Kevin Durant or Kawhi Leonard next summer.
The Lakers will do nothing to mess with next summer. If that makes a bit of a mess this winter, so be it.
Enjoy the ride? Luke Walton sounds like it.
"It never goes to plan, but I like the progress we've made, where we're at as a team right now compared to where we were to start the season, I'm very happy," said the Lakers coach before the game Thursday. "Our defense has really turned around for us, we've slowed down, we've played a little slower than I imagined or liked, but that's OK, because we're figuring out who we are and what works best for us and starting to win some games and be able to rely on our defense much more often now than we were at the start of the season, and to me, that's how you build consistency."
That last quote was indeed all one long sentence. Walton gets a bit breathless talking about this crazy group, and can you blame him? After Thursday's win, Walton offered another telling quote.
"We played three quarters of really good basketball, and one quarter of awful basketball, but that's progress," he said.
The unsteadiness has been steady from the fifth game of the season, when James recorded a triple-double against Denver, then the Lakers lost the next two.
On and on it has gone, a historic win in Portland one night, getting blown out by Toronto the next night, James dropping 44 on the Trail Blazers in his best game of the season, then three days later the Lakers lose in Orlando.
This latest chapter Thursday was a win after consecutive bad losses, folks happy and humming, "I Love L.A," just as they were bundling up to step into the evening chill.
Get more of Bill Plaschke's work and follow him on Twitter @BillPlaschke
---
All things Lakers, all the time.
Get all the Lakers news you need in Dan Woike's weekly newsletter.
You may occasionally receive promotional content from the Los Angeles Times.