Lakers camp nears — and with it, questions about Kobe, Randle, Hibbert ...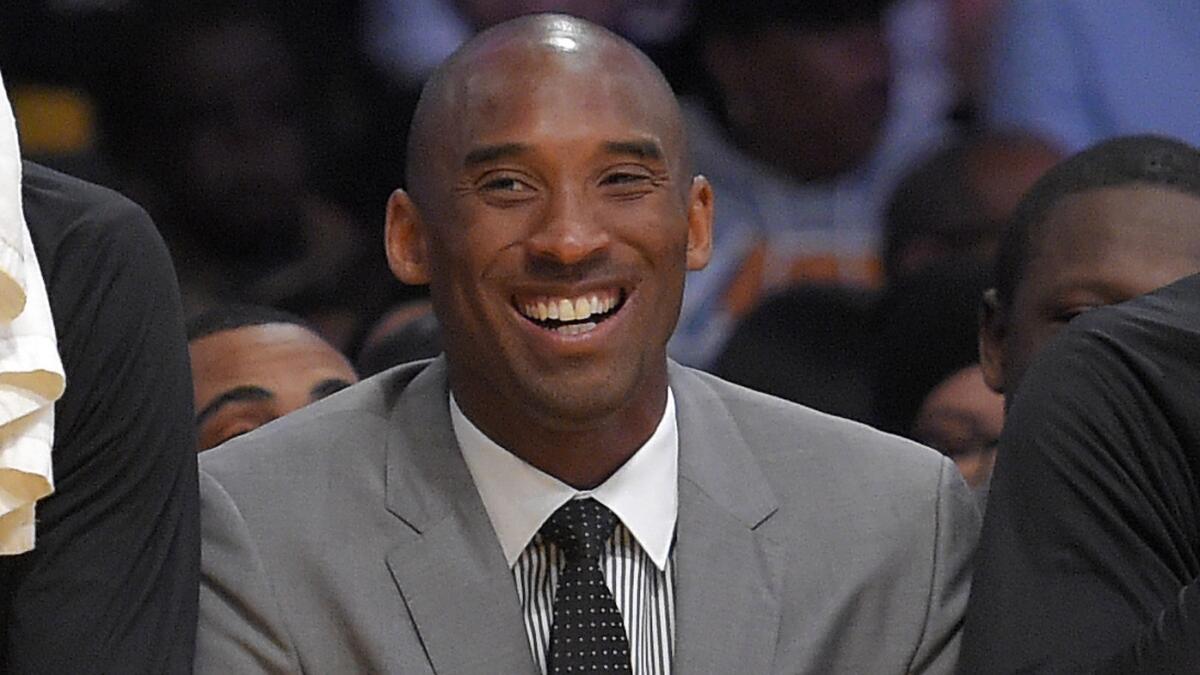 The Lakers couldn't get away from the court quickly enough the last time we saw them, stumbling toward a 21-61 record before a bored, if not horrified, fan base.
Guys named Dwight Buycks and Vander Blue logged playing time last season, the beginning and end of the Lakers' problems. Kobe Bryant played only 35 games and Julius Randle lasted only 14 minutes in the worst season in the franchise's 67-year existence.
Ready or not, training camp begins Tuesday in Honolulu. Here are five questions for the Lakers' season, which officially starts Oct. 28 against Minnesota.
Is this Kobe Bryant's last run?
Probably.
He hasn't been able to finish the last three seasons, and there's already talk of his sitting out many more games, especially in back-to-back situations.
He says he won't make up his mind until the end of the season, but two things will drive his decision: How does he feel, and how is he playing?
He'll have to improve upon ghastly 37% accuracy, a double whammy when considering his high shot volume last season. His playing time will shrink (best guess: 28 to 30 minutes a game), but will it be enough to preserve him for a 21st season? Only one man holds the answer.
How quickly will D'Angelo Russell make an impact?
It'll take time, maybe even a year or two.
He was overmatched in the NBA's summer league, shooting 11.8% from three-point range and averaging five turnovers against other teams' young players.
He has looked more relaxed in recent scrimmages at the Lakers' training facility but that's not quite the barometer of NBA success. How will he do against Russell Westbrook, Stephen Curry, Tony Parker, etc.? That's what matters.
Bottom line, he won't have to be great right away because the Lakers already have a guard coming off a strong rookie season (Jordan Clarkson).
NEWSLETTER: Get essential California headlines delivered daily >>
Will Julius Randle show he was worthy of the seventh overall pick?
Reports of his progress have been all over the map within the Lakers' organization. Some like what they've witnessed since his recovery from a broken leg. Others wouldn't mind seeing a little more from the undersized power forward.
Randle looked as though he felt rushed in summer league, getting the ball in the post and flinging it up right away. His outside touch wasn't there, either, but it could easily be argued that his severe limitation in minutes stopped him from getting a good rhythm.
Randle might not start immediately, a duty that could fall to veteran Brandon Bass, but he'll have plenty of opportunities to live up to his draft position.
Can Roy Hibbert resurrect his career?
He can and he will.
There might not be a better place for him to find playing time. The Lakers' post-Pau Gasol centers have been Jordan Hill, Robert Sacre and Tarik Black, and Hill isn't even around any longer.
Hibbert might not return to All-Star status in a conference with Marc Gasol, DeMarcus Cousins, LaMarcus Aldridge, Dwight Howard and Tim Duncan. But he's getting the fresh start he wanted, gladly waiving $2.2 million of his trade kicker to make the deal happen. The price was right too for the Lakers — a 2019 second-round draft pick.
How many games will the Lakers win?
The main problem beyond lack of talent is L.A.'s location in the Pacific time zone. That means four games each against Golden State, the Clippers, San Antonio, Oklahoma City and Houston in the talented-as-ever West. Though the Lakers won't go 0-20 against that group, 5-15 would be a best-case scenario.
Not helping anything is the schedule, which calls for 11 home games and 22 road games before Jan. 1. Let's put it this way — the Lakers won't get off to a fast start.
A 30-win season sounds about right. Hey, it beats 21.
Twitter: @Mike_Bresnahan
MORE IN SPORTS:
Dodgers fizzle at Coors Field and are swept by Rockies; magic number still 2
Johnny Giavotella's gamble pays off for Angels in 3-2 win over Mariners
After a productive summer, the Clippers are finally Doc Rivers' team
All things Lakers, all the time.
Get all the Lakers news you need in Dan Woike's weekly newsletter.
You may occasionally receive promotional content from the Los Angeles Times.