How the stabbing death of his transgender sibling shaped newest Laker Reggie Bullock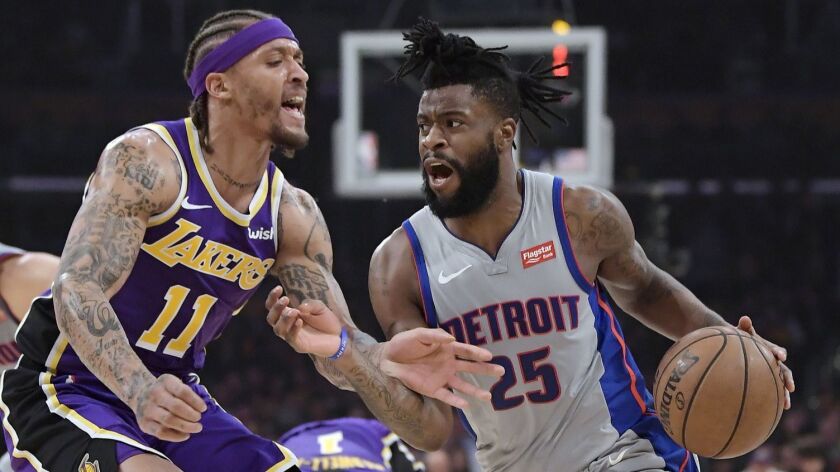 It wasn't the trade Lakers fans wanted to see, but it's one they will grow to love.
Following an embarrassing 42-point loss to the Indiana Pacers on Tuesday, the Lakers made a move before the trade deadline to improve their team. Sorry, no, Anthony Davis wasn't involved.
Instead, the Lakers traded Svi Mykhailiuk and a second-round draft pick to the Detroit Pistons for Reggie Bullock.
Lakers fans could be excused for being underwhelmed and rushing to Google Bullock's name.
If they did, they would have found out Bullock was a 2013 first-round pick of the Clippers before being traded to the Phoenix Suns in 2015 as part of the three-team deal that reunited Doc and Austin Rivers. That offseason, he was traded to the Pistons, where he developed into a solid wing player and the perfect role player for a LeBron James team.
Bullock, 27, is averaging 12.1 points and shooting 38.8% from three-point range this season after averaging 11.3 points and hitting 44.5% of his three-pointers last season. He's shot better than 40% from beyond the arc since 2015, which surpasses anyone on a Lakers team that is the second-worst three-point shooting team in the NBA.
Even better, what Bullock's stat line doesn't reveal is the type of quality person he is.
I covered Bullock during his brief stint with the Clippers. He was a wide-eyed rookie out of Kinston, N.C. — yes, he and fellow Kinston native and new Lakers teammate Brandon Ingram are friends — who was trying to figure out life in Los Angeles. I was a Los Angeles native still trying to figure out life as an NBA beat writer.
While other players would be on the court or in the training room before games, Bullock would sit in front his locker, often asking me questions about my life and my city. The role reversal was a welcome respite from the daily grind of working a beat. I had never covered a player more genuinely interested in the life of a reporter than Bullock. He wanted to know what I was going through before he told me what he was going through, and by the end of the season, I knew more about him than I did about Chris Paul, Blake Griffin or DeAndre Jordan.
Bullock had a transgender sister, Mia Henderson, whom he knew as his older brother, Kevin Long, when they were growing up. Bullock was in high school when Kevin became Mia, and he didn't know how to accept the news.
He continued to refer to her as Kevin, and she never got to see him play college basketball at North Carolina. Bullock didn't know what his teammates and other people would think, and she didn't want to make things uncomfortable for him. It was a situation he regrets to this day.
Bullock loved his sister. He said his last text to her was, "I love you."
Henderson was killed on July 16, 2014, in Baltimore. She was stabbed in the back, arms and chest, according to the police report. Bullock got the news after an offseason workout at the Clippers' training facility. It didn't seem real. He had just been texting with her.
Sometimes it still doesn't seem real to him, and he regularly checks her Facebook page and sees some of her friends and family posting comments and pictures.
What Bullock didn't realize at the time was that Henderson's death wasn't an isolated incident. A 2016 project by the Mic network called "Unerased: Counting Transgender Lives" found that one in 2,600 transgender women of color between 14 and 34 years old is a homicide victim compared to one in 12,000 in the general population.
Bullock knew he had to do something with the platform he had as an NBA player, so he told his sister's story every chance he could and became an LGBTQ activist.
Sign up for our Lakers newsletter »
He has a tattoo of his sister's name over a rainbow heart with "LGBTQ" written at the top on his left leg. He wore sneakers with "Equality" written all over it with his sister's name etched on the sole. He has talked about wanting the NBA to adopt rainbow-colored uniforms, even for just one game, as a way to recognize the LGBTQ community. He also became the first active NBA player to ride on a float during last year's New York City Pride March, where he wore shoes with his sister's name and face painted at the top.
Bullock returns to Los Angeles as a different person and player than the one who left four years ago. The impact he can make on and off the court should make him a fan favorite in a city that will soon realize Tuesday's trade was a far bigger deal than they might have originally thought.
---
All things Lakers, all the time.
Get all the Lakers news you need in Tania Ganguli's weekly newsletter.
You may occasionally receive promotional content from the Los Angeles Times.