Lakers look broken in LeBron James' worst loss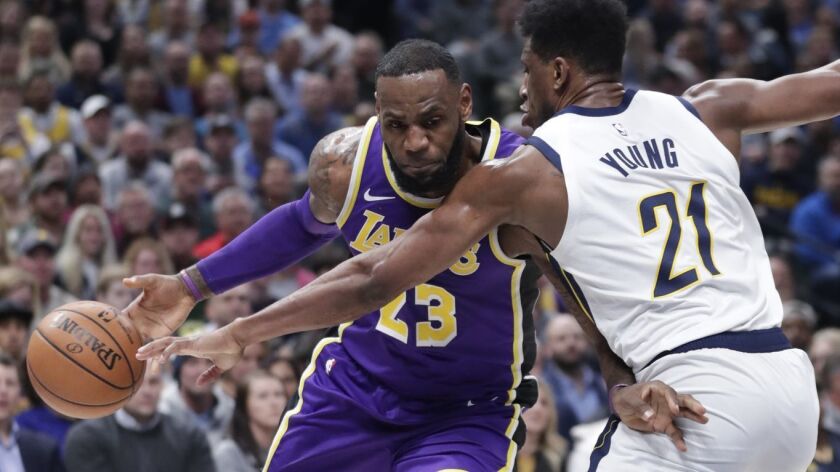 Reporting from Indianapolis —
The Lakers played as if their collective spirit was broken over the persistent trade talks that have surrounded the team.
They were at times mocked by Indiana Pacers fans chanting at them during Tuesday's 136-94 demolition before 17,265 at Bankers Life Fieldhouse.
Even with LeBron James back in the lineup, contributing 18 points, nine assists, seven rebounds and one explosive dunk over Myles Turner, the Lakers lost by their largest margin of the season, and the biggest of James' career.
All the talk in the losing locker room was about dealing with trade rumors involving Lonzo Ball, Kyle Kuzma, Brandon Ingram, Josh Hart and Ivica Zubac going to New Orleans in a deal for Anthony Davis. Meanwhile, another trade to send rookie Svi Mykhailiuk to Detroit was being finalized.
"We have a lot of guys that's been in trade talks the last couple weeks that's never been in that position before," James said. "So, you'll have to ask those guys how they're dealing with it. You can't really ask me. I've never really been a part of that, but I've been a part of teammates" going through it.
"But I know it has to be tough on a lot of our guys, especially our young guys. Right now they've just never been a part of it and they're hearing it every single day and I know that the worst thing that you can do right now is be on social media. And I know all young guys love social media. So that definitely can't help."
When Ingram stepped to the free-throw line with 8:53 left in the first quarter, Pacers fans chanted "LeBron's gonna trade you."
"I heard it. I still made the free throws," Ingram said after scoring 12 points and collecting six rebounds. "I've been through and I've heard worse, way worse things in my life."
Sign up for our Lakers newsletter »
Those same chants rained down on Kuzma (12 points) when he shot free throws. After the game, Kuzma was asked what toll the trade rumors are taking on him and his teammates' psyche.
"Obviously it's everywhere," he said. "You can't really not see it, whether you're on your phone or wherever. But at the end of day, we got to figure out a way to block it out and still perform and play.
"Obviously it's tough in this generation and society where you can't even use your phone without seeing something or seeing a text. But that's up to us, and lot of it is our first time going around with it. But obviously we have to be better."
The NBA trade deadline is noon PST Thursday. Perhaps, veteran guard Rajon Rondo was asked, a burden will be lifted after the deadline passes?
"I don't know if it's that simple," said Rondo, who also has been offered in the New Orleans deal. "It's not like the trade deadline happens and then everything is going to be back to normal. Guys are hearing it. It's a different mentality to have obviously.
"Some of the young guys have never been through this situation. I can't speak up for them, but I know when I was that age, you may say it doesn't affect you, but it can mess with you a little bit mentally."
Lakers to acquire Bullock
The Lakers, in desperate need of outside shooting, agreed to acquire Reggie Bullock from the Detroit Pistons for rookie Svi Mykhailiuk and a second-round draft pick, according to two people with knowledge of the situation not authorized to speak publicly.
Bullock, 27, is a 6-7 guard/forward averaging 12 points and shooting 38.4% from three-point range.
The Lakers are tied with the Pistons for the second-worst three-point shooting in the NBA at 33.5%, and are hopeful that Bullock can help in that area.
Bullock, who is in his sixth season, was drafted 25th overall by the Clippers in 2013. He's in the final season of a contract that pays him $2.5 million this season.
That fits in with the Lakers' mandate of having players on one-year contracts so they can have salary-cap space for a big-name free agent this summer.
Mykhailiuk, a second-round pick last June, averaged 3.2 points in 39 games.
Kuzma in All-Star competition
Kuzma has been selected to compete in the skills challenge during All-Star weekend. The 6-10, second-year forward will compete against Memphis' Mike Conley, Dallas' Luka Doncic, Sacramento's De'Aaron Fox, Denver's Nikola Jokic, Boston's Jayson Tatum, Orlando's Nikola Vucevic and Atlanta's Trae Young.
He is the only Laker involved in the Feb. 16 festivities, which include the three-point shooting competition and slam dunk contest.
Kuzma and Ball were selected to play in the Rising Stars game Feb. 15 as part of the U.S. team. Ball is out because of a sprained left ankle and will be replaced in the game by the Knicks forward Kevin Knox. The Clippers' Shai Gilgeous-Alexander, who is Canadian, will be on the World team.
Etc.
The Lakers said Zubac got an MRI that revealed a small avulsion fracture to his left middle finger, but it will not prevent him from playing. Zubac started against the Pacers and had eight points.
Coach Luke Walton said Hart didn't play because he was being rested because of left knee tendinitis.
Twitter: @BA_Turner
---
All things Lakers, all the time.
Get all the Lakers news you need in Tania Ganguli's weekly newsletter.
You may occasionally receive promotional content from the Los Angeles Times.