Pau Gasol helps put on tribute for former Lakers teammate Kobe Bryant's last stop in Chicago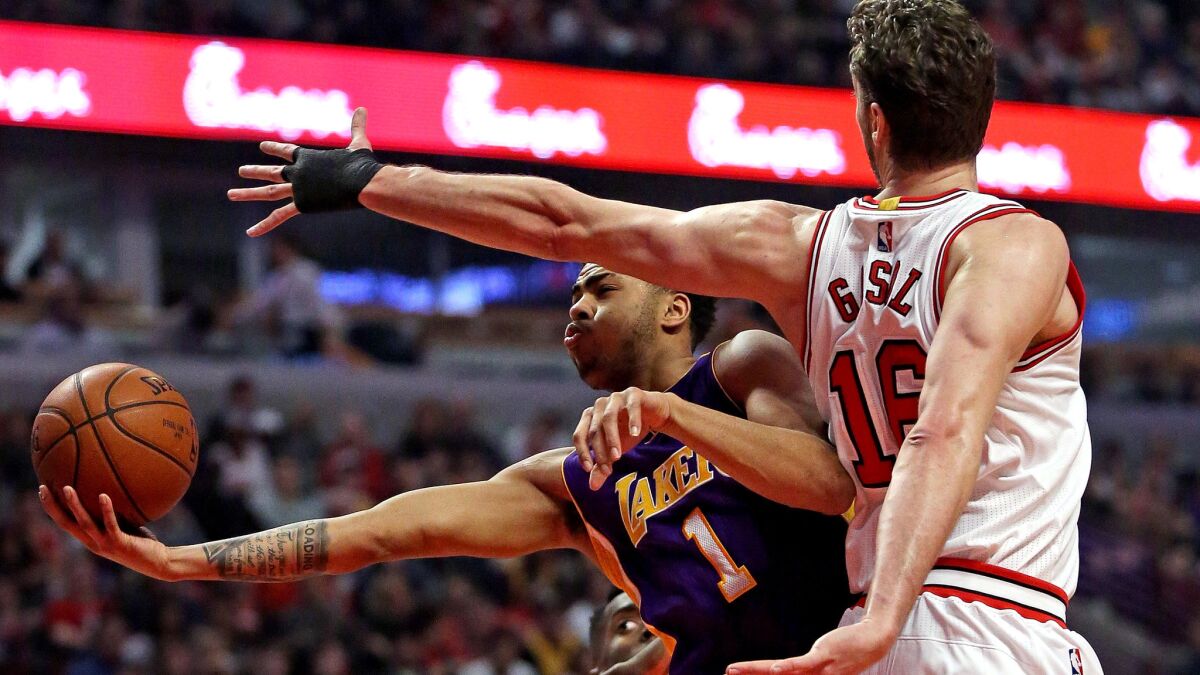 Reporting from Chicago —
Pau Gasol recently played in his sixth All-Star game, filling in for injured teammate Jimmy Butler while reminding everyone of his rare skill set for a 7-footer.
Especially Kobe Bryant.
Bryant still admires Gasol, revealing the depth of it Sunday. His plea couldn't prevent Gasol from leaving the Lakers in July 2014 for less money with the Chicago Bulls.
"I tried everything under the sun to convince him to stay," Bryant said before the Lakers played the Bulls. "Pau is such a prideful person. He felt like he was being disrespected with all of the continual trade talks despite the success that we had and the benching and all that stuff. He just felt completely disrespected. I understood that as a man and there was nothing I could do but just wish him luck."
Gasol shared his perspective of the situation.
"Kobe came to my home to talk and kind of convince me to stay and fight through to gether what the situation was at the time," Gasol said Sunday. "But emotionally,
myself, I was in a place where I needed to move on and put myself in a different situation after the emotional wreck of [those] last three years. I was always on a thin
line. I was pounded in different directions."
In addition to popping up in too many trade rumors to count, Gasol actually was dealt to Houston in the three-team Chris Paul trade in December 2011. Former NBA commissioner David Stern vetoed the trade while acting as the steward for the New Orleans franchise, which the league had temporarily purchased.
Gasol never understood how the Lakers could deal him so quickly after winning championships in 2009 and 2010.
"Some people appreciate you more. Some people don't," he recently told reporters. "Not everyone is going to appreciate you the same way. That's something you have to live with and that's what happens to all of us. But there were a lot of people that appreciated me and Kobe was definitely one of them."
Gasol returned the favor Sunday, introducing Bryant pregame via scoreboard video and calling him "my former teammate and my friend ... Kobe Bryant."
It came after a minute-long tribute video for Bryant, who was received warmly by the Chicago crowd.
Beyond the trade rumors, Gasol was also hurt when former Lakers coach Mike D'Antoni sometimes benched him in crucial situations. D'Antoni favored push-the-pace players, which wasn't Gasol's game — he shot only 47.4% while averaging 15.7 points in two seasons under D'Antoni.
Gasol and D'Antoni even met at a Manhattan Beach restaurant to try to find common ground during the 2012-13 season. Gasol told him he was uncomfortable with being benched and also wanted the ball in the post instead of the perimeter. Gasol lost his starting job for six games later that season in favor of Earl Clark.
With the Bulls struggling these days, Gasol again found himself in trade rumors before last week's deadline, though nothing took place.
Gasol, 35, could be on the move again this summer. He is expected to opt out of a contract paying him $7.8 million next season. The average NBA salary will balloon to about $7 million thanks to the league's income increase from the lucrative national TV contract.
LAKERS NEXT UP
AT MILWAUKEE
When: Monday, 5 p.m. PST.
On the air: TV: TWC SportsNet, TWC Deportes; Radio: 710, 1330.
Records: Lakers 11-46; Bucks 23-33.
Record vs. Bucks: 1-0.
Update: The Lakers enjoyed a rare easy game when they played the Bucks in December, riding D'Angelo Russell's 19 points and seven assists to a 113-95 victory. Milwaukee Coach Jason Kidd has made numerous lineup changes recently. Center Greg Monroe, demoted before the All-Star break, had 24 points and 12 rebounds in the Bucks' double-overtime victory against Atlanta on Saturday. Jabari Parker had a career-high 28 points in the game.
All things Lakers, all the time.
Get all the Lakers news you need in Dan Woike's weekly newsletter.
You may occasionally receive promotional content from the Los Angeles Times.