If Lakers are playing at home, it's uncertain Kobe Bryant will take the court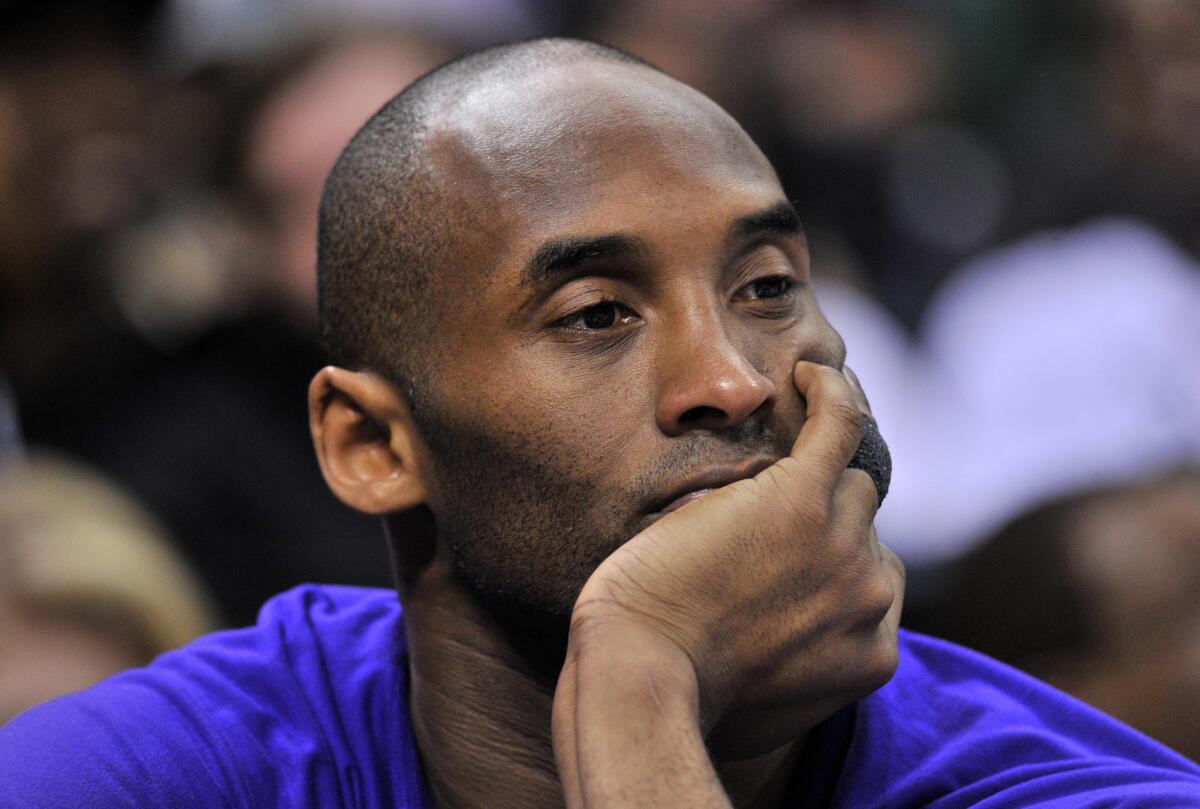 The question arrives almost daily: Will Kobe Bryant play in the Lakers' next game?
There are 13 games left until the April 13 finale, with the Memphis Grizzlies up next Tuesday. Because it's a home game, it's uncertain if Bryant will appear in it.
He has played in 96% of games away from Staples Center since declaring his intent to retire, and only 58% of games at the arena.
The Lakers' next game after Tuesday is at Phoenix on Wednesday.
Lakers Coach Byron Scott typically says it is "50-50" that Bryant plays in a particular game, repeating the phrase Monday when asked about Bryant's availability against Memphis.
"I just don't have answers for you guys," Scott said. "I wish I did. I don't know sometimes until game day. Or game time, really."
Last Friday, Scott said there was a 75% chance Bryant would play later that night against Phoenix, but Bryant ended up sitting out.
In addition to making road games a priority, Bryant has prioritized certain home games over others.
In recent weeks, he played against high-profile teams Golden State, Cleveland and New York but sat out against Orlando, Sacramento and Phoenix.
Bryant has complained of a sore right shoulder. A torn rotator cuff in the same shoulder ended his 2014-15 season.
All-Star hosts
Staples Center will host the NBA All-Star game in 2018, an announcement to be made publicly Tuesday before the Lakers play Memphis.
The arena, which opened in 1999, also held the All-Star game in 2011 and 2004.
The league chose, atypically, to stage the two most recent All-Star games in cold-weather cities, last month in Toronto and in New York in 2015.
It is scheduled to be in Charlotte next year, another potentially chilly environment, though probably not as frigid as fans, players and media experienced the last two years.
Neither the Lakers nor the Clippers will be the official host of the 2018 game, with the teams likely sharing responsibilities for it.
The NHL's Kings, coincidentally, are hosting the All-Star game in 2017 at Staples Center.
America's team?
If you're around Robert Sacre enough, it becomes pretty obvious where he went to school.
The Lakers reserve center continually talks about the successes and mourns the losses of his alma mater, Gonzaga.
He often calls the Bulldogs "America's Team," which is met with chuckles from teammates and reporters. Gonzaga has never been to the Final Four.
He's been plenty vocal since the Bulldogs upset Seton Hall and Utah in the first two rounds of the NCAA tournament.
"I just hope they lose the next round," Scott said dryly. "I'm tired of listening to him. If they go to the final eight and then the Final Four, we're not going to hear the end of it."
The 11th-seeded Bulldogs play 10th-seeded Syracuse in a Midwest region semifinal Friday.
NEXT UP

LAKERS VS. MEMPHIS GRIZZLIES

When: Tuesday, 7:30 p.m. PDT.
Where: Staples Center.
On the air: TV: TNT, TWC SportsNet, TWC Deportes; Radio: 710, 1330.
Records: Lakers 14-55; Grizzlies 40-30 entering play Monday.
Record vs. Grizzlies: 0-3.
Update: Memphis is still fifth in the Western Conference standings despite numerous injuries. Center Marc Gasol, sidelined since Feb. 8 because of a broken foot, is done for the season, and point guard Mike Conley was expected to miss about a month because of Achilles' tendinitis. Conley has been out since March 6. On the other hand, Zach Randolph returned from a seven-game absence (sore knee) and had 28 points, 11 rebounds and 10 assists in a 113-102 victory Saturday over the Clippers.
Twitter: @Mike_Bresnahan
All things Lakers, all the time.
Get all the Lakers news you need in Dan Woike's weekly newsletter.
You may occasionally receive promotional content from the Los Angeles Times.