Veterans are providing a lot of help to Lakers' youngsters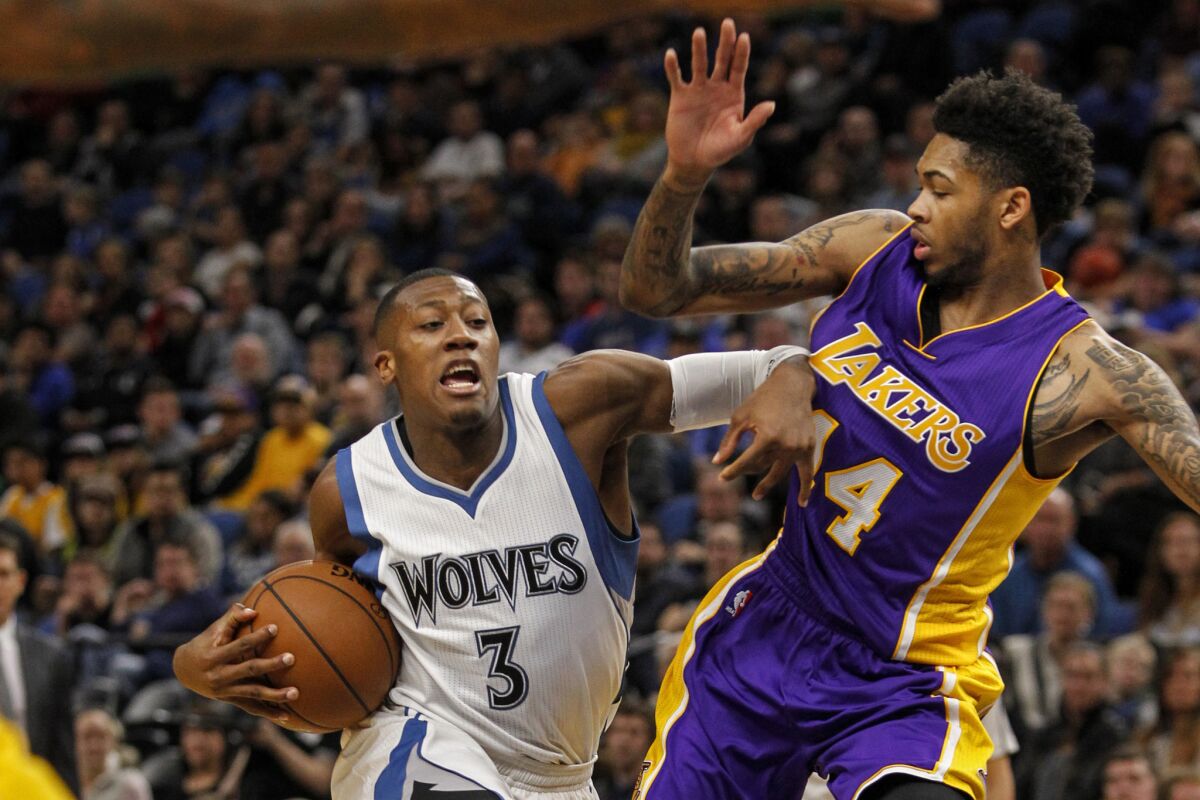 While much of the focus this season has been on the Lakers' youth, their mix of veterans and young players has been critical to the development of those young players.
"It's been a tremendous help," third-year forward Julius Randle said. "There's times in the game where we may be slacking or whatever it may be and the veterans are quick to stop the bleeding. Not getting too high. If you're on a win streak and you get happy, you can kind of lose that edge. The veterans do a good job of speaking up on that as well."
Both the Lakers' starting group and their second unit include players in their first three years and veterans. Randle and second-year guard D'Angelo Russell start alongside Luol Deng, Timofey Mozgov and Nick Young, all of whom are in their 30s. The second unit features four young players in rookie Brandon Ingram, Larry Nance Jr., Tarik Black and Jordan Clarkson, along with Lou Williams, who is in his 12th season.
"The young guys work hard, they do," Mozgov said. "The guys listen to what the vets told them. They listen to what coach told them. They try to bring it into the court."
Staying in L.A.
The Brooklyn Nets already spent more time in Los Angeles than they might have while visiting another city because they played the Clippers the night before playing the Lakers. But rather than fly to Oklahoma City right after the game Tuesday, they are extending their stay in Southern California.
"The advantage is being in L.A. this long," Nets Coach Kenny Atkinson said before the game with the Lakers. "From a quality of life standpoint it's fantastic. I think we settled into a routine a little bit. Staying at the hotel real close. I'll tell you after the game if we think it's a good thing."
The Phoenix Suns also stayed an extra day after playing the Lakers. They used the day for team yoga on the beach.
Protecting home court
The Lakers entered Tuesday's game 3-1 at Staples Center and eager to return after a four-day trip in which they played three games.
"You want the reputation that any team that comes into Staples Center is gonna have to come in and outplay us to win," Lakers Coach Luke Walton said. "We're never gonna give a home game away. We're gonna play to a certain level, let the fans get involved. So far we've done a great job of doing that."
tania.ganguli@latimes.com
---
All things Lakers, all the time.
Get all the Lakers news you need in Dan Woike's weekly newsletter.
You may occasionally receive promotional content from the Los Angeles Times.