D'Angelo Russell, Nick Young trying to show they're up to the minutes with Lakers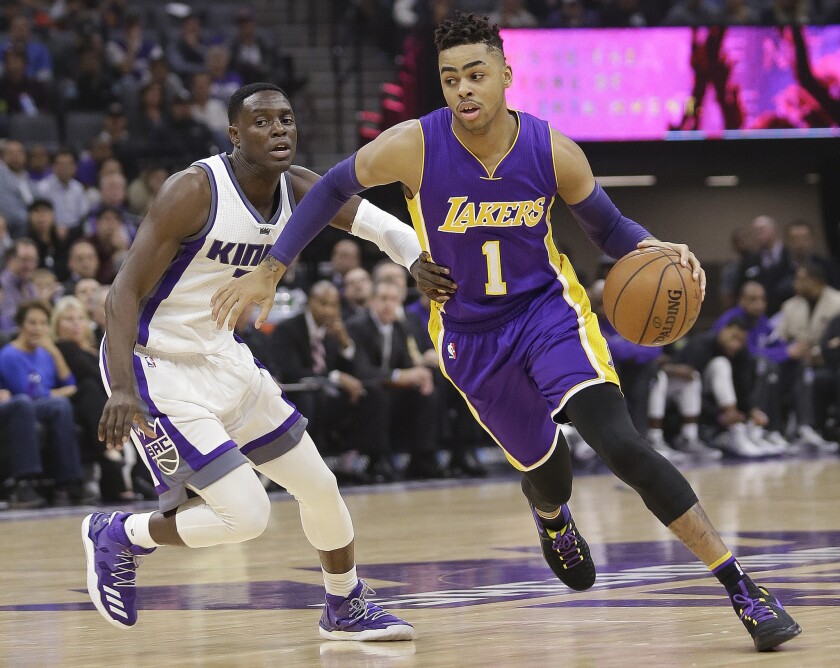 D'Angelo Russell and Nick Young lobbied to play more on Monday night against the Sacramento Kings than they had the day before against the New York Knicks.
Still, the Lakers had to stick to a strict minutes restriction with Russell, their starting point guard who logged 16 minutes Sunday night. Young was to be given a little bit more leeway, but the coaches planned to monitor his condition as the game progressed.
Russell missed 12 games because of a sore left knee. He had a platelet-rich plasma injection on Nov. 23 and spent the next 2½ weeks recovering.
He looked rusty in his first game back, making only one of eight shots with five assists and four turnovers in those 16 minutes. But Russell rebounded Monday, especially offensively. He had 10 points by halftime, with four assists and two rebounds, and finished the night with 17 points and three turnovers in the Lakers' 116-92 loss to the Kings. He played 20 minutes.
Young missed six games with a strained calf muscle in his right leg. He suffered the injury in the first quarter against New Orleans on Nov. 29. Although the injury was supposed to take up to four weeks to heal, Young returned ahead of schedule.
"I feel comfortable," Young said after Sunday's game. "I just got to get my shot back, get back in the groove of things — you know, fastbreaks and guarding and playing five-on-five."
Young had eight points in 26 minutes Monday, shooting three for 10 from the field.
Defense needs practice
The Lakers have 12 days left on the seven-game trip that began Monday.
At home or on the road, there is little time for a full practice during an NBA season. It's one of the factors that contributes to the Lakers' difficulty in improving their defense.
"We need reps and reps and reps and reps," Coach Luke Walton said before Monday's game. "It's the only way to break habits. We haven't been a good defensive team for the last few years so you add that we have a new team and new staff, new concepts.
"…If we're lucky we can get two solid practices in a week. It's tough to get the amount of reps that we need to in a practice. A lot of the reps are literally happening in the game, which is still getting reps in it so we still should get better at it. And we will. It just hasn't happened yet."
Deng finding a groove
After a difficult start to the season, forward Luol Deng has found more success with his shot lately. He had 16 points on seven-for-11 shooting Monday, after scoring a season-high 22 points in Sunday's loss to the Knicks.
"Him finding his rhythm is a big key to our success," Russell said after Monday night's game. "Same shots that he's been missing all season he was making them today. Just finding that consistency is going to be key."
---
All things Lakers, all the time.
Get all the Lakers news you need in Dan Woike's weekly newsletter.
You may occasionally receive promotional content from the Los Angeles Times.