Lakers' Luol Deng is out 'indefinitely' with sprained right wrist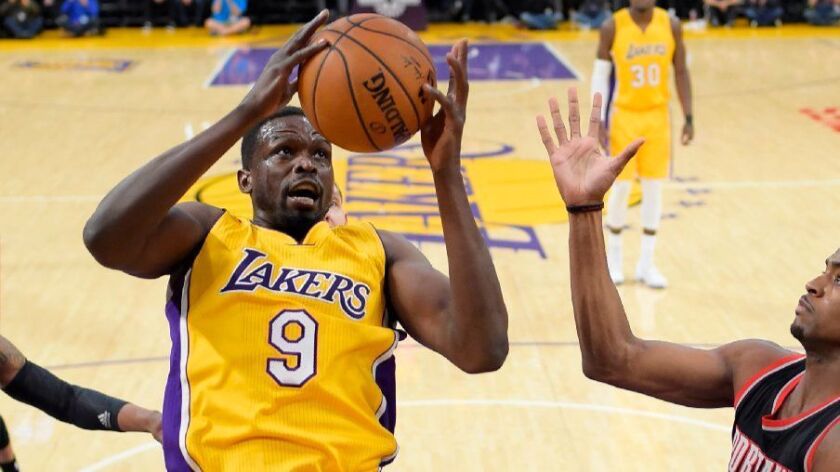 The Lakers, like the Clippers, lost a starter to a hand injury on Tuesday, but the news wasn't quite as devastating as it was for their city rivals, who lost Chris Paul for six to eight weeks after the star point guard tore a ligament in his left thumb.
Lakers forward Luol Deng suffered a sprained right wrist Sunday night against the Detroit Pistons and was inactive for Tuesday night's game against the Denver Nuggets.
Deng had an X-ray, which was negative. The team announced an hour before the game that Deng, who is averaging 8.1 points and 5.8 rebounds while playing an average of 27.6 minutes a game, is "out indefinitely," but it did not specify whether that meant days or weeks.
When reporters were allowed into the locker room before the game, Deng was seen walking to the training room with his right hand heavily bandaged. But the 12-year veteran, who became the Lakers' highest-paid player after signing a four-year, $72-million deal last summer, was not available for comment.
Deng, 6 feet 9 and 220 pounds, had missed only one other game because of injury this season, sitting out Jan. 5 against Portland because of right biceps tendinitis. He sat out Saturday's game against the Clippers to rest during the first of back-to-back games.
Brandon Ingram started in Deng's place Tuesday night. Somewhat ironically, Coach Luke Walton said after Tuesday's shoot-around that he had no intention of changing his starting lineup of Deng, Julius Randle, Timofey Mozgov, D'Angelo Russell and Nick Young.
"I like guys getting chemistry, playing together," Walton said. "I think the starting lineup's actually been doing a pretty good job. Most games we've gotten off to pretty good starts now. That was a problem early on, but I think they've figured that out.
"Now, a lot of the problem is the start the third quarter. So I guess if we're making baby steps and progression, we'll get to the third quarter next. But I think the starting group's been pretty solid for the most part recently."
Nance nears return
It's not just his high-flying dunks and energy that the Lakers have missed since Larry Nance Jr. bruised his left knee on Dec. 20. It's the forward's court awareness and anticipation, both advanced for a second-year player.
"He's one of our smarter players," Walton said. "He's the guy who talks a lot out there, the guy who covers up. He can read stuff coming. He can guard multiple positions. … We miss what he does on both ends of the floor."
There was some hope that Nance, who averaged 7.0 points and 5.5 rebounds in 22.4 minutes a game, might return by Sunday; he's been playing one-on-one against rookie center Ivica Zubac in practice. But Walton seemed skeptical about that projection.
"He tells me he feels great, but from the eye test, he looks like he limps around, honestly," Walton said. "I think he's planning on practicing the next two days, which we're excited about. But to me he doesn't look like he's gonna be back at least this week."
Etc.
Both guard Jordan Clarkson (left ankle sprain) and forward Tarik Black (right ankle sprain) were active Tuesday night.
Times staff writer Tania Ganguli contributed to this report.
Follow Mike DiGiovanna on Twitter @MikeDiGiovanna
---
All things Lakers, all the time.
Get all the Lakers news you need in Dan Woike's weekly newsletter.
You may occasionally receive promotional content from the Los Angeles Times.