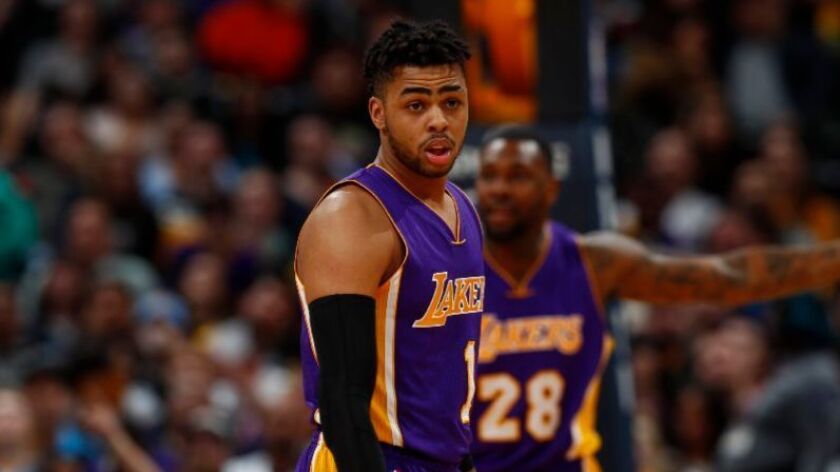 The lineup the Lakers tried Sunday night is one they'll continue to use until further notice.
It's the one with D'Angelo Russell starting at shooting guard and Jordan Clarkson at the point.
"We're still trying to evaluate and see some things," Coach Luke Walton said. "With the starting group, I'd prefer to watch Jordan run the traditional point spot and D'Angelo to get out on the wing. … The perfect world is them being interchangeable. For now I want to see what D'Angelo does as an off-guard, I want to see what Jordan does as a point guard."
Walton has long believed that the more he can utilize his players in various positions, the better. Even before Russell started at shooting guard, he played there at times. Rookie Brandon Ingram has played forward and guard.
Russell played one of his finest games as a pro in Sunday's loss to the Cleveland Cavaliers, scoring a career-high 40 points with six assists and only one turnover. Clarkson scored 19 points with six assists and two turnovers.
"We were looking for each other," Clarkson said. "I was trying to get in the paint, he was being aggressive knocking down shots. We complement each other when we're doing that."
Dad jokes
Feuds between current players and former players working in television aren't new. TV analysts' criticisms irk active players.
Years ago that dynamic had a direct impact on Walton.
The Lakers drafted him in 2003 and when veterans Kobe Bryant, Shaquille O'Neal, Gary Payton and Karl Malone showed up for camp that year, Walton recalled, they told him "life was going to be hell for me ... because of stuff my dad said."
Ultimately, though, the affable rookie was so likable that his teammates never singled him out for comments made by Bill Walton.
Walton was asked if he ever asked his dad to pipe down to save him the grief.
"My entire life," he deadpanned.
Nwaba decision
David Nwaba reached the end of another 10-day contract, practicing one last time with the Lakers.
Now the Lakers must decide if they want to sign Nwaba for the rest of the season or move on to take a look at another player on a 10-day contract.
"What's great about David, he's not scared of any challenge," Walton said. "We've had him sit on the bench for three quarters and then guard Isaiah Thomas, and guard Kyrie [Irving] and LeBron [James] last night. He's never overwhelmed by the situation, which is really impressive for somebody in his circumstance."
Nwaba has played on two consecutive 10-day contracts for the Lakers. Before that, the Los Angeles native played for the D-Fenders, the Lakers' development league affiliate.
His defense has impressed the Lakers, and he has shown off his athleticism more than once in the last three weeks. His dunks wowed the crowd at Staples Center.
He admits to a little bit of surprise that the Lakers have relied on him so much.
"But I take pride in my defense and they can see that," Nwaba said. "I'm glad they're just giving me the opportunity to showcase it."
Follow Tania Ganguli on Twitter @taniaganguli
---