Lakers' best defensive upgrade of offseason basically fell in their lap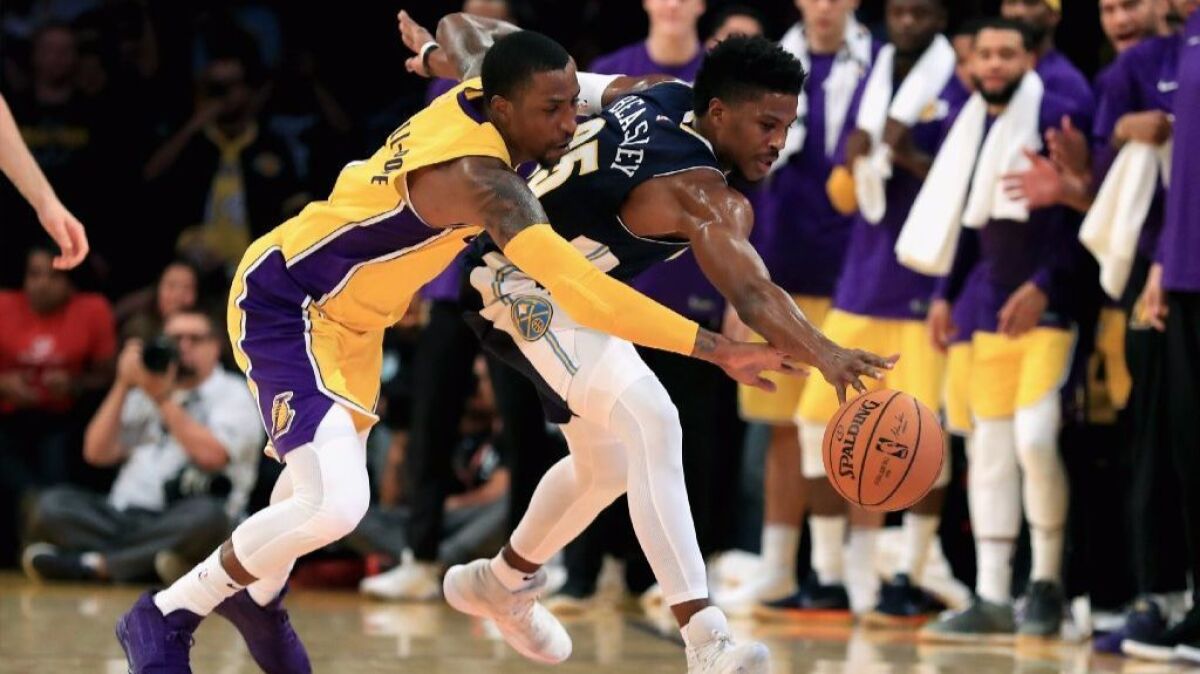 When general manager Rob Pelinka introduced Kentavious Caldwell-Pope as a Laker, he compared the acquisition of the 24-year-old guard to food falling from heaven by an act of divine providence.
Indeed, the Lakers were surprised and delighted to have the chance to sign Caldwell-Pope. And it would not have been possible without a move by the Pistons first.
On Tuesday, Caldwell-Pope faced his former team and coach, Stan Van Gundy, who said losing him was simply a matter of circumstance, no more.
"We never made a decision to move on from KCP," Van Gundy said. "We were going through the process. They were looking around — [he and] his agent, taking their time a little bit. Then we had the opportunity to get Avery Bradley and we jumped on it. Avery's a guy we've already liked. There was never a time when we sat down as a staff and decided to move on from KCP. We had an opportunity present itself before he was willing to make a decision."
There was a gap between the two sides that stalled negotiations. On July 7, Detroit renounced his rights and made him an unrestricted free agent. With most of the free agent market already having shaken out, the Lakers' one-year deal worth $18 million appealed to Caldwell-Pope.
It appealed to the Lakers, too. They hadn't been willing to offer multiyear deals as they tried to save salary cap space for next summer. In Caldwell-Pope they got a defensive-minded player they hoped would help their young team.
So far, he has.
"A big part of our defense is what he's brought, the fact that we're actually making some strides in that," Coach Luke Walton said. "He practices hard, he has great habits. He's an aggressive defender. He likes to get up into the ball pushing the direction we're trying to send it. I think when you're playing with so many young players, when they get to see him do it every day, then they learn better, they learn quicker."
Caldwell-Pope scored 13 points with six rebounds in Tuesday's 113-93 win, and helped hold Bradley to eight points on four-for-17 shooting.
Halloween costumes
Lakers veteran Corey Brewer walked into Staples Center on Tuesday night dressed in a Spider-Man costume, from head to toe, with the red and blue unitard zipped over his head. Only he and Caldwell-Pope dressed up — Caldwell-Pope as '90s television character Steve Urkel.
Walton's three-and-a-half-year-old son Lawson also was Spider-Man for Halloween. The family chose a superhero theme, but Walton didn't don a costume. He simply wore a t-shirt with Batman on it.
Incidentally, Batman is center Brook Lopez's favorite costume. He was Batman most years as a child, and also as an adult.
Lonzo Ball's favorite costume? Rapper Flavor Flav, whom he dressed as when he was 10 years old.
Follow Tania Ganguli on Twitter @taniaganguli
---
All things Lakers, all the time.
Get all the Lakers news you need in Dan Woike's weekly newsletter.
You may occasionally receive promotional content from the Los Angeles Times.