Larry Nance Jr. returns to starting lineup against Clippers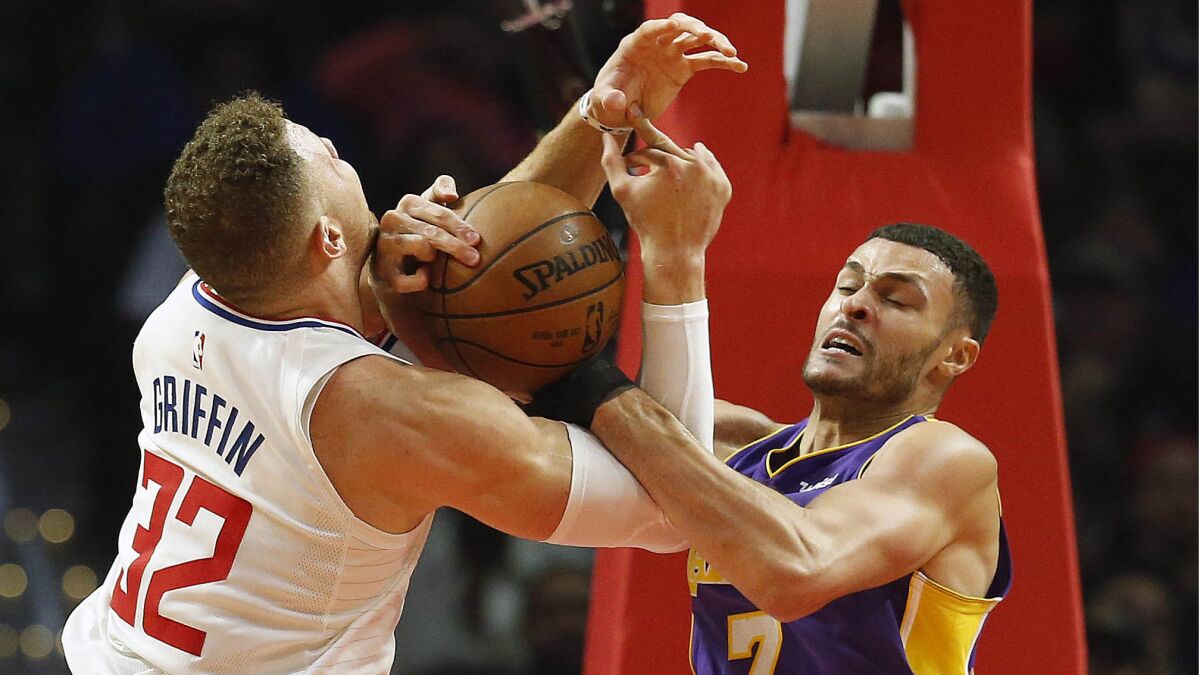 It happens sometimes, but Luke Walton isn't a coach who believes in a player losing his starting job because of an injury.
So when Larry Nance Jr. healed from the broken hand he suffered on Nov. 2, he took back the spot he earned in training camp and became the Lakers' starting power forward again when the Lakers played the Clippers on Monday night.
"It's their decision, they're the coaching staff, whatever they think is the best thing for us to win is what's most important," said power forward Kyle Kuzma, who had started while Nance was sidelined. "… To me it doesn't really matter. I proved I can play against second-unit guys, first-unit guys, same thing. I learned more patience in the first group playing against starters, but it's still basketball, still got to put the ball in the hoop."
The Lakers hoped Nance's rebounding and his effort and production on defense would offer a boost and they felt that they got that.
"Larry was probably our best player tonight," Walton said after the game.
He liked how Nance battled Clippers star Blake Griffin. Nance finished with nine points and eight rebounds while Kuzma finished with 15 points, two rebounds and three assists.
Shot selection
In the closing minutes of Monday's game, the Lakers had several opportunities to even the score or take the lead. But missed jumper after missed jumper thwarted them.
Shot selection is something the Lakers have worked on, and Walton has asked for smarter shot selection from his players all season.
His opinion on the players' shot selection late against the Clippers was mixed.
"We had some good looks and then we forced some," Walton said. "I wish we had the old timeout rule because I would have definitely used a couple more of them tonight. But it looked like even when it was a one- [or] three-point game, we kind of started to panic a little bit. When we did that we didn't get great looks."
His players didn't share the opinion that their shots were forced. Point guard Lonzo Ball said the real issue came defensively. Kentavious Caldwell-Pope, who finished with a season-high 29 points, wasn't concerned either.
"I think we just, we were just trying to win the game," Caldwell-Pope said. "If we were forcing shots, we didn't think we were forcing shots. We thought it was wide open. We took them with great confidence."
Lesson learned from Kuzma
Count Clippers coach Doc Rivers among Kuzma's fans.
"He's been terrific," Rivers said. "Right now he may the leader for rookie of the year, or one of them. At least he should be in the running."
Rivers takes a lesson about scouting from Kuzma's rise from unknown player at Utah to rookie standout.
"The head coaches didn't get to see him … I didn't get a chance to see Kuzma all year, so I didn't have any negative thoughts about him," Rivers said. "I go to the predraft camp and I'm sitting by Magic [Johnson] and Rob [Pelinka] and a couple of other guys, they didn't see him all year because they didn't have the job, so their first look at him — I don't know if you know the first game in Chicago … I remember walking right to our scouts saying, Holy goodness, this guy's amazing. Then all the scouts, not only ours but [all] the scouts [say], 'Nope, you should have seen him in college.' Because they had all the negative stuff and so you dismiss [what you saw] and that's what, I guarantee you, all those teams [that passed on him] did.
"In some ways the Lakers probably were fortunate that their two guys didn't have all the baggage. They saw the positive stuff."
Follow Tania Ganguli on Twitter @taniaganguli
---
All things Lakers, all the time.
Get all the Lakers news you need in Dan Woike's weekly newsletter.
You may occasionally receive promotional content from the Los Angeles Times.