A studious Lonzo Ball is learning to be more assertive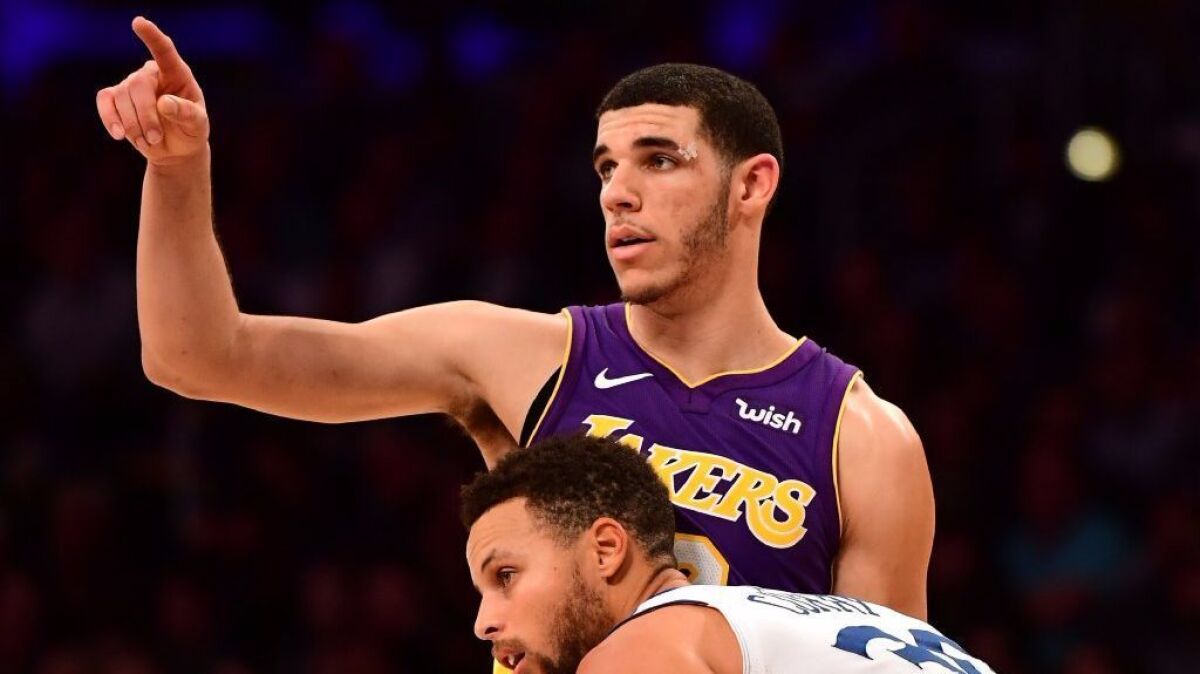 After almost every game he plays, Lonzo Ball puts himself through it one more time. He and his manager, Darren Moore, watch the games again to see what could have gone better.
"It's just me and my man D-Mo," Ball said. "We definitely break it down, us two. We talk about it, see what we could've worked on. … Just to see where we messed up at, what we did well, what we didn't do as well. We come back in the morning and watch it again with [coach] Luke [Walton]."
His private film sessions serve as a precursor to the Lakers' daily film sessions. And while he is one of the youngest players on the Lakers' roster, Ball is learning to assert his voice and offer his thoughts in those group meetings.
"It's definitely an adjustment but we have a very young team," Ball said. "I just turned 20, BI [Brandon Ingram] just turned 20. We're asked to do a lot. You just gotta grow up fast and step up to the plate."
The only time Ball and Moore skipped their ritual was after the Lakers played the Philadelphia 76ers. Ball had his worst game of the season and had no desire to watch it again. Walton said after the game that Ball had an off night.
His games against Milwaukee (his first career triple-double), Detroit and his first game against Phoenix (a near-triple-double in which Ball scored 29 points) were much more enjoyable to re-watch than that game would have been.
Wednesday night's game against the Golden State Warriors wasn't too shabby either.
"The difference when he's out there pushing the ball, whether he's shooting it or just he's creating that pace for us by throwing the ball ahead, is everything for our team's success," Walton said. "And when he's doing that and he's getting in the paint and getting us into our offense early we're just such a better team.
"And then obviously making those threes was nice, I said after the game last night, he's been shooting lights out in practice for the last week, two weeks, getting his work in with Miles [Simon]. So it wasn't surprising to see those threes go in, but it's always good to see the hard work paying off for the young guys."
The Lakers had several opportunities against the Warriors to steal a win. One such came with 14.3 seconds left in overtime when Warriors point guard Stephen Curry, a 94% free-throw shooter, missed the second of two free throws.
The Lakers trailed by only two points and had they secured that rebound they had a chance to tie the score. Instead, Draymond Green got to the miss first and attempted to tip it in, then Andre Iguodala caught the rebound, giving the Warriors another possession.
Looking back on that moment, Walton wishes he'd noticed earlier how his players had positioned themselves. Walton was engrossed in a conversation about what came next.
Ingram was left to battle Green for the rebound.
"We wanted to save that timeout, by the time I looked up from our conversation, I saw it a little bit late, but it is on the players as well," Walton said. "They should recognize that Draymond's the better rebounder of the two and Julius [Randle] should be on his side, but we pointed it out in film, that's something that you learn from. It's a mistake that happens in the game and hopefully we don't do it again."
Kyle Kuzma missed Wednesday's game against the Warriors after experiencing back spasms while shooting before the game. Kuzma had gone through shootaround that morning without any problem.
Kuzma felt better Thursday morning, but the Lakers gave him an MRI exam as a precaution.
The exam was negative and Kuzma is day to day because of the tightness in his back. He is questionable for Saturday's game against the Denver Nuggets.
The Lakers rookie started 11 games this season while starting power forward Larry Nance Jr. was out because of a broken hand. Kuzma is the Lakers' leading scorer with 16.7 points per game.
Follow Tania Ganguli on Twitter @taniaganguli
---
UPDATES:
8:43: This article was updated with additional details.
This article was originally published at 5:50 p.m.
All things Lakers, all the time.
Get all the Lakers news you need in Dan Woike's weekly newsletter.
You may occasionally receive promotional content from the Los Angeles Times.