Lakers' 42 fast-break points tie franchise record against Hawks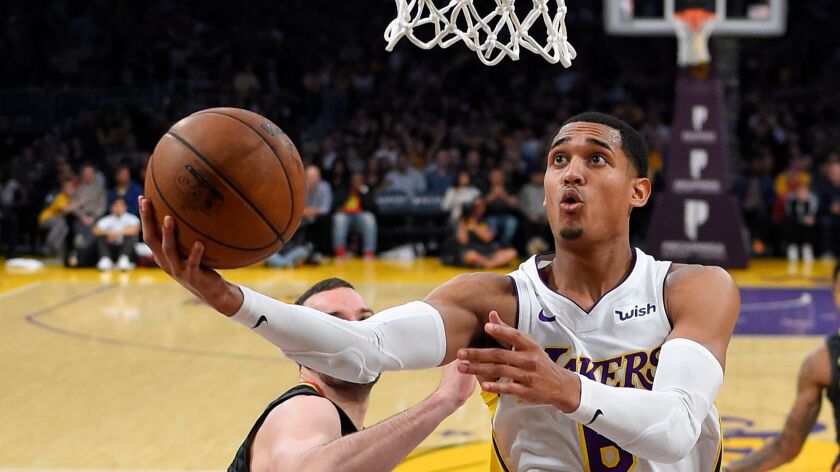 The Lakers want to play fast and they want to run, so they were delighted by the way they played against the Atlanta Hawks for most of the first half Sunday.
At halftime of the Lakers' 132-113 win, L.A. had 28 fast-break points and the Hawks had none. They finished the game with a 42-15 margin (the 42 fast-break points tied a franchise record).
"Our point guard," Brandon Ingram said when asked what allowed the success in transition. "And then I think a lot of the other guys just pushed the pace. I think tonight we saw that we could run, we ran every chance we got. I think the big guys did a good job of rebounding the basketball and outleting it to the point guard, and we just started our running game."
In the six games the Lakers played without point guard Lonzo Ball, their pace suffered more than anything else. It's a major tenet of how Lakers coach Luke Walton wants the team to play, and Ball's presence is a crucial part of it. When Ball returned Friday from the left-shoulder sprain, their pace began to show signs of improvement.
Against the Hawks, they really reaped the benefits.
"I think watching it you could see that we're having a lot of fun when we play like that," Ball said. "It fits my game perfectly. I've been playing like that my whole life so tonight was definitely a good one."
Second-unit duty
Midway through the first quarter, Ball asked for a break. It was only his second game since his return from his injury, so Walton took him out for a breather.
It fit with Walton's plan for Ball that night anyway. He wanted to see Ball have some time with the Lakers' second unit, which now includes Ball's fellow rookie and best friend on the team, Kyle Kuzma.
"The two of them play really well together," Walton said. "He actually came up to me halfway through the first and asked for a sub. … In the third it was the same thing. He looked tired. He didn't ask for one but I called him over, asked him how he felt, he kind of gave me the head nod."
Ball said the breather helped.
"After that I was pretty cool," Ball said.
Overcoming distractions
Distractions are a way of life for the Lakers, so Sunday's brand of distraction didn't produce much of a new message from the Lakers' coaching staff to their players.
"The message is: Yes, we play in L.A.; yes, we are one of the greatest sports organizations in the world; yes, we have a very big fan base; and yes, there's a lot of distractions outside the game of basketball when you play in the city, when you play with the history they have," Walton said. "… We need to focus our energy and our minds on what we're doing. That's the message we send every day.
"Don't worry about what people on Twitter are saying. Don't worry about what this media outlet is saying, or that one or your agent. The people that matter to what we're trying to do are all in our room. We have to be able to trust each other. We have each other's backs and we work together."
Follow Tania Ganguli on Twitter @taniaganguli
---
All things Lakers, all the time.
Get all the Lakers news you need in Dan Woike's weekly newsletter.
You may occasionally receive promotional content from the Los Angeles Times.