Lakers' Kentavious Caldwell-Pope finally can go home after jail sentence ends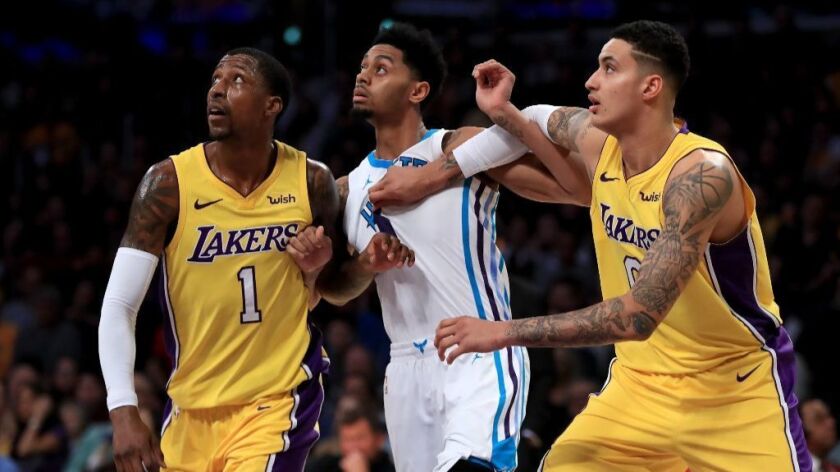 On Sunday night Kentavious Caldwell-Pope played with a lightness he hadn't had in several weeks.
That's because Caldwell-Pope knew that Monday he'd get to go home to his wife and baby. And Monday afternoon, following practice, he finally was allowed to return home for the first time since the second week of December.
Caldwell-Pope was released from the Seal Beach Police Department Detention Center, a private jail where he was serving a 25-day sentence for violating the terms of his probation. The probation stemmed from a March arrest for driving under the influence, and a subsequent guilty plea to the lesser charge of allowing someone to operate a motor vehicle while under the influence.
"It was difficult," Caldwell-Pope said. "My family's all I got out here. My teammates is part of my family as well. It was difficult just not being with them and my family. It just felt like I let them down. Learning from this mistake and moving forward."
Caldwell-Pope was allowed to attend Lakers games and practices as part of a work release program, but he had to return to the jail each night. He saw his family only during games at Staples Center.
"Just to see them brightened my day but I couldn't go home," Caldwell-Pope said. "Just kind of kept me down a little bit. That was kind of hard to get through it. But now I'm through it I'm just going to put it behind me."
Caldwell-Pope played in nine games while serving his sentence and missed four because of it. He missed a game in Cleveland after being sentenced the day before. He missed two games in Houston and one game in Minneapolis because he was not allowed to leave the state as a condition of his work release program.
In four of those nine games, Caldwell-Pope shot worse than 30% and in one of them, against the Charlotte Hornets, he missed all three shot attempts with no rebounds and no assists.
He acknowledged that, although he tried to stay focused, the sentence did affect him mentally on the court.
Sunday night, Caldwell-Pope made five of eight shots including three three-pointers. Lakers coach Luke Walton said Caldwell-Pope looked more relaxed.
"He looked like his normal self, which was good, we needed that," Walton said. "He was solid throughout the game, wasn't forcing anything, defensively he was hounding people, fighting over screens. … Any human being, a professional athlete, playing on this stage with the pressure on him that he's had and having to do what he's been doing, that coming to an end, I am sure, was a big relief for him."
The Lakers organization remained mum on their head coach and the criticisms he's received at the hands of LaVar Ball, the father of point guard Lonzo Ball.
But two others with experience with Walton spoke up on his behalf — Lakers rookie Kyle Kuzma and Aaron Mintz, an agent who has experience with Walton through clients Julius Randle and D'Angelo Russell.
"I've been really impressed with the job Luke's done," Mintz told The Times. "He's really connected with my guys and created a culture where I feel these guys are being developed really well as young players in the NBA. Any NBA coaching job is difficult and each has its own unique set of challenges.
"I feel Luke and his staff have been doing an excellent job from what I've seen representing Julius and D'Angelo. I think Luke is doing an incredible job and is definitely the right guy for this team."
Kuzma went a step further than fellow rookie Ball did the day before. When Ball was asked if he liked playing for Walton, he said: "I'll play for anyone."
Kuzma delivered an impassioned defense of Walton.
"Luke is my guy," Kuzma said. "I love playing for him. I'm sure most of us love playing for him too. We just gotta stay locked in as a family and listen to the people that really matter in our lives — basketball lives. That's everybody in this organization. A lot of times you have losing streaks, you can go home and listen to people and let them be in your ears, but the people that really matter are the people in the Lakers organization. We stand by Luke. I know the front office does."
The Lakers are planning to sign Jamil Wilson to a 10-day contract, with the roster spot opened up by Andrew Bogut's departure.
Wilson is a 27-year-old small forward who was on a two-way contract with the Clippers. They waived Wilson on Saturday and he cleared waivers Monday. The rookie averaged seven points in 18.3 minutes, shooting 46.9%, including 42.9% on threes.
Last season, the Lakers signed David Nwaba to two 10-day contracts before signing him for the rest of last season and this season. They waived Nwaba in July to make room to sign Caldwell-Pope.
VS. SACRAMENTO
When: Tuesday, 7:30 p.m.
On the air: TV: Spectrum Sportsnet, Spectrum Deportes; Radio: 710, 1330.
Update: The Kings will be the third consecutive team with a losing record that the Lakers will host. Sacramento is on the second night of a back-to-back having played the San Antonio Spurs at home on Monday.
Follow Tania Ganguli on Twitter @taniaganguli
---
All things Lakers, all the time.
Get all the Lakers news you need in Dan Woike's weekly newsletter.
You may occasionally receive promotional content from the Los Angeles Times.