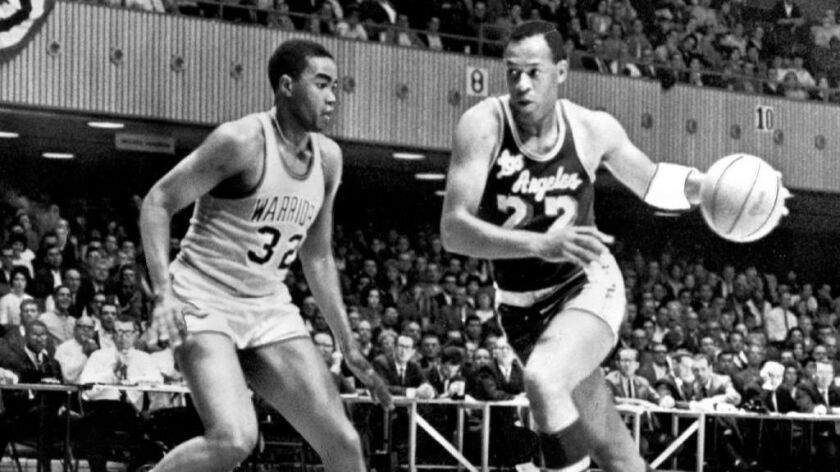 The NBA has changed so much since Elgin Baylor played from 1958 to 1971. He still watches plenty of it, and finds himself amused by one aspect in particular.
Big men who can move. Big men who can shoot.
"What's interesting is watching guys that's 6-10, 6-11, how coordinated and stuff they are, because when I played most of these guys were 7 feet, they couldn't get out of their own way," Baylor said. "It's exciting to watch the game snow, plus the three-pointer shot, which seems like everybody's doing it."
Baylor spoke before the Lakers played the Indiana Pacers on Friday night. He sat courtside for the game. During the first half, the Lakers announced to their home crowd their intention to unveil a statue depicting Baylor. The statue will be unveiled on April 6.
"The stories I've heard he was Kobe before Kobe, Jordan before Jordan," Lakers coach Luke Walton said. "He was that type of dynamic wing player that could do it all. Athletic and shoot and score, everything. So obviously he (deserves) to be getting that statue and I'm very happy for him."
Baylor was asked how he views his legacy and shied away from saying much. He said what he thinks about most when he thinks back to his playing days are the relationships he had with his teammates.
When he watches the game today, he does so with joy.
"I think it's fun, it's exciting," Baylor said. "The exciting part is the big guys. They're out there shooting three-pointers. The game is really different. Some of them shouldn't be shooting three-pointers but how proficient they are shooting three-pointers, it makes the game exciting."
When he played, coaches warned against shooting from far outside, given that they were such low percentage shots.
"Best thing I felt we'd do is just try to take the ball to the basket and get fouled," Baylor said. "Then I know I'd get my three points that way."
New Laker a familiar face
Nigel Hayes didn't grow up in Los Angeles, but like many players of his generation, Kobe Bryant was an idol. So when the Wisconsin Badgers played an NCAA tournament game at Staples Center and Hayes got Bryant's locker, he was beside himself and Bryant heard about it through Twitter.
The next time the Lakers played in Milwaukee, during Bryant's final season, Hayes attended the game. Reminded of Hayes' excitement at being in his locker, Bryant agreed to meet with him.
"I said, 'Kobe I love you. I really do. I'm working hard to be half as good as you,'" Hayes recalled. "All he said was, 'Keep working and you will.' Simple. But a lot of people skip over that working part. I just wanted to make sure I continue to do what I do. I got up extra shots here. Whatever you gotta do. It's the little things that people skip over that make the big difference."
Hayes worked out for the Lakers this summer coming out of Wisconsin, then joined the Westchester Knicks of the NBA's development league. The Lakers signed him to a 10-day contract on Friday.
"The coach in the locker room told me there's really four things I can do when I'm open: shoot it, make it; if I'm not open, pass it to another teammate; rebound and play defense," Hayes said. "So if I do those things at a high level, I think I'll be here more than 10 days."
Follow Tania Ganguli on Twitter @taniaganguli
---