Lakers have bounced back from losing streak with their best basketball in years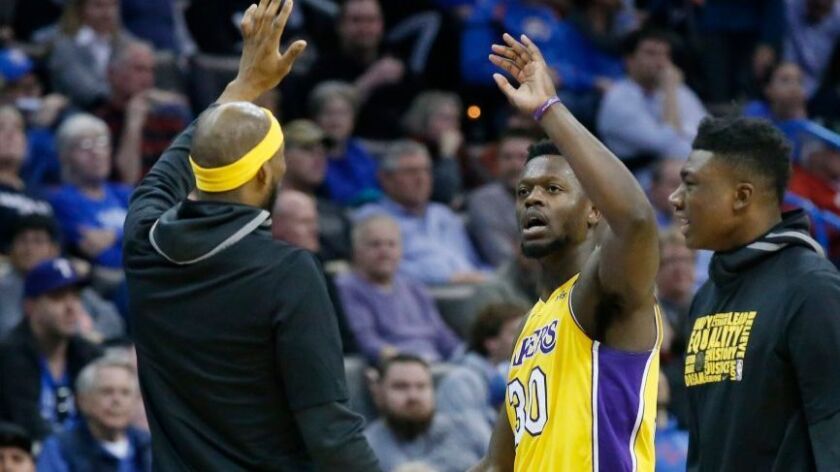 After hitting rock bottom two years ago, the Lakers are now in their second year of dramatic improvement.
That might not have seemed true during their nine-game losing streak, but nearly a month removed from it, the Lakers are playing as well as they have in years and showing promise as the All-Star break approaches.
The Lakers are 21-31, a win total they did not reach until March 24 last season, and four wins better than they finished the 2015-16 season.
They are 10-4 since the nine-game losing streak — better than every team in that span except the Houston Rockets (11-3) and the Golden State Warriors (10-4).
That 10-4 Lakers run includes wins over possible playoff teams — Indiana, Boston, San Antonio and Oklahoma City. It also includes losses to two teams that surely will miss the playoffs — Memphis and Orlando.
Mostly, though, the Lakers have played well enough to beat the teams they should beat.
No single statistical category fully explains the dramatic shift. The Lakers' pace of play is a little lower than it has been on average this season — down from just over 103 possessions per 48 minutes, which leads the NBA, to 101.52, which ranks fifth. That is a function of missing point guard Lonzo Ball, who has been sidelined the past 10 games with a sprained knee ligament.
Two statistics that help paint the picture, though, are related to toughness and tenacity. The Lakers' defensive rating has ranked in the top five over their past 14 games, giving up 102.8 points per 100 possessions. Their rebounding has ranked second at 46.6 a game, as has their defensive rebounding with 36 a game.
The Lakers declared Ball out for Tuesday's game against Phoenix. It might not be the last.
Having invested a second overall draft pick in Ball and placed high expectations on him for the future of the franchise, the team is not interested in rushing Ball back.
Ball could be held out until after the All-Star break, and possibly the Rising Stars game, which pits first- and second-year players against each other. Ball, fellow rookie Kyle Kuzma and second-year forward Brandon Ingram are tentatively scheduled to play in it.
Ball sustained the injury Jan. 13, and while he has not had any setbacks, he did experience some soreness when the Lakers tried to increase his load during a recent rehab session. The Lakers did not push him further, choosing to err on the side of caution.
The injury is Ball's second. He missed six games after spraining his shoulder on Dec. 23.
Larry Nance Jr. owed Luke Walton a measure of thanks after the coach ran onto the court Sunday at Oklahoma City to save him.
Nance had objected to a foul called on him with an expletive directed toward an official. Walton rushed over and drowned out Nance, absorbing the technical foul instead. Afterward, Nance acknowledged the gesture.
"He said, 'Thank you for saving me $2,500,'" Walton said. "I said, 'No problem that's my job.' … Players need to play. I don't like when my players talk to the refs. Let me do that."
VS. PHOENIX SUNS
When: Tuesday, 7:30 p.m.
On Air: TV – Spectrum SportsNet, Spectrum Deportes; Radio – 1330, 710
Update: Suns rookie Josh Jackson, the fourth overall pick in last year's draft, has scored 20 or more points in four consecutive games — or one more than he'd had overall in his first 48 games.
Follow Tania Ganguli on Twitter @taniaganguli
---
All things Lakers, all the time.
Get all the Lakers news you need in Dan Woike's weekly newsletter.
You may occasionally receive promotional content from the Los Angeles Times.