Lonzo Ball takes another step closer to returning to Lakers lineup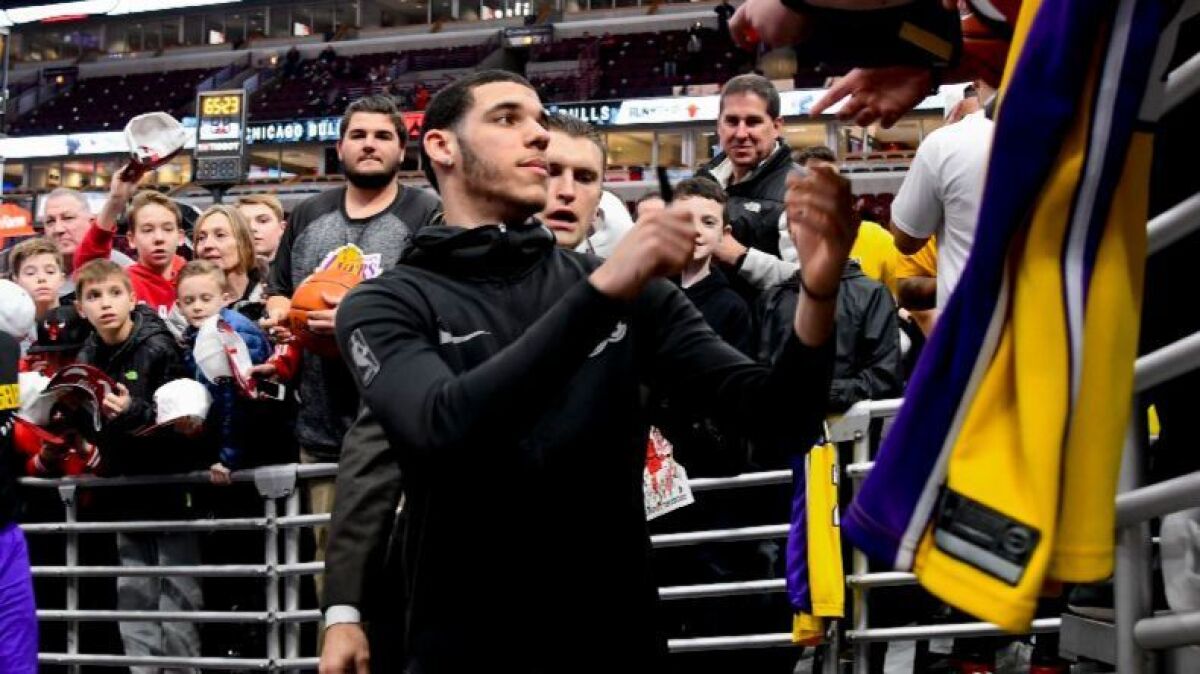 The road back for rookie point guard Lonzo Ball has been clearly defined and incredibly vague.
"When he feels better, he'll play," is how people like coach Luke Walton have discussed Ball and his recovery from a sprained left medial collateral ligament.
That description has always been light on details, as Ball's injury progressed from a day-to-day problem to something that's sidelined him for nearly a month.
But Monday, the Lakers offered some clearer evidence that Ball could, in fact, be close to a return.
According to Walton, Ball participated in "pretty much everything" at the team's practice except for contact drills.
"He hasn't done any practice, so you don't just go from zero practice to full-contact practice," Walton said. "You go to doing practice non-contact and if that feels good, then you do some more contact. And then if that feels good, you start playing again."
Walton said Ball could participate in a larger workload Tuesday if his sore knee responds to Monday's increased participation.
"When we get here tomorrow, he's going to tell us how he feels, he's going to get treatment … do his warmup and his activations, and then we'll take it from there," Walton said.
"There's nothing penciled in. If he wakes up sore, he's not doing anything so there's no reason to pencil it in. We're going to do our practice, and if he's able to do more that's great. And if he's not, then we're going to do what we need to do as a group.
"We won't know any of that until the morning, when we see how he feels."
Ball would need to go through at least one full-contact practice before returning to the court. The Lakers play Wednesday in New Orleans and Thursday at Minnesota before getting a week off for the All-Star break.
Walton has previously said the team could elect to wait until after the break to bring Ball back, but Monday he said the team's not at the point of making that decision yet.
"We're still just trying to get him to practice," Walton said. "That decision may not have to be made. For now it's about seeing … he looked good today."
In addition to getting Ball on the court, the Lakers also got Isaiah Thomas and Channing Frye important on-court time with their new teammates.
Thomas, who said Monday was his first real practice all season, left the court convinced he and Ball could co-exist.
"We are both basketball players and know how to play with different types of guys," Thomas said. "He is a special, young talent. He is going to be a special player in this league for years to come.
"From the outside looking in, watching the Lakers play, he is very good and goes at his own pace, which is a strength to have at a young age. He is talented, and I can't wait to get on the floor and compete with him and hopefully win a lot of games."
Familiar faces
Neither Walton nor Frye was in the mood to reflect about the unique situation the two find themselves in with the Lakers.
The two men were college teammates for a pair of seasons at Arizona.
Walton said he might take some time in the offseason to think about the opportunity to coach his former teammate, but Frye said detachment is the best way to go about things.
"It's business. Listen. They sign my checks. I don't care if it was my Grandma coaching. 'What you want, Grandma?'" Frye said. "It is what it is. He's in charge, and he's here to win. And I'm here to win. I think we'll bounce ideas back and forth, but at the end of the day, it's his job and it's business. … Whatever he wants to do, I'm rolling" with it.
Fresh start for Thomas and Frye
Thomas and Frye both acknowledged that things weren't working in Cleveland before they were sent to the Lakers along with a first-round draft pick in a package for Jordan Clarkson and Larry Nance Jr.
"Sometimes, stuff just doesn't work out. Sometimes, it's that simple," Frye said. "I think you look at a lot of teams around the league, and I think the reason it was brought up is because it was LeBron (James) and the Cavs. Sometimes, you have chemistry off the court, but the continuity on the court just wasn't there.
"Whether it's guys not feeling comfortable or being able to just fit in the system … it's not like you're not a good player. It just didn't work out."
Thomas said the new situation is an opportunity for him to get back to being the kind of player he's used to being, something he began to show in his first game with the team Saturday in Dallas.
"That was the first time I was able to have the ball in my hands and make a play and have guys … I don't know. You see the bench every time I was shooting, they were standing up cheering. That was the feeling I had in Boston, where we were playing for each other and had happiness and joy for each other, and that is big," Thomas said. "From a player that wasn't playing for seven months and to be thrown in the fire, it was tough for me, but I felt like myself last game, like not thinking about anything and just going out and playing and leaving it all on the floor."
Twitter: @DanWoikeSports
---
All things Lakers, all the time.
Get all the Lakers news you need in Dan Woike's weekly newsletter.
You may occasionally receive promotional content from the Los Angeles Times.