Lakers happy to have once-waived Johnathan Williams back on the team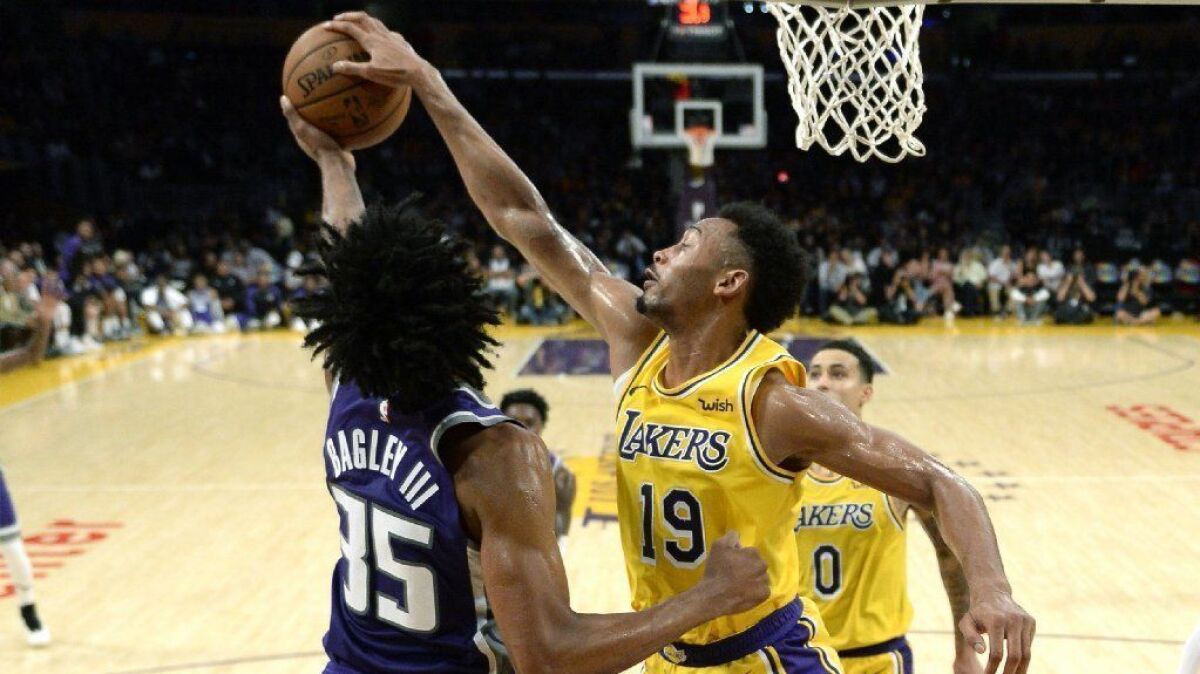 Portland, Ore., is about 350 miles from Spokane, Wash., where Johnathan Williams played college basketball. So when the Lakers brought him in to training camp and he looked at the schedule, the game in Portland was one he anticipated for many reasons.
Beyond being potentially his first NBA game, it would have been a chance for Williams to see some friends who were planning to attend. It would have also been a chance for them to see him playing in a Lakers uniform.
Instead, the Lakers waived Williams five days before the opener.
"That was a very dark day that day," Williams said. "My family said just keep praying. God makes no mistakes. Just keep praying and keep believing. When the door closes, another one should open and when a door's locked, it's not going to stay locked forever."
The Lakers door re-opened within a week. The day after the Lakers' season opener in Portland, they waived Travis Wear and signed Williams to a two-way contract.
"I walked up in the gym with glasses on just chillin'," Williams said. "I thought they just wanted to meet with me. I was chillin'. They said we signed you to a two-way contract, and they said you've got practice today."
In the past week Williams has made his presence felt with the Lakers.
"Everything," LeBron James said, when asked what Williams provided after Monday's game against San Antonio. "Energy. Effort. Loose balls. Defensive energy. We're happy to have him back."
Williams has done something that's difficult for any rookie, much less an undrafted rookie. He's been one of the more vocal and talkative players on defense. That's something his coach at Gonzaga, Mark Few, taught him.
"Coach Few used to yell at me all the time about talking," Williams said. "I was a quiet guy all my life. He said if you don't' talk we're not going to win. That carried on from college to the pros. Just trying to make an impact. Try and talk, be more social. If you talked to my mom and dad, they'd say, 'Oh he was a quiet guy.' I just want to make sure I take on that role of being more vocal."
Walton's anger shows
Luke Walton's players noted after the Lakers defeated the Phoenix Suns on Wednesday night how angry their coach was during the team's meeting before the game and how he was annoyed at their porous defense.
Walton offered a half-smile at the question Thursday night, but it was clear he had gotten his point across after the Lakers allowed just 113 points in the win over Phoenix.
"Um, I'm not an angry person," Walton said. "But I was…We're preaching the same message and I'm very pleased with the way the guys are working and some of the progress we're making."
Then Walton's tone changed, his baritone voice raising an octave as he explained how important defense is to the Lakers' success.
They had given up an average of 131.6 points per game in their first three games. They are last in the NBA in points allowed (126.8).
"It's important that they know it's serious," Walton said. "Until we get these things down, it's going to be a coin flip whether we lose or win a lot of ballgames. And if you want to guarantee yourself wins, you have to start committing to getting stops and playing defense in a certain way. So, that was mainly what the message was about before the Phoenix game."
Follow Tania Ganguli on Twitter @taniaganguli
All things Lakers, all the time.
Get all the Lakers news you need in Dan Woike's weekly newsletter.
You may occasionally receive promotional content from the Los Angeles Times.